Patterns & Practices
Web Service Software Factory 2010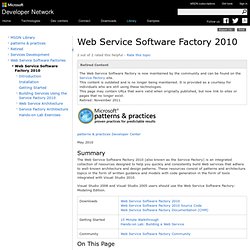 patterns & practices Developer Center May 2010 The Web Service Software Factory 2010 (also known as the Service Factory) is an integrated collection of resources designed to help you quickly and consistently build Web services that adhere to well-known architecture and design patterns. These resources consist of patterns and architecture topics in the form of written guidance and models with code generation in the form of tools integrated with Visual Studio 2010. Visual Studio 2008 and Visual Studio 2005 users should use the Web Service Software Factory: Modeling Edition. On This Page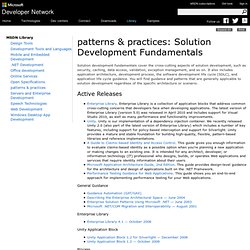 Solution Development Fundamentals
Solution development fundamentals cover the cross-cutting aspects of solution development, such as security, caching, data access, validation, exception management, and so on. It also includes application architecture, development process, the software development life cycle (SDLC), and application life cycle guidance. You will find guidance and patterns that are generally applicable to solution development regardless of the specific architecture or scenario. Enterprise Library. Enterprise Library is a collection of application blocks that address common cross-cutting concerns that developers face when developing applications. The latest version of Enterprise Library (version 5.0) was released in April 2010 and includes support for Visual Studio 2010, as well as many performance and functionality improvements.
patterns & practices
MSDN Library Design Tools Development Tools and Languages Mobile and Embedded Development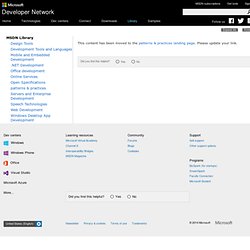 The Create Database Wizard generates data definition language (DDL) for creating a database from an existing conceptual model. The wizard allows you to do conceptual modeling first then create a database that supports the model. The Create Database Wizard requires the following to run successfully: A valid conceptual model. Permission to add files to the current Visual Studio project.
Generate Database Wizard (Entity Data Model Tools)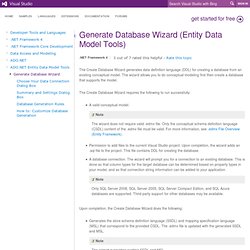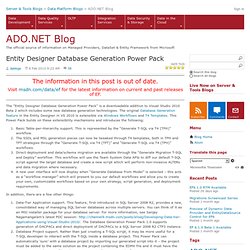 The information in this post is out of date. Visit msdn.com/data/ef for the latest information on current and past releases of EF. Basic Table-per-Hierarchy support.
Entity Designer Database Generation Power Pack - ADO.NET team blog
Snoop
Snoop (a WPF utility) The latest & greatest on Snoop including x64 support can now be found at the Snoop project on CodePlex. Download SourceInstaller News Updated (after a long hiatus) to include .NET 3.5 support and a couple of extra tweaks and styling.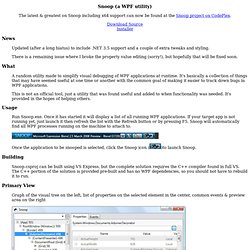 patterns & practices - Unity
Project DescriptionThe Unity Application Block (Unity) is a lightweight extensible dependency injection container with support for constructor, property, and method call injection. Unity addresses the issues faced by developers engaged in component-based software engineering. Modern business applications consist of custom business objects and components that perform specific or generic tasks within the application, in addition to components that individually address cross cutting concerns such as logging, authentication, authorization, caching, and exception handling. The key to successfully building such applications is to achieve a decoupled or very loosely coupled design.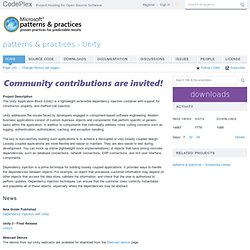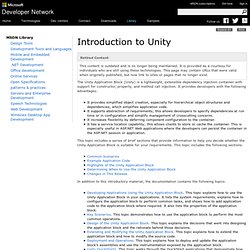 By using dependency injection frameworks and inversion of control mechanisms, developers can generate and assemble instances of custom classes and objects that can contain dependent object instances and settings. The Unity Application Block supports this functionality, allowing developers to use techniques such as container-configured injection, constructor injection, property injection, and method call injection to generate and assemble instances of objects complete with all dependent objects and settings. The Unity Application Block exposes two methods for registering types and mappings with the container: RegisterType. This method registers a type with the container.
Introduction to Unity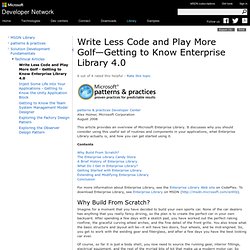 patterns & practices Developer Center Alex Homer, Microsoft Corporation August 2008 This article provides an overview of Microsoft Enterprise Library. It discusses why you should consider using this useful set of routines and components in your applications, what Enterprise Library actually is, and how you can get started using it.
Write Less Code and Play More Golf—Getting to Know Enterprise Library 4.0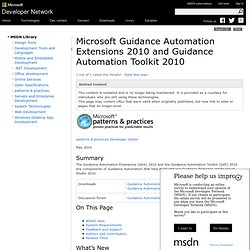 patterns & practices Developer Center May 2010 The Guidance Automation Extensions (GAX) 2010 and the Guidance Automation Toolkit (GAT) 2010 are components of Guidance Automation that help build and run Guidance Packages inside Visual Studio 2010. GAT 2010 includes a new recipe that converts Guidance Packages created for Visual Studio 2008 into Guidance Packages that work with Visual Studio 2010.
Guidance Automation Extensions 2010 and Guidance Automation Toolkit 2010
Each patterns & practices offering contains a combination of written documentation and re-usable source code. Many also include a reference implementation. As the guidance is being developed it is reviewed and approved by internal Microsoft product teams and by external customers and partners. This produces a solid starting point for your application and a set of proven practices that you can follow with confidence. Many patterns & practices offerings illustrate how to incorporate multiple Microsoft products and technologies into an overall solution.
patterns & practices
Doug Purdy, Microsoft Corporation Jeffrey Richter, Wintellect January 2002 Summary: This article discusses the use of design patterns in the Microsoft .NET Framework. An extremely powerful tool for developers or architects in development projects, design patterns ensure that common problems are addressed via well-known and accepted solutions, and that correct code is developed more rapidly, reducing the chance that a mistake will occur in design or implementation. (21 printed pages)
Exploring the Observer Design Pattern
Enterprise Library
patterns & practices Developer Center April 2013 The Microsoft Enterprise Library is a collection of reusable software components (application blocks) designed to assist software developers with common enterprise development cross-cutting concerns (such as logging, validation, data access, exception handling, and many others). Application blocks are a type of guidance; they are provided as source code, test cases, and documentation that can be used "as is," extended, or modified by developers to use on complex, enterprise-level line-of-business development projects.
patterns & practices – Enterprise Library
This guide explains the opportunities open to you for migrating applications built using Enterprise Library versions 3.1, 4.0, and 4.1, and versions 1.0 and 1.1 of Unity to use version 5.0 or Enterprise Library and version 2.0 of Unity. Because individual application scenarios and environments vary, and the way Enterprise Library and Unity are used within existing applications will differ considerably, this guide cannot guarantee success in every situation. However, it contains practical guidance that is based on knowledge gathered during the development of Enterprise Library 5.0, and through test migrations of a range of different existing applications.
This library contains various utility classes to supplement those already included with the Guidance Automation Extensions (GAX) to Visual Studio 2005. Project Home PageThe GAX Extension Library (GEL) contains a number of resuable actions, editors, value providers and other assets that can be used to build guidance packages using the Guidance Automation Toolkit. This library is used by several guidance package releases from patterns & practices, and is available to anyone who wishes to use it for their own guidance package development as well. Release MapV1.0 - Used by Web Service Software Factory December 2006 and Enterprise Library 3.0 Dec2006 CTP. V1.1 - Used by Web Client Software Factory January 2007.
patterns & practices - GAX Extensions Library
Visual Studio Application Lifecycle Management
WPF Hands-On Lab: Get Started with the Prism Library
Developer's Guide to Microsoft Prism
Chapter 28: Designing SharePoint LOB Applications
Unity Application Block
Application Architecture Guide, 2nd Edition
Smart Client Architecture and Design Guide
Describing the Enterprise Architectural Space