CodePlex
PowerDbg - Automated Debugging using WinDbg and PowerShell. PowerShell Remote File Explorer. Microsoft All-In-One Code Framework. CodePlexProject Hosting for Open Source Software Documentation All-In-One Code Framework Sample Catalog Follow Microsoft All-In-One Code Framework in.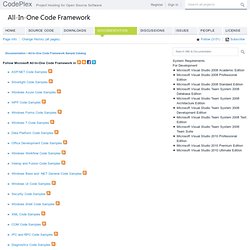 Microsoft SQL Server Product Samples: Database. Note: By default Windows Server 2008 security is configured to prevent the download of these installers.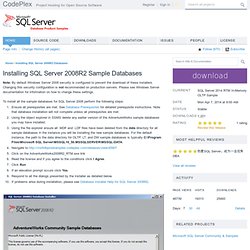 Changing this security configuration is not recommended on production servers. Please see Windows Server documentation for information on how to change these settings. To install all the sample databases for SQL Server 2008 perform the following steps: Ensure all prerequisites are met. See Database Prerequisites for detailed prerequisite instructions. Stylecop - Release: 4.5 Preview. Sandcastle Help File Builder. Microsoft SQL Server Product Samples: Database. Before you install the AdventureWorks 2008 and 2008R2 family of sample databases: Some edition of SQL Server 2008 or SQL Server 2008R2 must be installed.If installing on Windows XP or Windows Server 2003, the SQL Server service account must be something other than NT Authority\Network Service (Local System will do).You must install using an account with sysadmin privileges on the instance where you want to install the sample databases.In order to be able to successfully install the AdventureWorks2008 or AdventureWorks2008R2 (OLTP) database the following additional requirements must be met: At least SQL Server Express with Advanced Services must be installed.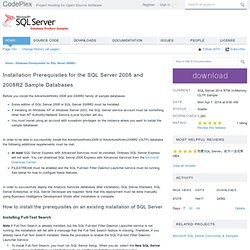 Ordinary SQL Server Express will not work. You can download SQL Server 2008 Express with Advanced Services from the Microsoft Download Center.FILESTREAM must be enabled and the SQL Full-text Filter Daemon Launcher service must be running. Microsoft All-In-One Code Framework. Microsoft SQL Server Product Samples: Database. Introduction AdventureWorksLT is a new sample database based on the Adventure Works Cycles scenario.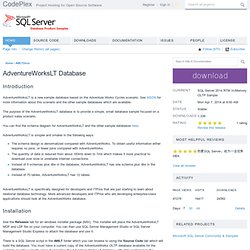 See MSDN for more information about this scenario and the other sample databases which are available. The purpose of the AdventureWorksLT database is to provide a simple, small database sample focused on a product sales scenario. You can find the schema diagram for AdventureWorksLT and the other sample databases here. AdventureWorksLT is simpler and smaller in the following ways:
---