Usability
Facebook Timeline Changed the Way We See Brand Pages; Here's How
Inception Explained - An interactive animated infographic
Infographic of the Day: Nicholas Felton's 2009 Annual Report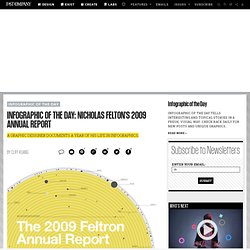 If you love infographics, you probably have Nicholas Felton to thank, at least a little bit. Six years ago, he started compiling an "Annual Report" of his life, compiling all of the little day-to-day details of an entire year into a volume of infographics. That little project has caught on, inspiring graphic designs to create countless similar projects, and helping touch off the current rage for infographics. Good news: Felton has just released his 2009 report. This time, he took a slightly different tack: Each day in 2009, I asked every person with whom I had a meaningful encounter to submit a record of this meeting through an online survey.
Empire Avenue | Expand, Engage, Evaluate
Be Rewarded For Being Social. Inspire WiFi 'kick starts' Social Media with Empire Avenue 8+ Million Social Reach across multiple networks, 40% increase in Twitter Followers! Learn More Trying to ferment a revolution in educational thinking is not easy and putting in the time to build a network is challenging, but Empire Avenue has been the encouragement I've needed to persevere.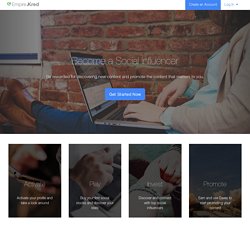 Favorite fonts | List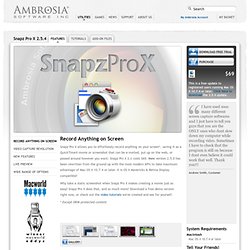 I have used sooo many different screen capture softwares and I just have to tell you guys that you are the ONLY ones who dont slow down my computer while recording video. Sometimes I have to check that the program is still on because I dont even believe it could work that well. Thank you!!! Andrew Smith, Customer Snapz Pro X is a nicely wrought utility that puts all other screen-capture methods to shame. If your Mac OS X work requires precise screen captures, Snapz Pro X is a must-have tool.
Snapz Pro X
For best result, the size (dimension) of cell phone wallpaper must match the size of cell phone screen. Whenever the wallpaper dimension is too large for the screen, it will be automatically resized by your cell phone. This automatic resizing usually results in a poor image display quality.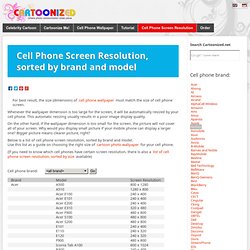 Cell Phone Screen Resolution by Brand and Model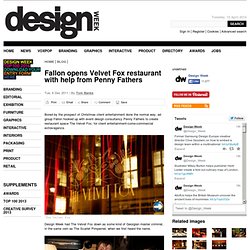 Fallon opens Velvet Fox restaurant with help from Penny Fathers
Tue, 6 Dec 2011 | By Tom Banks Bored by the prospect of Christmas client entertainment done the normal way, ad group Fallon hooked up with event design consultancy Penny Fathers to create restaurant space The Velvet Fox, for client entertainment-come-commercial extravaganza. The Velvet Fox Design Week had The Velvet Fox down as some kind of Georgian master criminal, in the same vein as The Scarlet Pimpernel, when we first heard the name.
The Mac App Store is just like the App Store for iPad, iPhone, and iPod touch. So it's as easy to find and download Mac apps as it is to add your favorite magazine to iPad or a new game to iPod touch. You can browse Mac apps by category, such as games, productivity, music, and more.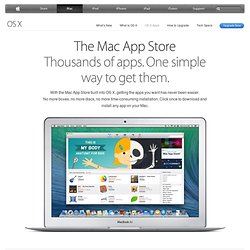 Mac App Store - ScreenNinja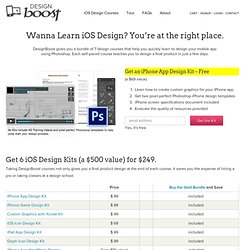 iPhone App Design | Mobile Application Design | Tapptics
(a $69 value) Learn how to create custom graphics for your iPhone appGet two pixel-perfect Photoshop iPhone design templatesiPhone screen specifications document includedEvaluate the quality of resources provided Taking DesignBoost courses not only gives you a final product design at the end of each course, it saves you the expense of hiring a pro or taking classes at a design school.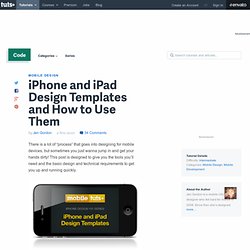 There is a lot of "process" that goes into designing for mobile devices, but sometimes you just wanna jump in and get your hands dirty! This post is designed to give you the tools you'll need and the basic design and technical requirements to get you up and running quickly. Standard Screen Sizes and Icon Sizes If you haven't read the Apple Interface Guidelines for iPhone and iPad yet, you should.
iPhone and iPad Design Templates and How to Use Them
Responsive Web Design: What It Is and How To Use It - Smashing Coding
Advertisement Almost every new client these days wants a mobile version of their website. It's practically essential after all: one design for the BlackBerry, another for the iPhone, the iPad, netbook, Kindle — and all screen resolutions must be compatible, too. In the next five years, we'll likely need to design for a number of additional inventions. When will the madness stop?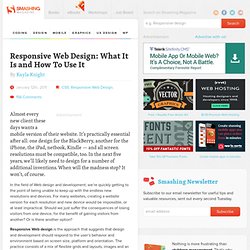 Print design has the physical constraint of the canvas. The format is fixed. The situation is different on the web.
Thoughts On Developing A Responsive Design Workflow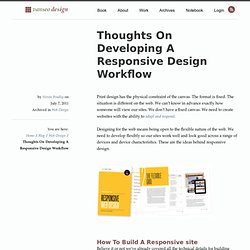 11 Reasons why responsive web design isn't that cool!
Since Ethan Marcotte published his seminal article on Responsive Web Design there's been an explosion of articles related to this topic. The guy truly made a good work also publishing a book about it , deepening on what many consider, since then, should be a standard for web design. If you have no idea of what this thing is, this Responsive Web Design thing, but simultaneously you've been thinking and working on a way for your web projects to be viewable in multiple devices, then you are instinctively working on responsive web design.
Responsive web design is boring! | Opinion
net magazine is the number one choice for the professional web designer and developer. It's here that you find out about the latest new web trends, technologies and techniques – all in one handy package. Each issue boasts a wealth of expert tips and advice, including in-depth features and over 30 pages of advanced front- and backend tutorials on subjects as diverse as CSS, HTML, JavaScript, WordPress, PHP, and plenty more. net compiles the hottest new sites from around the web, and being the voice of web design, our mission is to source the best articles written by the best people in the industry and feature interviews and opinions crammed with inspiration and creative advice.
Nike Better World
Marussia Virgin Racing
Unfold is an independent digital agency established in Oslo by 6 partners with extensive industry experience, developing creative concepts for national and international brands. We work closely with our clients to deliver compelling, useful and engaging interactive experiences across all digital platforms. Aware of the overwhelming amount of information and noise surrounding us, we aim to speak a clean, clear and meaningful message.
Scrolling Websites]
Slavery Footprint - Made In A Free World
Made in a Free World - A solution for business. Powered by Translate Slavery Footprint
Home « Unfold
Unfold is a small independent digital agency,established in Oslo, Norway. In the intersection of technology and design we develop useful, compelling and engaging interactive experiences across all digital platforms. We work on a large variety of projects including applications, sites, games, digital installations and campaigns.
Dentsu Network
Product Design & Strategy
Media Queries
Pinterest / Home
Dmig 5
Nizo for iPhone
Volkswagen Beetle
MahiFX
Home « Unfold
Introducing Timeline
5 Ways Facebook's New Features Will Fuel Social Shopping
Giftly - The New-Fashioned Way to Gift - Gift Ideas, Gift Cards, Local Gifts, eCards, Online Gifts, Gifts for Him, Gifts for Her
BankSimple Demo on Vimeo