Moving
HD People Are Awesome / Amazing Humans 1080P. 2012 Yeosu EXPO HYUNDAI MOTOR GROUP - Hyper-Matrix. Old Spice Muscle Music. Cinemagraph. 40 Examples of stunning Cinemagraphs. Cinemagraphs are still images that contain within themselves living elements allowing a glimpse of time to be experienced and preserved.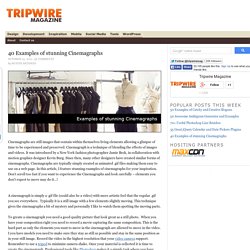 Cinemagraph is a technique of blending the effects of images and videos. It was introduced by a New York fashion photographer Jamie Beck, in collaboration with motion graphics designer Kevin Burg. Since then, many other designers have created similar forms of cinemagraphs. Cinemagraphs are typically simply created as animated .gif files making them easy to use on a web page. In this article, I feature stunning examples of cinemagraphs for your inspiration. NikeFootball. In 2010, eight talented players stood out above 75,000 others in the battle to go pro.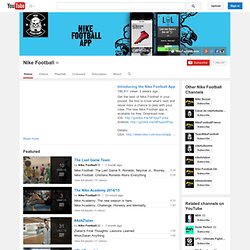 Two years ago, this young group were undiscovered and unknown. Bound together by their setbacks and successes, failures and fight-backs, for many of the Final 8, their pro football journey continues. Watch their stories. Nike Football: The Chance: Undiscovered (subtitles available) In 2010, eight talented players stood out above 75,000 others in the battle to go pro. Two years ago, this young group were undiscovered and unknown. Nike Auction – Bid your sweat. MUTO a wall-painted animation by BLU. Data.anatomy [civic] by Ryoji Ikeda. Holi, the Festival of Color, Explodes in Ultra Slow Motion - Kasia Cieplak-Mayr von Baldegg - Video. Thousands of Hindus celebrate the spring festival of Holi by throwing tinted powder and perfume on each other -- creating a breathtaking hypercolor frenzy.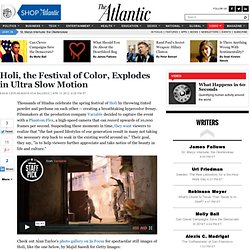 Filmmakers at the production company Variable decided to capture the event with a Phantom Flex, a high-speed camera that can record upwards of 10,000 frames per second. Suspending these moments in time, they want viewers to realize that "the fast paced lifestyles of our generation result in many not taking the necessary step back to soak in the existing world around us. " Oceanic Airlines: Concierge Concept Sketch. 10 Amazing Slow Motion Videos of Everyday Things. We live in a fast-paced world.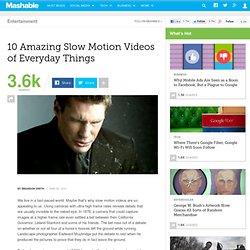 Maybe that's why slow motion videos are so appealing to us. Using cameras with ultra-high frame rates reveals details that are usually invisible to the naked eye. Luca de salvia. Mercedes Benz Invisible Car! Peter Dickinson's Portfolio. Motion-graphics - duncanworrall.net. Motion-graphics Motiongraphics is my main passion.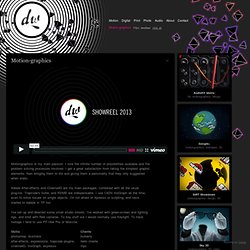 I love the infinite number of possibilities available and the problem solving processes involved. Mercedes-Benz | Escape the map. Amsterdam Metropolitan Area. Smart thief caught on cam. Milky Tea - Illustration/Animation/Interactive. Ladbrokes 11x idents comp H264 16x9. McDonald's will launch in-store TV channel - latimes.com. McDonald's customers will soon be able to have local school sports, movie previews and heartwarming human interest stories to go with their fries -- McTV is here and in high definition.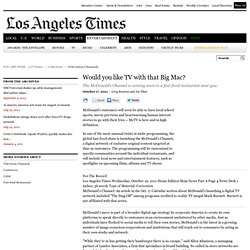 In one of the most unusual twists in niche programming, the global fast-food chain is launching the McDonald's Channel, a digital network of exclusive original content targeted at dine-in customers. The programming will be customized to specific communities around the individual restaurants, and will include local news and entertainment features, such as spotlights on upcoming films, albums and TV shows. For The Record Los Angeles Times Wednesday, October 19, 2011 Home Edition Main News Part A Page 4 News Desk 1 inches; 36 words Type of Material: Correction McDonald's Channel: An article in the Oct. 17 Calendar section about McDonald's launching a digital TV network included "The Sing-Off" among programs credited to reality TV mogul Mark Burnett.
ASICS Invites Gymnasts to Create the Ultimate Natural Shoe. KAPITAAL. Droga5. YooouuuTuuube. Marvel's The Avengers. Urban Tour - SEEN IN LONDON. AixSponza. 100 YEARS / STYLE / EAST LONDON. Headlines. Monday 21st June 2010 Promo vid shows two world champions trying to put a car together We promise you that today is not a slow news day, but... when we spotted this video on the forums we thought it was worth a little time on the PH homepage.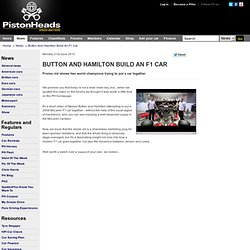 It's a short video of Messrs Button and Hamilton attempting to put a 2008 McLaren F1 car together - without the help of the usual legion of mechanics, who you can see enjoying a well-deserved cuppa in the McLaren canteen. Now, we know that the whole vid is a shameless marketing plug for team sponsor Vodafone, and that the whole thing is obviously stage-managed, but it's a fascinating insight not only into how a modern F1 car goes together, but also the dynamics between Jenson and Lewis. Well worth a watch over a cuppa of your own, we reckon... Sony Ericsson - XPERIA™ X10. BMW 3D Projection Mapping Singapore. "Volvo Subject60 5 nights, 5 parties, 5 cities Find Code Cubes h. An Agency Carol for the Holidays.
Storm troopers on their day off via reddit.com. Times Square Billboard by Space150. SQLI – SSII : conseil, technologie Internet, intégration, soluti. 50 Incredible Stop Motion Videos - Smashing Magazine. Advertisement Stop motion animation is one of the hottest areas of film-making today.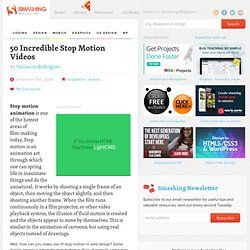 Stop motion is an animation art through which one can spring life in inanimate things and do the unnatural.
---