Iphone apps
Seven Guidelines For Designing High-Performance Mobile User Experiences - Smashing Magazine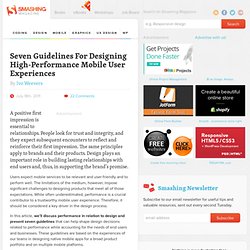 Advertisement A positive first impression is essential to relationships. People look for trust and integrity, and they expect subsequent encounters to reflect and reinforce their first impression. The same principles apply to brands and their products.
It's kind of like Guitar Hero and your guitar teacher in one. It's a tool that utilizes millions of dollars in technology research and the mind of a classical music scholar: The Rock Prodigy App. This app is aimed at guitar players of all skill levels and teaches future rock prodigies skills by using polyphonic pitch-recognition. It all sounds very technical and boring until you meet the teachers: songs from Metallica, the Grateful Dead and Fall Out Boy. Players get real-time feedback from the app, which allows for teaching without interrupting the playing. Credits: Harold Lee, Co-Founder, CEO Harold is the target market for Rock Prodigy.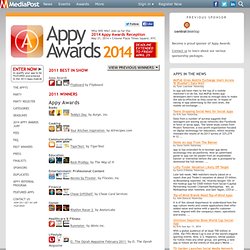 Appy Awards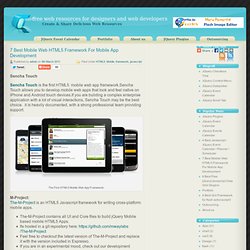 7 Best Mobile Web HTML5 Framework For Mobile App Development | free web resources for designers and web developers
Sencha Touch Sencha Touch is the first HTML5 mobile web app framework.Sencha Touch allows you to develop mobile web apps that look and feel native on iPhone and Android touch devices.If you are building a complex enterprise application with a lot of visual interactions, Sencha Touch may be the best choice. it is heavily documented, with a strong professional team providing support. The First HTML5 Mobile Web App Framework. M-Project:The-M-Project is an HTML5 Javascript framework for writing cross-platform mobile apps. The-M-Project contains all UI and Core files to build jQuery Mobile based mobile HTML5 Apps.Its hosted in a git repository here: https://github.com/mwaylabs/The-M-ProjectFeel free to checkout the latest version of The-M-Project and replace it with the version included in Espresso.If you are in an experimental mood, check out our development branch: detox.
Android 2.2 Browser Geolocation gotcha I've been using fortysquires as my exclusive Foursquare app for many months now. I used it on iPhone and, for the last three or so months, on Android (Droid X).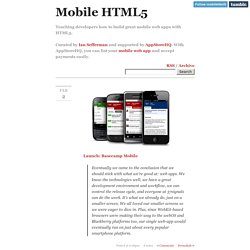 Mobile HTML5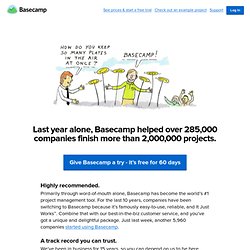 Basecamp for iPhone, Android, Blackberry, and Palm.
Highly recommended. Primarily through word-of-mouth alone, Basecamp has become the world's #1 project management tool. For the last 10 years, companies have been switching to Basecamp because it's famously easy-to-use, reliable, and It Just Works™. Combine that with our best-in-the-biz customer service, and you've got a unique and delightful package. Just last week, another 5,960 companies started using Basecamp.
Say Hello to the New Flipboard [PICS]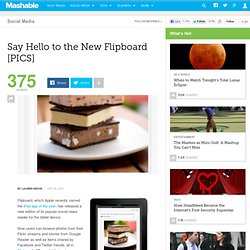 Flipboard, which Apple recently named the iPad app of the year, has released a new edition of its popular social news reader for the tablet device. Now users can browse photos from their Flickr streams and stories from Google Reader as well as items shared by Facebook and Twitter friends, all in Flipboard's [iTunes link] signature magazine-style format. In addition, users can also now post Facebook status updates, tweets and photos from anywhere within the app, and they can easily share favorite content across networks (e.g., share a favorite tweet to Facebook and vice versa).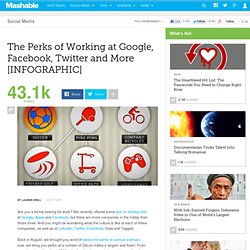 Are you a techie looking for work? We recently offered some tips on landing jobs at Google, Apple and Facebook, but there are more companies in the Valley than those three. And you might be wondering what the culture is like at each of these companies, as well as at LinkedIn, Twitter, Eventbrite, Gaia and Tagged. Back in August, we brought you word of awesome perks at various startups; now, we bring you perks at a number of Silicon Valley's largest and finest. From yoga to catered lunches, 401(k)s to dry cleaning, sports teams to vacation days, these tech companies seem to understand that quality of life affects productivity — and that having to run fewer errands after work means you're more likely to stay at the office. Check out the infographic below from ResumeBear for a breakdown of who offers what perks.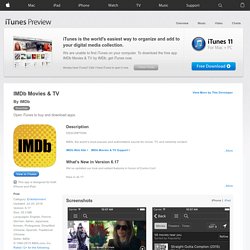 IMDb Movies & TV
Description Find showtimes, watch trailers, browse photos, track your must-see list and rate your favorite movies and TV shows! IMDb is the world's largest collection of movie, TV and celebrity info. We aim to list every detail about every movie and TV show ever made, including who was in it, who made it, the plot, user ratings, trailers, photos, reviews, quotes, goofs, trivia and much more. - Works on iPhone, iPod Touch and iPad- Over 2 million movie and TV titles- Over 4 million celebrities, actors, actresses, directors and crew members Look up:- Movie showtimes at theaters near you- TV listings for your timezone- Recaps of TV shows from last night- Upcoming movies- Latest entertainment news from hundreds of media outlets- Latest DVD releases- Popular movies