Crafts
Lova Revolutionary : Blog. Craft blog : Tutorial: Hand Sew Felt Using Blanket Stitch. Tutorial: Hand Sew Felt Using Blanket Stitch This post actually contains two tutorials involving the blankets stitch:How to sew two pieces of felt together using blanket stitchHow to sew an edging using blanket stitchThere are also some helpful extras, like:How to start if you aren't going all the way aroundHow to handle cornersHow to stitch around circlesWhat to do if you run out of floss in the middleIt's a lot to pack into one post, but they all involve the blanket stitch, so I thought they should all be together.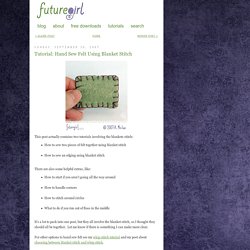 Let me know if there is something I can make more clear. For other options to hand sew felt see my whip stitch tutorial and my post about choosing between blanket stitch and whip stitch. Note One: All stitches should go in and come out the same distance back from the edge of the felt. Mayfair Handicraft. Free crafts projects and templates for kids children and adults. The Best of DIY. Craft Tutorials. Pleasant Home. Christmas Crafts, Free Knitting Patterns, Free Crochet Patterns and More from FaveCrafts.com.
Birthday Numbers Candles Applique Set. Our fabulous birthday number candle set is an absolute staple in your personal embroidery collection!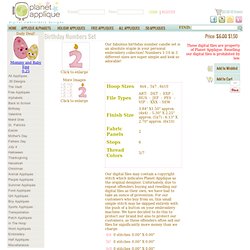 Numbers 1-10 in 3 different sizes are super simple and look so adorable! Our digital files may contain a copyright stitch which indicates Planet Applique as the original designer. Unfornately, due to repeat offenders buying and reselling our digital files as their own, we have had to take an ounce of prevention. For our customers who buy from us, this small simple stitch may be skipped entirely with the push of a button on your embroidery machine. A Lemon Squeezy Home.
Quilt. Crafts. Crochet:Free Tawashi Patterns- Free patterns for crocheted Japanese scrubbers.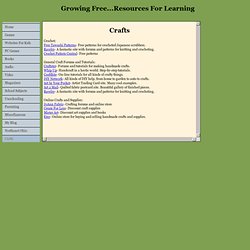 Ravelry- A fantastic site with forums and patterns for knitting and crocheting.Crochet Pattern Central- Free patterns General Craft Forums and Tutorials: Craftster- Forums and tutorials for making handmade crafts. Whip Up- Handcraft in a hectic world. CraftZone Malaysia - Malaysian Crafter Blogs.
---