Crafts
Lova Revolutionary : Blog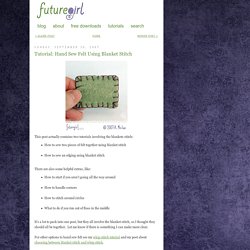 Tutorial: Hand Sew Felt Using Blanket Stitch This post actually contains two tutorials involving the blankets stitch:How to sew two pieces of felt together using blanket stitchHow to sew an edging using blanket stitchThere are also some helpful extras, like:How to start if you aren't going all the way aroundHow to handle cornersHow to stitch around circlesWhat to do if you run out of floss in the middleIt's a lot to pack into one post, but they all involve the blanket stitch, so I thought they should all be together. Let me know if there is something I can make more clear. For other options to hand sew felt see my whip stitch tutorial and my post about choosing between blanket stitch and whip stitch. Note One: All stitches should go in and come out the same distance back from the edge of the felt.
Mayfair Handicraft
Have some fun with friends or help raise some funds for charity with our latest project...Scratch Cards. See how to make them here: Use the menu bar at the top to have a look around - you'll find lots of exciting projects, instructions and ideas for things you can make and do! We've also got a Google Search option at the top of this page, so you can search our site from the home page. There's projects here for all ages, from preschool to pensioner, so if you need something to occupy a small child for an afternoon, something for a school project, or just something different to do with an afternoon off work, you'll find it here.
Things to Make and Do - Free crafts projects and templates for kids children and adults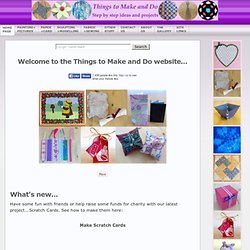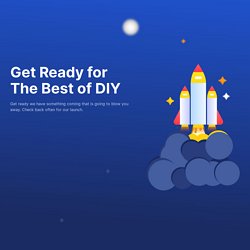 The Best of DIY
Craftstylish has a tutorial for a collapsible food and water dish for your pets. These are great to keep in a backpack while hiking or taking a long walk with your dog. It's also great if you are traveling with your pet.
Craft Tutorials
Pleasant Home
It's taken me a while to get these pics from my phone to my computer... Goodness. But in my defense...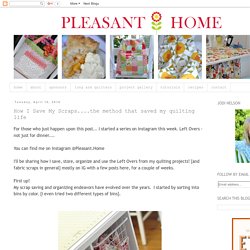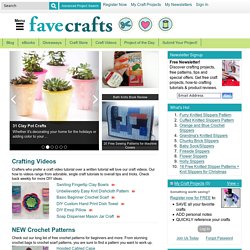 About FaveCrafts.com Welcome to FaveCrafts.com where we have 1000's of free craft projects, home decor ideas and DIY tips. We add new projects and tips every day. Some of our readers' favorites include Christmas Crafts, Free Knitting Patterns, Free Crochet Patterns and Crafting with Kids.
Our fabulous birthday number candle set is an absolute staple in your personal embroidery collection! Numbers 1-10 in 3 different sizes are super simple and look so adorable! Our digital files may contain a copyright stitch which indicates Planet Applique as the original designer. Unfornately, due to repeat offenders buying and reselling our digital files as their own, we have had to take an ounce of prevention. For our customers who buy from us, this small simple stitch may be skipped entirely with the push of a button on your embroidery machine.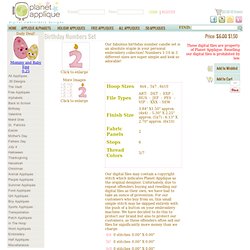 Birthday Numbers Candles Applique Set
A Lemon Squeezy Home
Devon turned 9 this month!! He loves all things Frozen—particularly Olaf, and wanted a Frozen birthday party. There are a couple things to note about his request: ~First, he's a boy and most ideas are heavily geared towards girls for a Frozen Party. I'm not saying that a boy can't have a party all about Elsa and Anna, but my Dev did not want it geared towards those characters. ~Second, most parties I find online are so focused on the food that I find it hard to get good ideas on what to actually DO at the party rather than eat!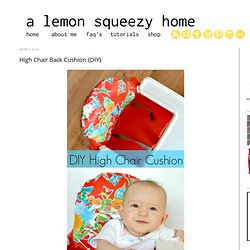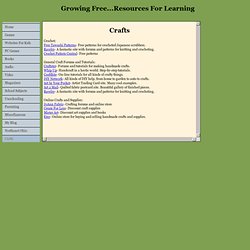 Crochet:Free Tawashi Patterns- Free patterns for crocheted Japanese scrubbers. Ravelry- A fantastic site with forums and patterns for knitting and crocheting.Crochet Pattern Central- Free patterns General Craft Forums and Tutorials: Craftster- Forums and tutorials for making handmade crafts. Whip Up- Handcraft in a hectic world.
Crafts
Share your superb craft works on Flickr and being featured on Craftzone MY's website. Here are some tips on the how to share your images with Craftzone MY Flickr Group. Step One: Join FlickrIt is free to join Flickr, and once you have joined, you can share your favourite photos with your family, friends and the world. You'll need a Yahoo ID. Join Flickr »
CraftZone Malaysia - Malaysian Crafter Blogs