The practice/profession
The Process. » A bad case of "vendor Stockholm syndrome"! Learning in the Social Workplace. I thought you might like to hear this amusing little conversation I overheard at the conference I was speaking at yesterday.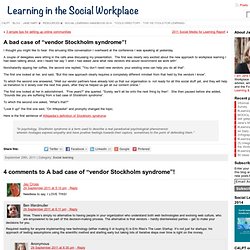 A couple of delegates were sitting in the cafe area discussing my presentation. The first was clearly very excited about the new approach to workplace learning I had been talking about, and I heard her say "I wish I had asked Jane what new vendors she would recommend we work with". Nonchalantly sipping her coffee, the second one replied, "You don't need new vendors; your existing ones can help you do all that". The first one looked at her, and said, "But this new approach clearly requires a completely different mindset from that held by the vendors I know". To which the second one answered, "Well our vendor partners have already told us that our organisation is not ready for all this social stuff yet, and they will help us transition to it slowly over the next five years, after they've helped us get all our content online." Describing What You Do: Instructional Design. You're at a playground and you start talking to the mom sitting on the bench next to you.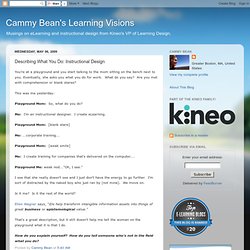 Eventually, she asks you what you do for work. What do you say? Are you met with comprehension or blank stares? This was me yesterday: Playground Mom: So, what do you do? Essential Reading for Instructional Design? As an instructional designer/eLearning professional, what books are the essential tools in your reference library?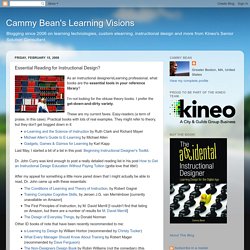 I'm not looking for the obtuse theory books. I prefer the get-down-and-dirty variety. These are my current faves. Easy-readers (a term of praise, in this case). Practical books with lots of real examples. Beginning Instructional Designer's Toolkit. I want to incorporate a reading list for the next level of the 30-minute masters (taking a crash course in Instructional Design).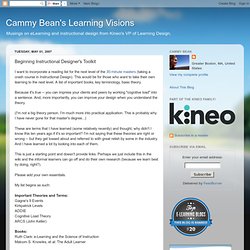 This would be for those who want to take their own learning to the next level. A list of important books, key terminology, basic theory. Getting Started in Instructional Design. Many readers find their way to this blog because they are interested in learning more about instructional design.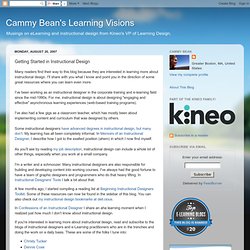 I'll share with you what I know and point you in the direction of some great resources where you can learn even more. I've been working as an instructional designer in the corporate training and e-learning field since the mid-1990s. For me, instructional design is about designing "engaging and effective" asynchronous learning experiences (web-based training programs). I've also had a few gigs as a classroom teacher, which has mostly been about implementing content and curriculum that was designed by others.
Some instructional designers have advanced degrees in instructional design, but many don't. The Value of Instructional Designers. I've been having on ongoing conversation with other instructional designers as to whether or not we need to have the technical skill sets to actually build the courses we design.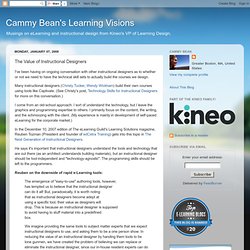 Many instructional designers (Christy Tucker, Wendy Wickham) build their own courses using tools like Captivate. (See Christy's post, Technology Skills for Instructional Designers for more on this conversation.) I come from an old-school approach: I sort of understand the technology, but I leave the graphics and programming expertise to others. I primarily focus on the content, the writing, and the schmoozing with the client.
Training & development department
LMS. ASTD - ASTD. Performance improvement. Publications/organizations. Education/training.
---