General/Overview
Learning & Skills Survey: 87% More eLearning & Mobile Learning; 73% Less 2-3 Day Classroom Training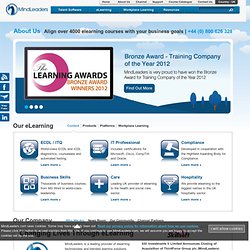 SSI Investments II Limited Announces Closing of Acquisition of ThirdForce Group plc (MindLeaders) SSI Investments II Limited ("SSI II"), a parent company of Skillsoft Limited (formerly Skillsoft PLC), a provider of cloud based learning solutions for customers worldwide, today announced that it has completed the first closing of the cash offer (the "Offer") made by its indirect subsidiary, Skillsoft Ireland Limited, for the entire issued and to be issued share capital of ThirdForce Group plc ("ThirdForce"). In connection with the first closing of the Offer, Skillsoft received acceptances in respect of approximately 91.3% of the issued and outstanding shares of ThirdForce prior to 3:00 pm (Irish Time) on September 23, 2012, and the Offer is otherwise unconditional in all respects. The acquisition is be...
The off the wall A-Z of instructional design - ThirdForce.com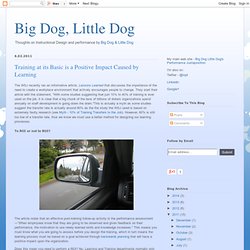 The WSJ recently ran an informative article, Lessons Learned that discusses the importance of the need to create a workplace environment that actively encourages people to change. They start their article with the statement, "With some studies suggesting that just 10% to 40% of training is ever used on the job, it is clear that a big chunk of the tens of billions of dollars organizations spend annually on staff development is going down the drain."This is actually a myth as some studies suggest the transfer rate is actually around 60% as the the study the WSJ used is based on extremely faulty research (see Myth - 10% of Training Transfers to the Job). However, 60% is still too low of a transfer rate, thus we know we must use a better method for designing our learning processes.
Training at its Basic is a Positive Impact Caused by Learning
Top 47 eLearning & Workplace Learning Blogs