Twitter Today
Shea Bennett sur Twitter : "#Twitter launching targeted #ads for #movies, says @THR. Twitter Launching Targeted Ads For Movies. 12 Twitter Marketing Tips From the Pros. Are you using the latest Twitter marketing tactics?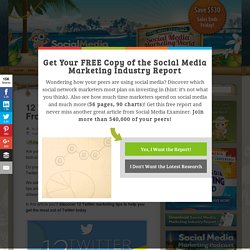 Do you want to raise the bar on your Twitter marketing? We asked top Twitter pros to share the tips and tricks they're using to make a difference in their own Twitter marketing. In this article you'll discover 12 Twitter marketing tips to help you get the most out of Twitter today. Kimba_67 : Is anyone else seeing this ... 5 Ways to Gain Twitter Followers. Twitter is a marketer's best friend.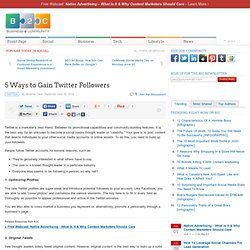 Between its promotional capabilities and community-building features, it is the best way for an unknown to become a social media thought leader or "celebrity." Your goal is to post content that directs individuals to your other social media accounts or online assets. To do this, you need to build up your followers. Empowered-marketing.leadpages. Twitter Rules for Businesses in 2014. If the Justine Sacco case showed us anything, it's that people are still not fully aware of the potential ramifications of their comments on Twitter.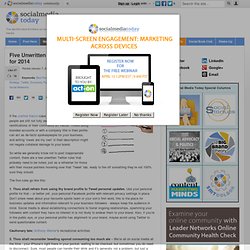 Those using branded accounts or with a company title in their profile can act as de-facto spokespeople for your business, and writing 'views are my own' in their description might not negate collateral damage to your brand. So while we generally know not to post inappropriate content, there are a few unwritten Twitter rules that probably need to be noted, just as a refresher for those with their mouse pointers hovering over that 'Tweet' tab, ready to fire off something they're not 100% sure they should.
The five rules go like this: 5 Twitter Steps That Go From Good To Bad In A Flash. Posted by John Paul in Twitter, Twitter Marketing Twitter Steps That Go Bad There are so many do's and don'ts that come and go on Twitter that it is hard to keep up with it all.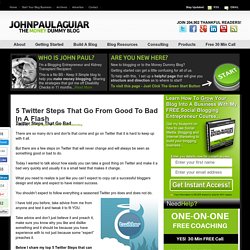 But there are a few steps on Twitter that will never change and will always be seen as something good or bad to do. Kimba_67 : There's no such thing as wasting... Kimba_67 : I feel special when I get this... 8 Ways To Build Your Community On Twitter. 8 Methods To Get Local Active Twitter Followers. Does My Business Need to be on Twitter? Twitter By Yasmin Bendror, Published March 1, 2014 As previously discussed in my post "Which Social Media Channels Should I Use For My Business?"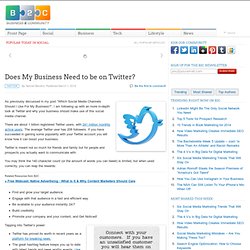 , I am following up with an more in-depth look at Twitter and why your business should make use of this social media channel. There are about 1 billion registered Twitter users, with 241 million monthly active users. The average Twitter user has 208 followers. How to Create a Twitter Ad in 3 Steps. The true beauty of Twitter is in its innate ability to allow users to interact in real time.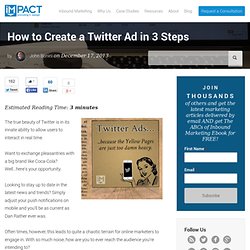 Want to exchange pleasantries with a big brand like Coca-Cola? Well...here's your opportunity. Looking to stay up to date in the latest news and trends? Simply adjust your push notifications on mobile and you'll be as current as Dan Rather ever was. Often times, however, this leads to quite a chaotic terrain for online marketers to engage in.
10 tips for a highly optimized Twitter profile | Blog | TwitterCounter. This blogpost was written by TwitterCounter's founder Boris Veldhuijzen van Zanten (@Boris).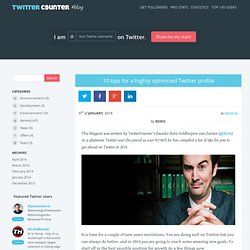 As a platinum Twitter user (he joined as user #17463) he has compiled a list of tips for you to get ahead on Twitter in 2014. It is time for a couple of new years resolutions. You are doing well on Twitter but you can always do better, and in 2014 you are going to reach some amazing new goals. To start off in the best possible position for growth do a few things now. HOW TO: Use Twitter Lists. UPDATE: you can get started with Twitter Lists by following the Mashable Team Twitter List at Twitter.com/mashable/mashable The just-launched Twitter Lists feature is a new way to organize the people you're following on Twitter, or find new people.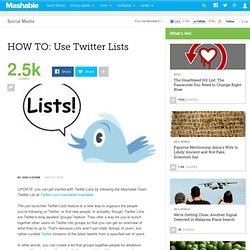 In actuality, though, Twitter Lists are Twitter's long awaited "groups" feature. 12 Most Wise Ways to Use Twitter. Twitter started in 2007 and has grown into a massive social platform.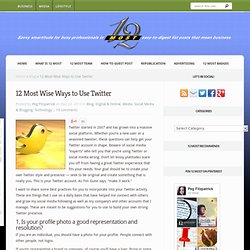 Whether you're a new user or a seasoned tweeter, these questions can help get your Twitter account in shape. Beware of social media "experts" who tell you that you're using Twitter or social media wrong. Don't let bossy platitudes scare you off from having a great Twitter experience that fits your needs. Your goal should be to create your own Twitter style and presence — seek to be original and create something that is really you. Inbound Marketing Tips: Twitter 101, How to Use Hashtags. Twitter By Mike Rastiello, Published December 22, 2013 Twitter is everywhere.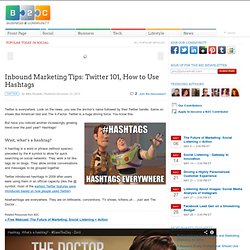 Look on the news, you see the anchor's name followed by their Twitter handle. Same on shows like American Idol and The X-Factor. Twitter is a huge driving force. 20 Tips For Tweeting: Don't Lose Twitter Followers. Some find Twitter to be intimidating, scary, spooky and unnerving. In my opinion, it's none of those but could be a bit confusing from afar. When you break it down, it's simply about using common sense and acting like a decent human being.
It's another channel of communication that, when used effectively, can yield impressive results both in your personal and professional life. This not only applies to Twitter but can also be applied to any social network like Facebook, LinkedIn, Google+, etc. How long would you keep a friend if you showed up at their doorstep always selling something? Why 150 Followers Is All You Really Need. When you first get on twitter, it's likely the thing you care most about is how many followers you have. I've even been to parties where people will judge my status by the number of followers I have. It's like walking up to somebody and asking them how much money they make. A year ago when I first got on twitter, I met a girl at a party who I asked me how many followers I had. 10 Useful Twitter Tools for Your Twitter Toolkit:
Twitter is a great tool for businesses to connect with other businesses, more so than most other social networks. There are a lot of tools out there that let you take advantage of some advanced features that you can't easily get on the Twitter site itself. Here are a few that I've found and use to regularly get the most out of using Twitter and interacting with people.
---