kim.claire
Kim
Get flash to fully experience Pearltrees
Breakfast was not a special meal in my house growing up. At least, not in the sense that we enjoyed fancy homemade cinnamon rolls and coffee cakes on a regular basis. Sure, we made pancakes (from a box) on weekends, but it was nothing to write home about. In fact, I had never heard of the strangely titled dish Monkey Bread until I started food writing a few years back.
I call this magic sauce. In part, because it makes everything it touches shimmer with deliciousness. It's magic like that. Technically, it's a riff on a chimichurri sauce - one that veered off the rails in a big way.
National Geographic is currently holding its annual photo contest , with the deadline for submissions coming up on November 30. For the past nine weeks, the society has been gathering and presenting galleries of submissions, encouraging readers to vote for them as well. National Geographic was kind enough to let me choose among its entries from 2011 for display here on In Focus.
"Music helps me concentrate," Mike said to me glancing briefly over his shoulder. Mike was in his room writing a paper for his U.S.
Friday, February 17, 2006 | 02:36 AM | by Tim So Full Auto is pretty fun. Not necessarily the "huge next-gen title" the Xbox 360 could really use right now, but entertaining nonetheless.
Where would you be the safest if World War 3 broke out tomorrow? Perhaps it's a grim subject, but safety and distance from world conflict can be a motivating factor in your choice to expatriate. At the very least, conflict around the world can weigh heavy on the soul, and it's nice to know there are some places still left in the world where you might be left in peace.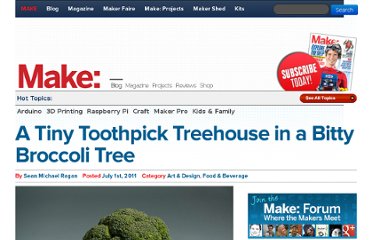 <img src="http://makezineblog.files.wordpress.com/2011/07/broccolitree-600x436.jpg?
The stunning Plitvice Lakes National Park lies in the Lika region of Croatia. The park is surrounded by the mountains Plješevica, Mala Kapela, and Medveđak, which are part of the Dinaric Alps. The 16 blue-green Plitvice Lakes, which are separated by natural dams of travertine, are situated on the Plitvice plateau. Waterfalls connect the lakes, and the tallest waterfall is Veliki Slap at 70 meters (230 feet) tall. The Plitvice lakes area boasts a large variety of interesting and colorful flora and fauna. Visitors can enjoy walking and hiking the many pathways and trails, or exploring the lakes by boat.
By It usually takes us much longer to change our moods than we'd like it to take. Here are ten things you can do in ten minutes or less that will have a positive emotional effect on you and those you love.
By Jason Knight The following bow making instructions will help you construct an effective bow in a relatively short amount of time. A quickie bow is a fast-made bow for immediate use in a survival situation. It is carved from a sapling or branch of a tree.
Preachers Rock, Preikestolen, Norway Blue Caves - Zakynthos Island, Greece Skaftafeli - Iceland