Bpm
What is BPMN? The Business Process Modeling Notation (BPMN) is a graphical notation that depicts the steps in a business process. BPMN depicts the end to end flow of a business process. The notation has been specifically designed to coordinate the sequence of processes and the messages that flow between different process participants in a related set of activities. Why is BPMN important?
Curso Modelado de Negocios con BPMN y UML, Curso de BPMN, Capaci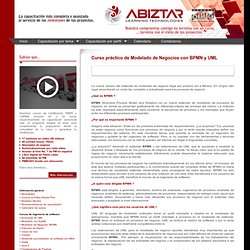 La nueva versión del estándar de modelado de negocio llega por primera vez a México. En ningún otro lugar encontrarás un curso tan completo y actualizado para tus procesos de negocio. ¿Qué es BPMN ? BPMN (Business Process Model and Notation) es un nuevo estándar de modelado de procesos de negocio, en donde se presentan graficamente las diferentes etapas del proceso del mismo. La notación ha sido diseñada específicamente para coordinar la secuencia de procesos y los mensajes que fluyen entre los diferentes procesos participantes. ¿Por qué es importante BPMN ?
Business Agility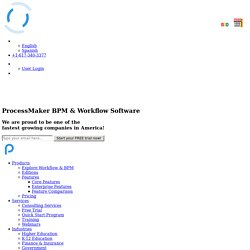 The success of many VARs in the open source ecosystem is based on their ability to repackage open source software into a user-friendly platform... look no further than ProcessMaker, the workflow package from Colosa that debuted a much-enhanced version. ProcessMaker has helped us improve the efficiency of our employees. Instead of running around to get approvals, we now have a software based process management. " Pinkesh Jain, Finance Manager, Lakozy Toyota success story More Testimonials
Club BPM para la difusión, formación e intercambio de experienci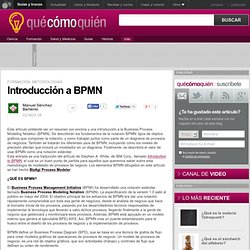 Este artículo pretende ser un resumen por encima y una introducción a la Business Process Modeling Notation (BPMN). Se describirán los fundamentos de la notación BPMN: tipos de objetos gráficos que componen la notación, y como trabajan juntos como parte de un diagrama de procesos de negocios. También se tratarán los diferentes usos de BPMN, incluyendo cómo los niveles de precisión afectan qué incluirá un modelador en un diagrama. Finalmente, se describirá el valor de usar BPMN como una notación estándar.
Introducción a BPMN - AprenderGratis.com
Empower Google Apps Google Apps are increasingly used by businesses as collaboration and document management solutions because of their low cost and efficiency. With Fujitsu RunMyProcess, you can easily develop workflow-based applications that use Google Apps to the fullest extent and meet the exact needs of your business. Escape Lotus Notes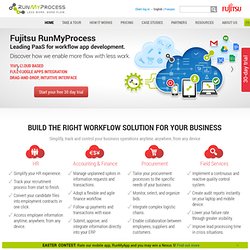 Business Process Management System (BPMS)
In 2002, Intalio revolutionized Business Process Management (BPM) when we introduced Intalio|bpms, the first open source Business Process Management Suite. Over a decade later, Intalio has established itself as a leader in BPM with the most widely deployed BPMS and a large and engaged user community. Today, over 1000 organizations world-wide in all industries rely on our technology to manage their mission-critical business processes. Intalio|bpms provides a comprehensive enterprise-class platform to design, deploy, and manage the most complex business processes. It features an intuitive and powerful visual designer and a reliable high-performance process execution server. Intalio|bpms also includes enterprise-level capabilities such as business activity and metrics monitoring, business rules and decision management, document management, mobility support, and system integration tools and portals-- all the features you need and expect in a BPM system, and more.