LowBrow
ROA : New Works by ROA : White Walls SF
Robert Williams Official Site
Last Gasp 40th Anniversary Lowbrow Art Show | Neon Monster Blog
How are Last Gasp and Earth Day connected? Glad you asked. Legendary local purveyors of underground books and comics, Last Gasp, published its premiere comic, Slow Death Funnies #1, on the first Earth Day: April 15, 1970.
THEPIZZ.COM
Famous Monsters
Welcome to the Lowbrow Artworld Website!
JIM KOCH
The Official Rat Fink Webring
Calandra Studio
Motorsports Illustrated Homepage
Graphic Design & Illustration by Christopher Davis
IN L.A.: Sage Vaughn Envelope Paintings | Features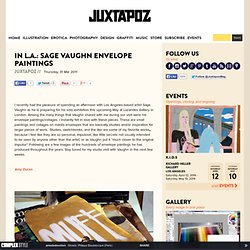 I recently had the pleasure of spending an afternoon with Los Angeles-based artist Sage Vaughn as he is preparing for his solo exhibition this upcoming May at Lazarides Gallery in London.
Dutch Courage Graffix; illustration and design by Ger Peters; portfolio
The Lowbrow Art of Ger Peters; links