LowBrow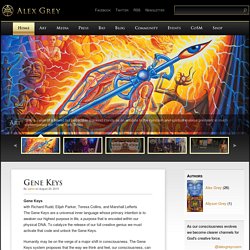 CoSM, Chapel of Sacred Mirrors 2013 Year In Review The mission of the Chapel of Sacred Mirrors, CoSM, is to build an enduring sanctuary of visionary art to inspire every pilgrim's creative path and transmit the values of love and evolutionary wisdom. 2013 was the tenth anniversary of CoSM's Full Moon Ceremonies that began in Brooklyn in 2003. Many thousands of people have come out for these inspirational gatherings over the years, with increasing attendance from both international and Hudson Valley guests. Art Church at CoSM now joins the Full Moon as a regular monthly offering that includes drawing, quietude, studying and discussing some of the correspondences between art and religion. These monthly gatherings are catalysts for the creative spiritual lives of congregants.
ROA : New Works by ROA : White Walls SF
Robert Williams Official Site
April 4, 2014 7-10pm Special screening of the documentary, Robert Williams, Mr. Bitchin' in conjunction with MoCCA Arts Festival. April 5 - 6, 2014 Robert Willliams will be a guest of honor at the Society of Illustrators MoCCA Arts Festival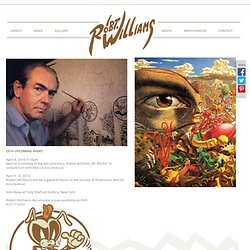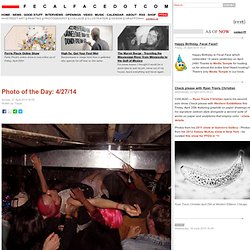 For some reason I thought it would be a good idea to quit my job, move out of my house, leave everything and travel again. So on August 21, 2013 I pushed a canoe packed full of gear into the headwaters of the Mississippi River in Lake Itasca, Minnesota, along with four of my best friends. Exactly 100 days later, I arrived at a marina near the Gulf of Mexico in a sailboat. For weeks before our departure date I became terribly depressed. I had heard countless warnings and cries from very concerned friends and family members about how dangerous the Mississippi River is, and how many lives it claims each year. Everyone had his or her doubts that we would make it; either we'd give up somewhere down the line, or someone would die.
Last Gasp 40th Anniversary Lowbrow Art Show | Neon Monster Blog
How are Last Gasp and Earth Day connected? Glad you asked. Legendary local purveyors of underground books and comics, Last Gasp, published its premiere comic, Slow Death Funnies #1, on the first Earth Day: April 15, 1970.
THEPIZZ.COM
Famous Monsters
Welcome to the Lowbrow Artworld Website!
JIM KOCH
The Official Rat Fink Webring
Calandra Studio
Motorsports Illustrated Homepage
artskull graphic design & illustration artskull@artskull.com Portfolio • Hire • About • Links • Blog • Contact • Shop Greetings and welcome to ArtSkull.com. Here you'll find the graphic design and illustrations of Christopher Davis. As a freelance artist with over 20 years experience in graphic design and illustration, I combine my creative skills with my love of horror, science fiction and grindhouse cult movies. For everyone from the Halloween & haunt industry to mainstream businesses, I offer quick service and affordable rates for all my graphic design and illustration work.
Graphic Design & Illustration by Christopher Davis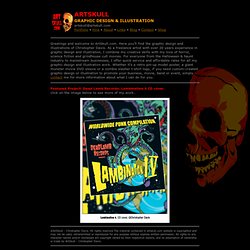 IN L.A.: Sage Vaughn Envelope Paintings | Features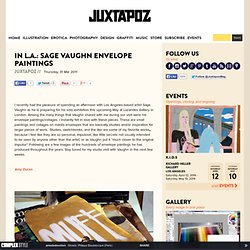 I recently had the pleasure of spending an afternoon with Los Angeles-based artist Sage Vaughn as he is preparing for his solo exhibition this upcoming May at Lazarides Gallery in London. Among the many things that Vaughn shared with me during our visit were his envelope paintings/collages. I instantly fell in love with these pieces. These are small paintings and collages on manila envelopes that are basically studies and/or inspiration for larger pieces of work.
Dutch Courage Graffix; illustration and design by Ger Peters; portfolio
The Lowbrow Art of Ger Peters; links