Pop
Get flash to fully experience Pearltrees
Number of RHETI Sampler tests since January, 2003: 1,860,722 Would you like to have the RHETI Sampler on your website, desktop, or as a hardcopy download? Click here . The Riso-Hudson Enneagram Type Indicator (RHETI) Sampler is a free Enneagram test that serves as an introduction to the complete Riso-Hudson Enneagram Type Indicator (RHETI Version 2.5) which you can take online for $10 US. The 36 questions in this free Enneagram test are only a small portion of the full, independently scientifically validated 144-question RHETI personality inventory , which Time magazine selected as one of the top online personality tests . Short personality quizzes such as this cannot guarantee that your basic personality type will be indicated, although your type will most likely be in the top three scores in this personality test.
Introduction Don't know your Enneagram Type? Click here to take our Enneagram Test While the Enneagram is a powerful tool for transformation, transformational work is not possible for those actively abusing addictive medications, alcohol, or controlled substances. Those suffering from substance abuse problems must become "sober" on a regular basis before they can sustain any in-depth inquiry into their true nature. Abuse and neglect make it almost impossible to develop the sensitivity and attention necessary to observe oneself with any clarity.
Type Five in Brief Fives are alert, insightful, and curious. They are able to concentrate and focus on developing complex ideas and skills.
The connection between genius and madness has long been debated. These two states are really poles apart, the opposite ends of the personality spectrum. The genius is someone who fuses knowledge with insight into the nature of reality, someone who has the ability to see things with utter clarity and with awe-inspiring comprehension. What separates the genius from the madman is that the genius, in addition to extraordinary insights, has the ability to see them correctly, within their context.
Interesting Info -> Lying Index -> How to Detect Lies Become a Human Lie Detector (Part 1) Warning: sometimes ignorance is bliss.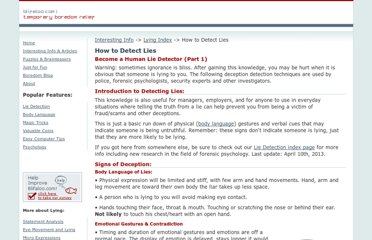 Interesting Info -> Lying Index -> Eye Direction & Visual Accessing Cues Eye Movement and Direction & How it Can Reveal Truth or Lies This is a continuation of our previous article Detecting Lies . Many comments by our visitors asked about how eye direction can indicate the presence of a lie.
Interesting Info -> Lying Index & Body Language -> Micro Expressions Is the show "Lie to Me" for real? I am not a police interrogator, scientist, or other expert... I am however a mother & people watcher. Years ago, when I wrote articles on How to Detect Lies & Eye Movement and Lying -- I knew of the Micro expression theory, but had a difficult time researching the subject well enough to relay it into an article.
Edit Edited by 30stm_Sheri, Horses4Ever, Rob S, Krystle and 203 others Noticing the signals that people send out with their body language is a very useful social skill. Some of us can read it naturally and some of us are notoriously oblivious. Fortunately, with a little extra attentiveness, you can learn to read body language, and with enough practice it'll become second nature.
Dr Scott said the research showed customer-service workers who 'fake smile' throughout the day worsen their mood and then withdraw from work, so their productivity drops. He added: "Bosses may think that getting their staff to smile is good for the organisation, but that's not necessarily the case." Dr Scott, assistant professor of management at Michigan State University, analysed a group of bus drivers during at two-week period.
Cracked.com's new book is now on sale . What follows is one of 22 classic articles that appear in the book, along with 18 new articles that you can't read anywhere else. Psychologists know you have to be careful when you go poking around the human mind because you're never sure what you'll find there.
The mind is a wonderful thing – there is so much about it which remains a mystery to this day. Science is able to describe strange phenomena, but can not account for their origins. While most of us are familiar with one or two on this list, many others are mostly unknown outside of the psychological realm.