DIY
DIY Energy Projects – Solar generators, wind power… Creating a low budget composting toilet For a number of years, we have used a composting toilet (often called a Joe Jenkins Sawdust Toilet) when our water / sewer solution would not support a flush toilet. up to 40% of our water usage is used to turn fertilizer into sewage, by mixing it with drinking water.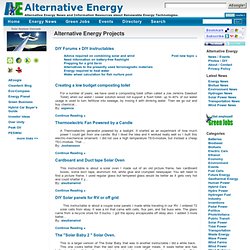 Then we go out and buy chemical...By: sspence Continue Reading » Youritronics: DIY, Electronics, IT and Gadgets. Hacked Gadgets - DIY Tech Blog. Lifehacker, tips and downloads for getting things done. Hack a Day.
eHow | How To Do Just About Everything! | How To Videos & Articl. Wonder How To » How To Videos & How-To Articles. Real Simple - Recipes, Organizing, Beauty, Fashion, Holidays. Make: Projects How-to Projects Library — Electronics, Arduino, Crafts, Solar, Robots. Instructables - Make, How To, and DIY. HowStuffWorks - Learn How Everything Works!
---