Entertainment
EarthCam
This is now!
twistori
Comics, Quizzes, and Stories - The Oatmeal
Good Movies List Oscar the Academy Award statuette is recognized internationally as the most prestigious American award of the film industry; it is conferred annually for superior achievement in up to twenty-five technical and creative categories. The Academy of Motion Picture Arts and Sciences is a professional honorary organization with membership by invitation only, extended by its Board of Governors to distinguished contributors to the arts and sciences of motion pictures.
Good Movies List - Best movies to watch from top rated movie lists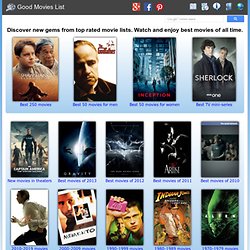 Goodfilms - Social Movie Reviews
Famous Objects from Classic Movies
Novation Launchpad for Ipad – Loopmasters Sounds In Novation Ipad App. The Novation Launchpad for iPad is a music performance app, available now to download for free at the App Store. The app follows some of the key features from the 'Launchpad' hardware, now used by many of the world's famous DJs and performers, but strips out much of the complexity.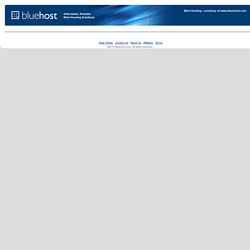 Novation Launchpad for Ipad - Loopmasters Sounds In Novation Ipad App
A Cappella Academy is a brand new summer program in Los Angeles designed to train and educate the bright young minds of contemporary a cappella music! This competitive program for high schoolers will accept 50-60 campers in its inaugural year. Sing-Off champions and global a cappella phenomenon Pentatonix will join us as artists in residence for 2014, where they'll teach classes, offer advice, and headline the two back-to-back camp showcases on July 12.
A Cappella Academy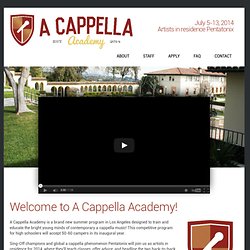 You Generation
Teenager Posts
Shi*t I Love
that's my little fact
lolsotrue | thatonerule | sotruefacts | maybenotes @ bottom
MinimalWall | Your Desktop, simplified.
7 Reasons the 21st Century is Making You Miserable
Scientists call it the Naked Photo Test, and it works like this: say a photo turns up of you nakedly doing something that would shame you and your family for generations. Bestiality, perhaps. Ask yourself how many people in your life you would trust with that photo. If you're like the rest of us, you probably have at most two. Even more depressing, studies show that about one out of four people have no one they can confide in.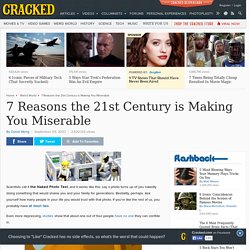 Summit Series (conference)
Summit Series is an American organization that hosts events for young entrepreneurs, artists and activists. Events organized by the group include invitation-only retreats and discussions focused on business practices, technological innovation, and raising awareness and funds for various charitable causes. Summit Series attendees have included Bill Clinton, Ted Turner and Richard Branson.[1] Since its foundation in 2008, the organization has raised more than $2 million for charitable and non-profit organizations. Summit Series was founded in April 2008, by Elliott Bisnow, and co-founded by Brett Leve, Jeff Rosenthal, Jeremy Schwartz & Ryan Begelman. Summit was launched with an event organized to meet and gain advice from successful young entrepreneurs.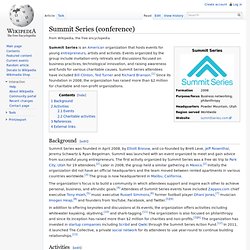 Semester at Sea