Entertainment
Orphan Black Season 1 Episode 1. Watch now the full episode of Orphan Black Season 1 Episode 1.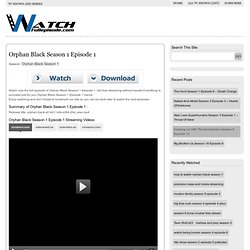 Get free streaming without hassle! Everything is provided just for you Orphan Black Season 1 Episode 1 mania. Tiny House Nation - Episodes, Video & Schedule - FYI Network. Welcome to Alpha by App.net. 3 Ways to Make Friends Online. Edit Article Using General Interest SitesGoing on Sites for KidsUsing Sites for Dating Edited by Snuggles1990, Seth, Ben Rubenstein, BrettCapewell and 65 others Tired of talking to yourself?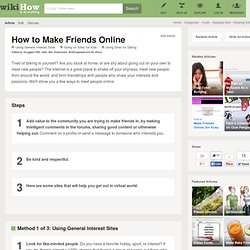 Are you stuck at home, or are shy about going out on your own to meet new people? COMMONPLACE BOOKS. Welcome to PenPal World. TV. By Advertisement () Sir Isaac Newton vs Bill Nye.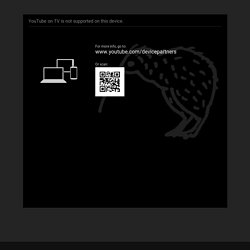 Vimeo, Your Videos Belong Here.
Games
Pinterest. Comics, Quizzes, and Stories - The Oatmeal. Good Movies List - Best movies to watch from top rated movie lists. Famous Objects from Classic Movies. Novation Launchpad for Ipad - Loopmasters Sounds In Novation Ipad App. A Cappella Academy. You Generation. MLP: FiM | S2 E1 & E2 | The Return of Harmony [HD] No Watermarks. World.
#. Summit Series (conference) Summit Series is an American organization that hosts events for young entrepreneurs, artists and activists.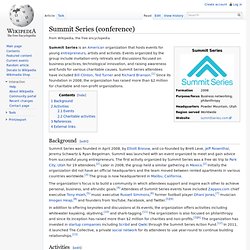 Events organized by the group include invitation-only retreats and discussions focused on business practices, technological innovation, and raising awareness and funds for various charitable causes. Summit Series attendees have included Bill Clinton, Ted Turner and Richard Branson.[1] Since its foundation in 2008, the organization has raised more than $2 million for charitable and non-profit organizations. Summit Series was founded in April 2008, by Elliott Bisnow, and co-founded by Brett Leve, Jeff Rosenthal, Jeremy Schwartz & Ryan Begelman. Summit was launched with an event organized to meet and gain advice from successful young entrepreneurs.
Semester at Sea.
---