Entertainment
Comedy Central Roast. History[edit] Between 1998 and 2002, Comedy Central produced and televised the annual roasts of the New York Friars Club.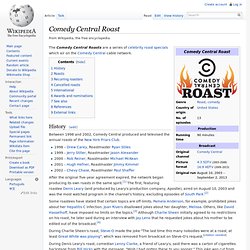 After the original five-year agreement expired, the network began producing its own roasts in the same spirit.[1] The first, featuring roastee Denis Leary (and produced by Leary's production company, Apostle), aired on August 10, 2003 and was the most watched program in the channel's history, excluding episodes of South Park.[2] Some roastees have stated that certain topics are off-limits. Comedy Central 100 Greatest Standups of all Time. Dial-A-Stranger.com. Welcome to Dial A Stranger.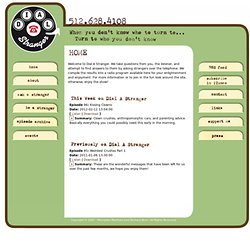 We take questions from you, the listener, and attempt to find answers to them by asking strangers over the telephone. We compile the results into a radio program available here for your enlightenment and enjoyment. Ask Roulette. Challenge Central | Music Shuffle Challenge. 'Orphan Black,' Emmy snubs and questions of identity - LA Times. The chronology of recent Big Public Events in Television — the Emmy nominations announcements followed a few weeks later by Comic-Con — spotlights an almost identical philosophical issue: There's the Emmy nominations, and then there's Comic-Con.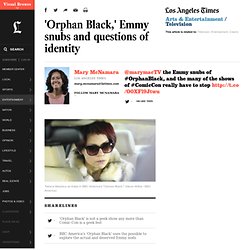 Reality goes metaphor. An estimated 130,000 Comic-Con attendees descended on the San Diego Convention Center over the last few days in large part to pledge their devotion to certain shows, but only a few of those shows ("Game of Thrones," "The Big Bang Theory," "American Horror Story") are part of the Emmy race this year.
Popularity does not denote quality, of course, but many of the dramas that filled the big halls are as critically acclaimed as they are inevitably excluded from awards season. Orphan Black. SoundCloud Downloader - download from Soundcloud - SoundCloud to MP3. Mp3skull.com - Free Mp3 Download. Download Song MP3 Monkey. WTF Should I Do Today? Orphan Black Season 1 Episode 1. Watch now the full episode of Orphan Black Season 1 Episode 1.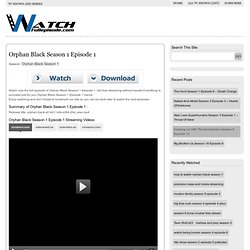 Get free streaming without hassle! Everything is provided just for you Orphan Black Season 1 Episode 1 mania. Tiny House Nation - Episodes, Video & Schedule - FYI Network. Welcome to Alpha by App.net. COMMONPLACE BOOKS. TV. By Advertisement () Sir Isaac Newton vs Bill Nye.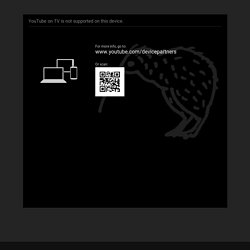 Vimeo, Your Videos Belong Here.
Games
Pinterest. Comics, Quizzes, and Stories - The Oatmeal. Good Movies List - Best movies to watch from top rated movie lists. Famous Objects from Classic Movies. Novation Launchpad for Ipad - Loopmasters Sounds In Novation Ipad App. A Cappella Academy. You Generation. Upload Ask Us Questions!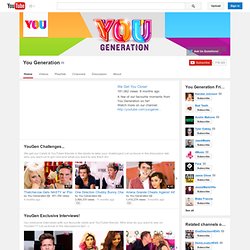 Subscription preferences Loading... Working... MLP: FiM | S2 E1 & E2 | The Return of Harmony [HD] No Watermarks.
Travel. #. Summit Series (conference) Summit Series is an American organization that hosts events for young entrepreneurs, artists and activists.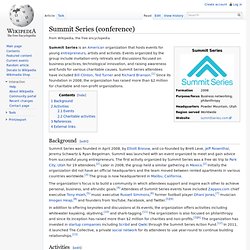 Events organized by the group include invitation-only retreats and discussions focused on business practices, technological innovation, and raising awareness and funds for various charitable causes. Summit Series attendees have included Bill Clinton, Ted Turner and Richard Branson.[1] Since its foundation in 2008, the organization has raised more than $2 million for charitable and non-profit organizations. Summit Series was founded in April 2008, by Elliott Bisnow, and co-founded by Brett Leve, Jeff Rosenthal, Jeremy Schwartz & Ryan Begelman. Summit was launched with an event organized to meet and gain advice from successful young entrepreneurs. Semester at Sea.
---