Code-Free Site Building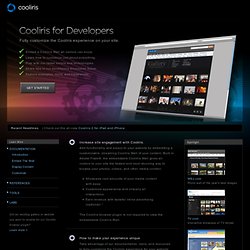 Cooliris for Developers
Increase site engagement with Cooliris. Add functionality and pizazz to your website by embedding a customizable, streaming Cooliris Wall of your content. Built in Adobe Flash®, the embeddable Cooliris Wall gives all visitors to your site the fastest and most stunning way to browse your photos, videos, and other media content. Showcase vast amounts of your media content with ease.
The long and illustrious history of moving pictures all started with the zoetrope. Then there was the thaumatrope, the flip book, and my personal favorite, the phenakistoscope. And now we have (drumroll please): The Internet. People have been excited about moving pictures for ages.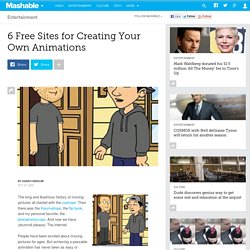 Quick & Easy Bring your work to life in hours and days instead of weeks and months. With Construct 2 making games is a piece of cake: just drag and drop objects around, add behaviors to them, and make everything come alive with events! With a quick and easy to grasp Ribbon interface, you have clear access to a wide set of tools that allows anyone to jump into game creation with little to no prior game development knowledge. The Layout Editor provides a what-you-see-is-what-you-get visual interface to design your levels.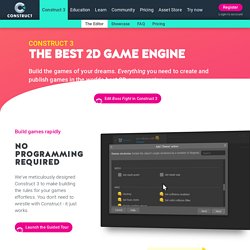 " It's a way our clients can get to know us and see our culture without physically visiting the store. I couldn't believe I got the site up and running over one weekend." " I have been an entrepreneur for many, years, but suddenly my art licensing is really coming together and I need to have a simple, bold statement about my art. My Weebly site fits that vision for me." " It surprised me how quick it was to put the site together. It only took me a leisurely evening of clicking around on the site, while sitting in front of the TV, to get it up and running.
WordPress is web software you can use to create a beautiful website or blog. We like to say that WordPress is both free and priceless at the same time. The core software is built by hundreds of community volunteers, and when you're ready for more there are thousands of plugins and themes available to transform your site into almost anything you can imagine. Over 60 million people have chosen WordPress to power the place on the web they call "home" — we'd love you to join the family.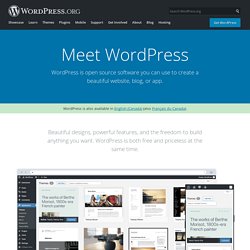 Web Design Tutorials
In business, you only get one chance to make a good first impression, and your company's website is no different. When customers arrive at your site they should instantly have a clear understanding of who you are and what you do. But statistics show that many small-business websites lack the basics, which puts them at risk of losing a customer with just one click. The relationship between a customer and a business is based on trust. Is your website customer-friendly? Start with the five things that belong on the front page of every business website.
5 Things That Belong on the Front Page of Your Website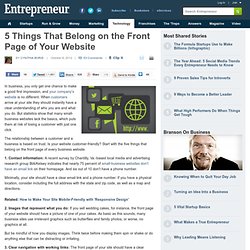 Like adoptables? Can you draw? That's all that's required to create your very own adoptables site with MyAdopts! We make it easy for anyone to create their own adoptables site. Simply create a new site and begin uploading your artwork.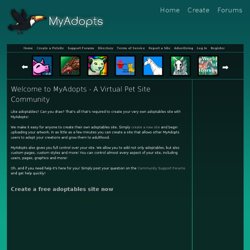 MyAdopts