Kikokoko
Educational
Productivity. Tech. Coding. Art & Design. Your Life The Role Playing Game. The problem with most productivity apps on the market is that they provide no incentive to continue using them.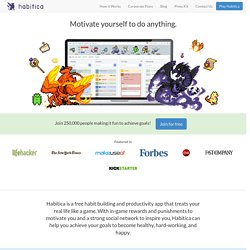 HabitRPG fixes this by making habit building fun! By rewarding you for your successes and penalizing you for slip-ups, HabitRPG provides external motivation for completing your day-to-day activities. Instant Gratification Whenever you reinforce a positive habit, complete a daily task, or take care of an old to-do, HabitRPG immediately rewards you with experience points and gold. Dashboard. Duolingo: Home. Codecademy. Create an Account. Calendar. Play Music. Soundcloud. Spotify. Sporcle - Trivia, Quizzes & Brain Games.
Dashboard | Khan Academy. Tomatoes. Chains.cc. Toggl - Insanely simple time tracking. Agent12voltage.
Good Cause. Entertainment. Health. Style. Interest/Humor. Coursera. IFTTT / Put the internet to work for you. Wolfram|Alpha: Computational Knowledge Engine. Dafont.com. Www.youtube.com/user/crashcourse. SparkNotes: Today's Most Popular Study Guides. Share Book Recommendations With Your Friends, Join Book Clubs, Answer Trivia.
---