Interior design
The Decorista-Domestic Bliss. Habitually Chic® Overhead-wall-bookshelves.jpg (468×600) PadStyle | Interior Design Blog | Modern Furniture | Home Decor | Interior Design. Addicted 2 Decorating. The Inspired Room — Home Decorating Blog, DIY Home Decor, Interior Design Blog. Interior Decorating Ideas, Interior Design and Interior Decorating Tips,... - StumbleUpon.
Outdoor style | Miss Design - StumbleUpon. [...] miss, miss design, miss-design, missdesign, design, illustration, interior, interior design, style interior, interior old style, workspace, workplace, creative workspace, veranda, garden, balcony, exterior, photography, studio, 3d, typography, blog, person, architecture, arts, creative, layout, design studio, inspire, inspiration, technology, resources, tools, internet tools, discussions, bridal bouquet, font, free font, digital art, logo, logotype, typographic design, tutorial, tutorials, icon, icon tutorial, how to, industrial design, camera lens, canon, nikon, pentax, olympus, books, bookshelves, cupboard, chair, unique style, unique design, unique interior, before and after, benchmark Outdoor style | Miss Design – StumbleUpon [...]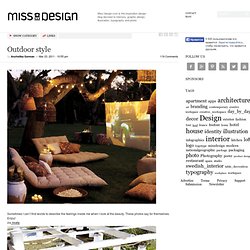 Inspiration – A cool kitchen-finds blog - Kitchenisms. The refrigerator is often the ugliest thing in a kitchen.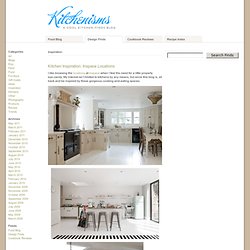 Big, space-sucking and stupid looking, they can drain the charm from an otherwise lovely space. Sure, there are great options around (I do love me a smeg), but what to do if yours is one of those ho-hum models, and an upgrade isn't on the cards? Smart ideas. Lost & Found: Comfy Chair Cushioned with Built-In Storage.
Lighters, keys, coins … cushioned chairs and couches are notorious for nomming all kinds of things that slip out of our pockets or otherwise get left behind and slide into the cracks.
This design simply celebrates that existing phenomena, like a giant-sized pin cushion. It may come as no surprised that this clever-but-boxy furniture piece was developed by architectural designers (of Daisuke Motogi Architecture), who have a knack for exposing and expanding uses for classic furnishing types. Pixel-like pads cover the entire surface of the seat both inside and out, forming slots in which one can accidentally drop a small item or intentionally stick a book, magazine, remote and more.
Cleaning this piece would not be trivial, but for those who enjoy the occasional boredom-induced, couch-cushion treasure hunt, who knows what you might find that you or someone else left behind. Everyday Objects Stash Money, Secrets, Drugs, IDs. Yiting Cheng just finished up a master's degree in design, but she could already teach James Bond a thing or two about stashing valuables.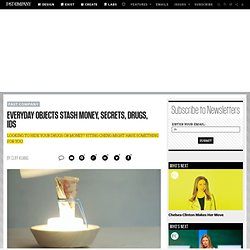 For her thesis project, Cheng designed a series of eight objects that ingeniously store secrets--from passwords to money to drugs to IDs. And you can see all of them in this nicely shot video (our favorite is the secrete drawer, hidden in the edge of a table, which is only accessible when attach a magnetic pull): According to Cheng: This project is about concealing valuables, secrets, bad habits and personal information in our workplaces. 10 Scrap Refabs: Vintage Reupholstery with Colorful Fabric.
Forget fabric stores – some antiques are just too boring to bother re-covering with traditional patterns.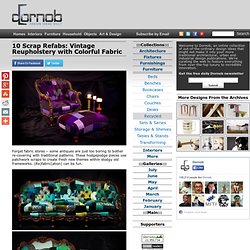 These hodgepodge pieces use patchwork scraps to create fresh new themes within stodgy old frameworks. (Re)fabric(ation) can be fun. Funny and Creative Design - Dumage. Funny and Creative Design These photos show us a several very creative, funny and inspiring things.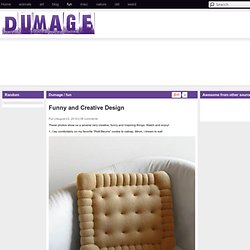 Watch and enjoy! 1. I lay comfortably on my favorite "Petit Beurre" cookie to catnap. Mmm, I dream to eat! 20 Outstanding & Outrageous Concept Cars from the Golden Age. Shining Examples: 20 Cool Concept Cars of the Golden Age Article by Steve, filed under Vintage & Retro in the Technology category.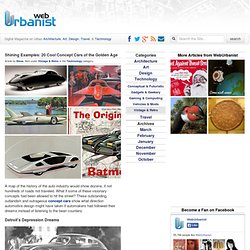 A map of the history of the auto industry would show dozens, if not hundreds of roads not traveled. Cool gadgets for creative offices. Each designer or agency office should be filled with creative and innovative gadgets that surprise our clients and stimulate the imagination.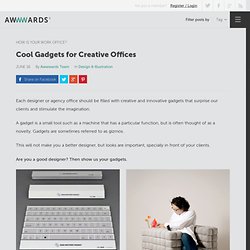 A gadget is a small tool such as a machine that has a particular function, but is often thought of as a novelty. Gadgets are sometimes referred to as gizmos. This will not make you a better designer, but looks are important, specially in front of your clients. Are you a good designer? Then show us your gadgets.
---