WEB / DIGITAL
Pour les géants de l'agroalimentaire, Facebook est le média idéal. Ils y créent des vrais faux comptes d'admirateurs de leurs marques. Et y animent, officieusement, des fan pages à la gloire de leurs produits. Enquête sur le média sur mesure des Danone, Nestlé, Orangina et autre Nutella.
La com' de Danone et Nestlé envahit Facebook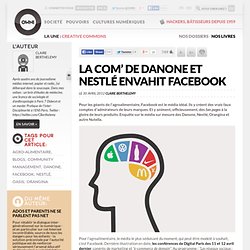 Le SXSW en 10 tendances - INNOVATION
South by Southwest, abrégé le plus souvent par le sigle SXSW, est un festival hybride. Depuis 1987, il mélange les cultures en organisant en un lieu trois événements autours du rock, du cinéma et de ce que l'économie numérique compte de plus hype. Olivier Vigneaux et Carole Zibi y ont passé 4 jours survoltés et ont présenté les 10 tendances qu'ils ont pu attraper au vol lors du dernier BETC/90 minutes.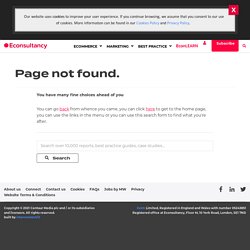 In the past year or so there has been a trend in web design towards the use of scrolling, which can help to engage visitors and provides a feeling of movement and animation. These web pages are entirely static, and rely on the visitor to interact in order to generate the 'movement'. Back in the day if you asked for this a developer would reach for Flash, but nowadays HTML5 (which has a <ParallaxScroll> tag), CSS3 and JQuery are usually employed to achieve scrolling effects. I've collected a bunch of scrolling websites that are built with the arrow keys in mind. Some of these are more 'animated' than others, and some scrolling websites feel a little bit clunky, but all of them are interesting and creative web experiences. I'm not yet convinced that scrolling is something that e-commerce companies should be embracing en masse, but it can certainly be used to support brand and product campaigns, given that the best examples are inherently narrative.
14 fantastic scrolling websites that tell a story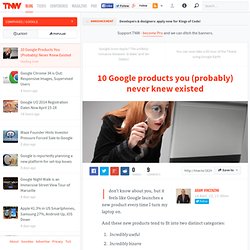 I don't know about you, but it feels like Google launches a new product every time I turn my laptop on. And these new products tend to fit into two distinct categories: Incredibly usefulIncredibly bizarre
Internet offre aujourd'hui un grand monde de possibilités d'expression de la créativité et l'objectif par excellence est devenu la maximisation du earned media (bouche à oreille auto-générée par l'audience). C'est ainsi que les théoriciens modernes en sont arrivés à multiplier les key notes et les décryptages : comment un contenu devient-il viral !? Le livre référent dans le domaine reste tout de même The Tipping Point du fameux Malcolm Gladwell mais notre ère étant réellement celle du dynamisme, quelques nouveaux points de vue deviennent intéressants. Voici une vidéo Ted, bien brève et agréable à regarder, soulevant quelques points importants. Kevin Allocca est trend manager chez Youtube et il nous fait part des facteurs clés qui selon lui permettent à un contenu quelconque de devenir viral.
La WTF generation - TRIBUNE
Content marketing was a top priority for businesses in 2011, and it is going to remain so in 2012. That's according to a study conducted by the Content Marketing Institute, a marketing education and research company. In the past year, marketers distributed more business-to-business content on YouTube, LinkedIn, Facebook and Twitter than ever, according to CMI. Content marketing encompasses new techniques and methods of sharing information. Spreading unique, helpful bits within the industry or with consumers creates brand awareness, new customers and client loyalty.
Marketers Who Share Content Drive Traffic, Gain Customers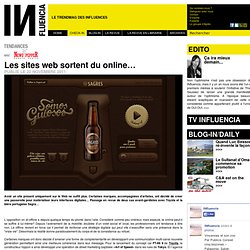 Publié le 22 novembre 2011 Avoir un site présent uniquement sur le Web ne suffit plus. Certaines marques, accompagnées d'artistes, ont décidé de créer une passerelle pour matérialiser leurs interfaces digitales… Passage en revue de deux cas avant-gardistes avec Toyota et la bière portugaise Sagra…
Les sites web sortent du online