pop window=lightbox
Get flash to fully experience Pearltrees
Who? jqModal Minimalist Modaling with jQuery What?
To open inline content, simply: Create a link (<a href="#">). Add the rel attribute "prettyPhoto" to it (rel="prettyPhoto"). Change the href of your link so it is the ID of the inline content you want to open with the ID CSS selector (#). This is inline content opened in prettyPhoto.
The jQuery BlockUI Plugin lets you simulate synchronous behavior when using AJAX , without locking the browser [1] . When activated, it will prevent user activity with the page (or part of the page) until it is deactivated. BlockUI adds elements to the DOM to give it both the appearance and behavior of blocking user interaction.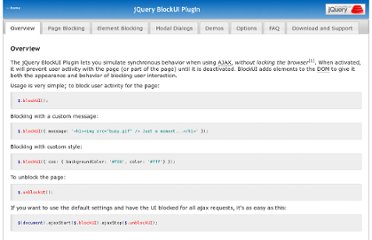 Basic Modal Dialog A basic modal dialog with minimal styling and without any additional settings. There are a few CSS attributes set internally by SimpleModal, however, SimpleModal relies mostly on external CSS for the look and feel. Demo Download