Fixed Position Navigation
Mpare Top Offers prices in ASDA via mySupermarket. Grey Folio | HTML/CSS Theme | Themeforest.com template by Vasjen Katro. 2011 Sasquatch! Music Festival. ファッション、コレクション、海外セレブの最新情報. Replenish - A Better Cleaner in a Smarter Bottle™ Marshall Headphones. Marshall Headphones. Hering | Collections.
Creative User Experience Web Design, Development and Mobile Application Digital Agency in Melbourne. Entertainment - TOOLKIT. Studio Chirpy based in Bristol, UK - Graphic Designer, Freelance Graphic Designer, Web Designer, Freelance Web Designer. Full Stop — Web design from Pittsburgh, PA. For the TL;DR crew, here's the deal: as of today, November 8th, 2013, Full Stop is no longer accepting new projects.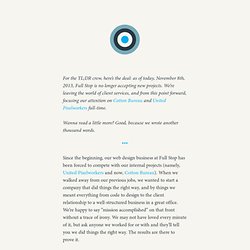 We're leaving the world of client services, and from this point forward, focusing our attention on Cotton Bureau and United Pixelworkers full-time. Wanna read a little more? DKNG » Store » All Products. Studio Nudge | Charleston, SC Graphic & Web Design Studio. StruckAxiom > A Creative Agency.
---