Khazzam
Regine
SUPAKITCH &KORALIE Art - StumbleUpon. Mix Collection of 99 Stunning Photographs to Refresh Your Mind. When it comes to inspiration then there is no limitation on resources.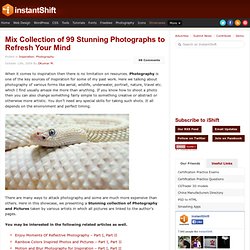 Photography is one of the key sources of inspiration for some of my past work. Here we talking about photography of various forms like aerial, wildlife, underwater, portrait, nature, travel etc. which I find usually amaze me more than anything. If you know how to shoot a photo then you can also change something fairly simple to something creative or abstract or otherwise more artistic. You don't need any special skills for taking such shots. It all depends on the environment and perfect timing. Block Posters - Create large wall posters from any image for free! Crazy paper thing - StumbleUpon. The Cube Game -– Find Out The True Nature Of People. In this video I am going to play with you The Cube game.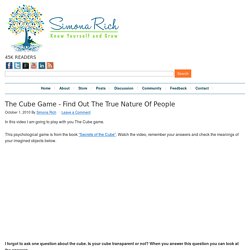 This psychological game is from the book "Secrets of the Cube" . Life's Instructions.
Wissen
Welt = schön. Shape Collage - Automatic Photo Collage Maker. Videos. Random. Designkram.
---