Best Websites
Customer Reviews Solutions - Customer Lobby (866) 718-9549. Glancee. Foursquare And Glancee Are Cool, But Here's Why I'm So Excited About Using Highlight At SXSW. The crowds and hype of South By Southwest make the massive Austin tech and media conference the perfect place for launching, well, any sort of app that needs crowds and hype to break out of tech circles and into the mainstream.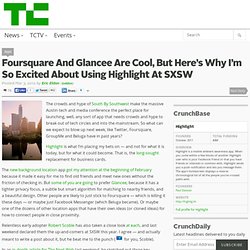 So what can we expect to blow up next week, like Twitter, Foursquare, GroupMe and Beluga have in past years? Highlight is what I'm placing my bets on — and not for what it is today, but for what it could become. Yutongo - [ongrowing ideas] Clear: Why This Simple To Do List App Has Everyone Talking. Clear, the heavily-anticipated touch-based to-do list app, is launching in the iTunes App Store tonight.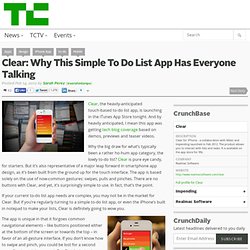 And by heavily anticipated, I mean this app was getting tech blog coverage based on demos, previews and teaser videos. Why the big draw for what's typically been a rather ho-hum app category, the lowly to-do list? Zotero Review. On its website, Zotero is described "is a free, easy-to-use Firefox extension to help you collect, manage, and cite your research sources.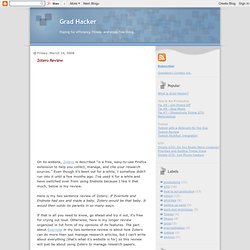 " Even though it's been out for a while, I somehow didn't run into it until a few months ago. I've used it for a while and have switched over from using Endnote because I like it that much, below is my review. Here is my two sentence review of Zotero: If Evernote and Endnote had sex and made a baby, Zotero would be that baby. It would then outdo its parents in so many ways. If that is all you need to know, go ahead and try it out, it's free for crying out loud. Bey2ollak.com.
Research/SEARCH - Anti-Facebook Social Network "Unthink" Launches To Public. Scrappy outsider startup Unthink.com, which bills itself as the "anti-Facebook," is opening up its doors today, allowing in its first round of beta testers.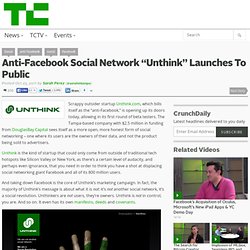 The Tampa-based company with $2.5 million in funding from DouglasBay Capital sees itself as a more open, more honest form of social networking – one where its users are the owners of their data, and not the product being sold to advertisers. Unthink is the kind of startup that could only come from outside of traditional tech hotspots like Silicon Valley or New York, as there's a certain level of audacity, and perhaps even ignorance, that you need in order to think you have a shot at displacing social networking giant Facebook and all of its 800 million users. And taking down Facebook is the core of Unthink's marketing campaign.
In fact, the majority of Unthink's message is about what it is not: it's not another social network, it's a social revolution. Evernote. With click.to you create notes with one click – text from an e-mail, from a Browser, with a picture, without a picture … Functions Copy text from a noteCopy photos into a noteScreenshots are held in a note without a problemDifferent file formats can be stored in a notebook 1 Click.to Evernote – from the recipe to the shopping list – copy text into a note Your best friend finally sent her best recipe to you by e-mail?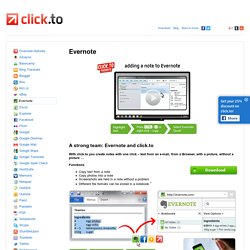 This will of course fit neatly into your recipe collection with Evernote. So, you highlight the text in the e-mail, press Ctrl+C or right click -> copy and click.to Evernote and the recipe is immediately saved as a note. Internet Archive: Digital Library of Free Books, Movies, Music & Wayback Machine. TechSmith | Screencast.com, online video sharing, Home. Download - Under the Hood · Inside Google Search. J2ME & JQuery - Storify.
Research/SEARCH - Jonah Merchant (simianaudio) Research/SEARCH - foursquare (website) Foursquare is a location-based social networking website for mobile devices, such as smartphones.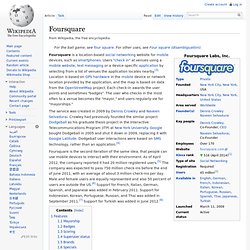 Users "check in" at venues using a mobile website, text messaging or a device-specific application by selecting from a list of venues the application locates nearby.[3] Location is based on GPS hardware in the mobile device or network location provided by the application, and the map is based on data from the OpenStreetMap project. Each check-in awards the user points and sometimes "badges". The user who checks in the most often to a venue becomes the "mayor," and users regularly vie for "mayorships. " Foursquare is the second iteration of the same idea, that people can use mobile devices to interact with their environment. Research/SEARCH. Research/SEARCH.
---