Tech Sites
Infogr.am. Block Posters - Create large wall posters from any image for free! Make a comic out of any image online with the CHOG IT! Bookmarklet - Chogger. The CHOG IT!
Bookmarklet lets you make comics from any website with images. See a comic-worthy picture while browsing? Click CHOG IT! , choose your comic images and with one click they're imported into the chogger comic creator! Firefox. Create a Collage! Tell a story with your media! Comment on, edit, and fill PDF files, Word documents, images and more | Crocodoc. Plant a Question, Grow Answers. For your convenience, you can change the following settings for your new AnswerGarden.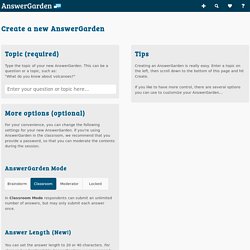 If you're using AnswerGarden in the classroom, we recommend that you provide a password, so that you can moderate the contents during the session. Reminder Email Enter an email address and you'll receive an email containing the AnswerGarden link and admin password. Join the Amazing AnswerGarden Newsletter. Education 3.0: Mobile & Social. Your prezis | Prezi.
Online presentation examplesOnline presentation examples. Blabberize.com - Got a picture? Blabberize it! Vocaroo | Online voice recorder. Popplet | Collect, curate and share your ideas, inspirations, and projects! Activating Empathy: Transforming Schools To Teach What Matters. This article was written by Luciana Grosu, a reporter for the Romania News Desk.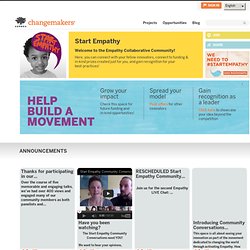 Editor's Note: This is the next post in our "Empathy from the Field" series, produced by Ashoka Fellow Cristi Hegranes' organization, Global Press Journal. In this series, we aim to show the impact that empathy can have not only in the classroom, but in the real world as well. Here is the first post. Beautiful Word Clouds. Photo Peach. Scriptlist. Publish your own children's book. Your activity. Cartoonist - Creaza Education. Creaza Cartoonist Do you have a good idea or a good story you want to get out?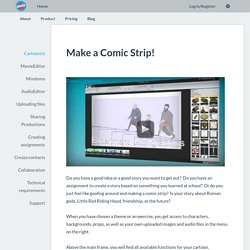 Do you have an assignment to create a story based on something you learned at school? About - Features. Seamlessly integrating VoiceThread into your Learning Management System (LMS) is the key to user happiness.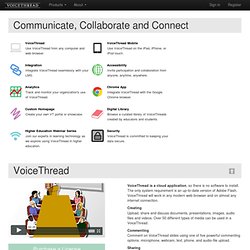 VoiceThread works well within a broad range of systems, but the most powerful option is the standard developed by the IMS Global Learning Consortium called Learning Tools Interoperability (LTI). LTI allows VoiceThread to integrate into most major Learning Management Systems, including but not limited to Blackboard, Sakai, Angel, Canvas, Desire2Learn, BrainHoney and Moodle. Single Sign-onAll users access VoiceThread with a single click.
Through LTI, VoiceThread will know the context of the user from the LMS, and an account will be created for that person. First name, last name, email address, and role information can all be passed to VoiceThread through LTI. Tagxedo. PDF to Flash page flip - flipping book software. Easy Innovations: Web Tech Tools in the Classroom – AIMS (Session 1) « Make EdTech Happen. PowerPoint Hosting Description: Share your PowerPoints online to gain a wider audience and encourage collaboration.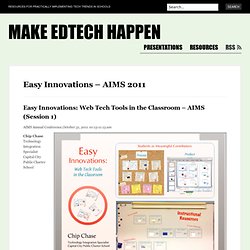 Instead of forcing users to download files, online services allow you to upload PowerPoint files and add other features. Standards: NETS-S 2, 4, 5 Best Practices: Flip your classroom by posting important PowerPoints on your Learning Management System. Have students create PowerPoints and share them with the larger public online using these sites. Capzles Social Storytelling | Online Timeline Maker | Share Photos, Videos, Text, Music and Documents Easily. Classroom Blogs. Pic Lits. Flash Earth - Zoom into satellite and aerial imagery of the Earth in Flash.
---