Cookies
Angel Face Cookies. Guest post from Brigette Shevy To be perfectly honest, I've never been a fan of sugar cookies.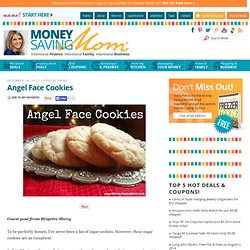 However, these sugar cookies are an exception! Soft and buttery, these melt-in-your-mouth goodies are the perfect accompaniment to a steamy mug of cocoa, or a good book by the fireplace. The Best Chocolate Chip Cookie Recipe | New York Times Chocolate Chip Cookie. The search for the absolute best chocolate chip cookie recipe has ended with the New York Times Chocolate Chip cookie recipe adapted from Jacques Torres I think it's pretty fair to say that when most of us think of making chocolate chip cookies, we look on the yellow Nestle bag for the Toll House Cookie recipe.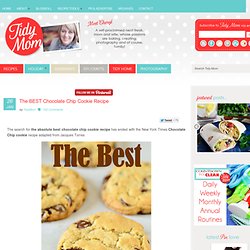 Recently my friend Kim had a chocolate chip cookie fail! Brown Butter Snickerdoodle Cookies. Oh hey there.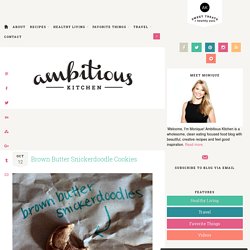 It's finally Friday and I couldn't be happier! Why? Um, because it's the weekend which means I can cook the five butternut squashes sitting on my counter, drink wine, definitely bake a cake or something, YouTube Joe Biden's laugh during the debates, catch up on Dexter, go to the apple orchard and make pie, get a pedicure, run until my legs fall off because my best friend just told me we're running a race in TWO WEEKS, eat a kale salad because I'm trying to be healthy, and do the obvious stalking of Trader Joe's for a good two hours. No biggie. Jo and Sue: Chocolate Chip Cream Cheese Cookies. Who doesn't love chocolate and cream cheese and cookies?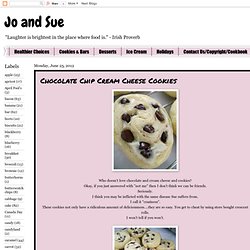 Okay, if you just answered with "not me" then I don't think we can be friends. Seriously. I think you may be inflicted with the same disease Sue suffers from. Bakestravaganza: Oreo Cream Cheese Cookies. Oh my sweet sweet goodness, how long was I going to stay away?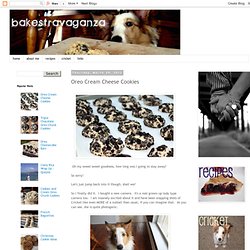 So sorry! Let's just jump back into it though, shall we? So I finally did it. Salted Mudslide Cookies. Cool people put salt on their cookies.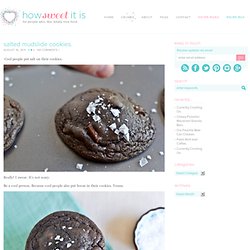 Really! I swear. It's not scary. Be a cool person. Make Boyfriend Cookies. Photo credit Whether you're trying to land a boyfriend, forget you don't have a boyfriend, or bake something delicious for the boyfriend you already have, this cookie recipe is a must.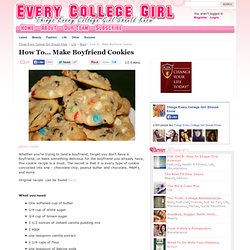 The secret is that it is every type of cookie concocted into one – chocolate chip, peanut butter and chocolate, M&M's, and more. Original recipe can be found here. What you need. Sallys Baking Addiction Cake Batter Chocolate Chip Cookies. » Sallys Baking Addiction. These Cake Batter Chocolate Chip Cookies are a cross between delicious, soft-baked chocolate chip cookies and sprinkle filled funfetti cake!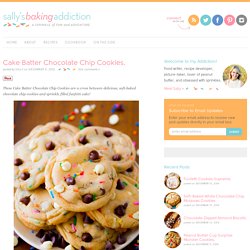 One of my most popular recipes ever: Cake Batter Chocolate Chip Cookies. I made these sprinkle-loaded cookies again recently, but I made them bigger, better, and thicker. Gorgeous, aren't they? Delicious too! I'm posting my Cake Batter Chocolate Chip Cookies for you again today because (1) I know how much you love cake batter and (2) I tweaked the recipe to make them even better this time around. I hope you have chocolate chips handy.
They're cookies.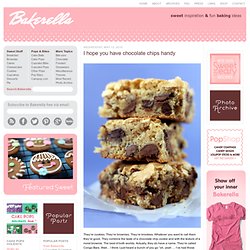 They're brownies. They're brookies. Gooseberry Patch cookbook giveaway with Best-Ever Cookies Cookbook Review & Recipes. These are the Best Ever Cookies on Pinterest!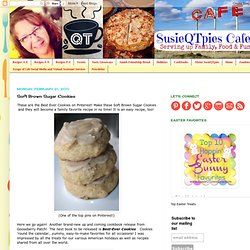 Make these Soft Brown Sugar Cookies and they will become a family favorite recipe in no time! It is an easy recipe, too! (One of the top pins on Pinterest!) Fake Betty Crocker Cookie Mixes. Ever have one of those "Ah-ha! " moments? I happened to me yesterday when I was lamenting the price of those very convenient Betty Crocker Cookie Mixes. I remember when they used to only cost $1.00 each in Walmart and now they're $2.50 each! Who says there's no inflation? Anyway, I usually just tell myself that I can make cookies from scratch anytime with the plentiful ingredients of my pantry, but then it came to me...Why can't I make cookie pre-mixes and keep them in ziplock bags for use at my convenience? A Bitchin' Kitchen: Pumpkin Snickerdoodles. Posted by: Annie I found myself awake this past weekend at 7:50 a.m.
Like, really? Recipe for Sugar Cookies. Oct 3 Welcome to Unsophisticook! I'm always cooking up something new, so be sure to subscribe to the blog to receive FREE updates sent right to your inbox. While my favorite cookie is one of these chocolate crinkle cookies, every cook should have a good recipe for sugar cookies in his or her repertoire. Chocolate Chip Cream Cheese Cookies.
Rolo Stuffed Snickerdoodles | Rachel Schultz. What is it about the simple deliciousness of snickerdoodles? Snickerdoodles = childhood. A caramel center is the perfect remix to this classic cookie. And Rolo's are just the way to do it. This is the littlest effort ever required for a quite fanciful cookie. Cookie Dough for Preggies! I was craving cookie dough today. Not really cookies, but just the cookie dough. Of course, I knew that I wasn't supposed to eat dough with raw eggs in it, so I lucked out when I found this recipe for cookie dough for ice cream. It didn't have all the extra ingredients that are important when you're going to cook the dough, stuff like baking soda. And it was eggless, and super simple to make. I made a few adjustments based on the reviews (and doubled it in the process), and am pretty pleased with the results. Aunt Peg's Recipe Box. M&M Cookie Pie. Golden Graham S'more Bars. I am baker | i am baker. My FAVORITE Chocolate Chip Cookie.
The Perfect Cookie Dough Truffles Recipe. Soft Chocolate Chip Cookies. Fudgy Brownie Cookies. Grand Cayman & No Bake Cookies and Cream Bars.
---