Cookies
Recipe for Sugar Cookies. Oct 3 Welcome to Unsophisticook!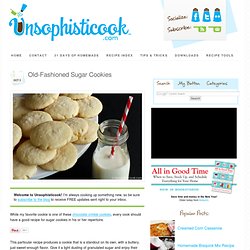 I'm always cooking up something new, so be sure to subscribe to the blog to receive FREE updates sent right to your inbox. While my favorite cookie is one of these chocolate crinkle cookies, every cook should have a good recipe for sugar cookies in his or her repertoire. Chocolate Chip Cream Cheese Cookies. Who doesn't love chocolate and cream cheese and cookies?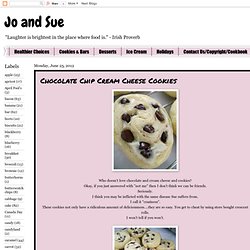 Okay, if you just answered with "not me" then I don't think we can be friends. Seriously. I think you may be inflicted with the same disease Sue suffers from. Rolo Stuffed Snickerdoodles | Rachel Schultz. What is it about the simple deliciousness of snickerdoodles?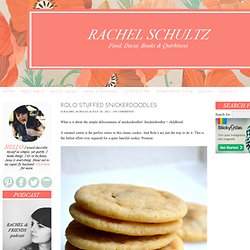 Snickerdoodles = childhood. A caramel center is the perfect remix to this classic cookie. And Rolo's are just the way to do it. This is the littlest effort ever required for a quite fanciful cookie. Cookie Dough for Preggies! I was craving cookie dough today.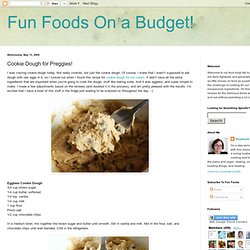 Not really cookies, but just the cookie dough. Of course, I knew that I wasn't supposed to eat dough with raw eggs in it, so I lucked out when I found this recipe for cookie dough for ice cream. It didn't have all the extra ingredients that are important when you're going to cook the dough, stuff like baking soda. And it was eggless, and super simple to make. I made a few adjustments based on the reviews (and doubled it in the process), and am pretty pleased with the results.
Aunt Peg's Recipe Box. M&M Cookie Pie. I wish I could say that I was away on some terrific adventure, or that I have been so inspired to create magical dishes that I have been too busy in the kitchen with a knife in one hand and a spatula in the other to blog anything.... but, no.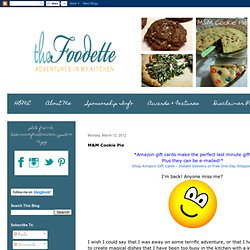 I have been just busy with life-things. Adult things, really. Like going to work and being super busy everyday, apartment hunting (which may be as much fun as bra shopping- ack), and thinking a lot about packing, cleaning, and making a giant Goodwill donation trip- but not actually doing any of it.Oh, I'm getting stressed just thinking about it.Cookie pie, anyone? Part of my birthday package from my mother last month included a large stack of mail, and a container of M&M's shaped like the great state of Texas.Awesome.I wanted to make cookies, but I didn't want to make cookies.
I didn't feel like I had the patience to ball up all the dough and then clean several cookie sheets so I decided to dump the entire bowl of batter into my pie pan and voilà! Golden Graham S'more Bars. S'mores are one of my favorite things on this planet…literally.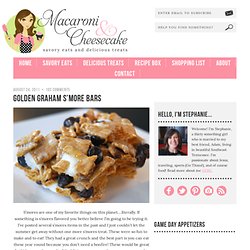 If something is s'mores flavored you better believe I'm going to be trying it. I've posted several s'mores items in the past and I just couldn't let the summer get away without one more s'mores treat. These were so fun to make and to eat! I am baker | i am baker. My FAVORITE Chocolate Chip Cookie. I have experimented with countless recipes searching for that perfect chocolate chip cookie.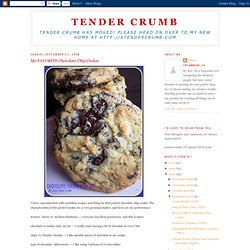 The characteristics of the perfect cookie are a very personal matter, and here are my preferences: texture: chewy w. medium thickness --- everyone has their preference, and this is mine! Chocolate to cookie ratio: 50/50 --- I really enjoy having a lot of chocolate in every bite. The Perfect Cookie Dough Truffles Recipe. Soft Chocolate Chip Cookies. Saturday, May 14, 2011 Soft Chocolate Chip Cookies For the upcoming bake sale, I also made these soft chocolate chip cookies decorated with some swirl chips.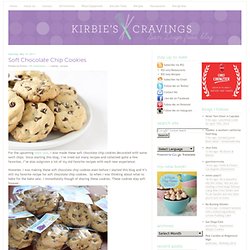 Fudgy Brownie Cookies. Grand Cayman & No Bake Cookies and Cream Bars. Grand Cayman & No Bake Cookies and Cream Bars Yesterday we arrived on the third leg of our June trip.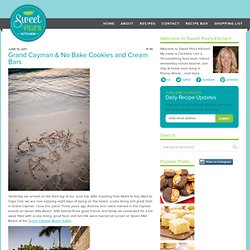 After traveling from Miami to Key West to Cape Cod, we are now enjoying eight days of laying on the beach, scuba diving and great food in Grand Cayman. I love this place! Three years ago Andrew and I were married in the Cayman Islands on Seven Mile Beach. With twenty-three good friends and family we celebrated for a full week filled with scuba diving, great food, and fun!
---