Kgallina
10 Sites You Should Know for Christmas Deals - MoneySavingQueen - October 2012. Posted: 10/12/12 3:00 PM (Modified: 07/24/13 8:01 PM) It's ALMOST here believe it or not, Christmas time!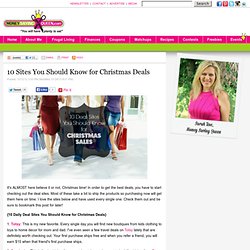 In order to get the best deals, you have to start checking out the deal sites. Avocado Cuber. Shipping Information This item is shipped from our warehouse by UPS to arrive within five business days of our receiving your order.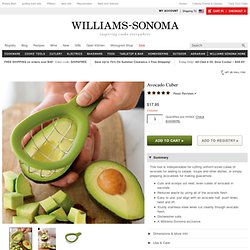 Shipping Rates. Make Your Own Mixes. Make Your Own Mixes. Did You Know... Over the years I've done a lot of web surfing.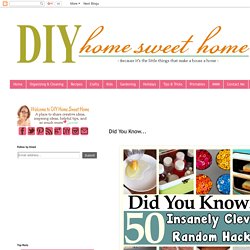 Today it still amazes me, that I am able to find just about anything online. Some things may take a little bit of searching while others are just a mouse click away. One thing that just makes me giddy all over is when I am randomly bouncing around from site to site and suddenly I discover something new. Something that makes me think "Why did I not discover this sooner? " Some of these new ideas (new to me atleast) have made life just a little easier. Get Rid of Household Odors with Vanilla Extract. Slow cooker marinara. I've made a few variations of red sauce for Budget Bytes, but this one is definitely the best of the best.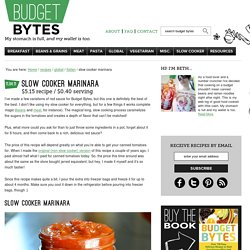 I don't like using my slow cooker for everything, but for a few things it works complete magic (beans and meat, for instance). The magical long, slow cooking process caramelizes the sugars in the tomatoes and creates a depth of flavor that can't be matched! Plus, what more could you ask for than to just throw some ingredients in a pot, forget about it for 8 hours, and then come back to a rich, delicious red sauce?
The price of this recipe will depend greatly on what you're able to get your canned tomatoes for. When I made the original (non-slow cooker) version of this recipe a couple of years ago, I paid almost half what I paid for canned tomatoes today. How To Freeze Food — Timeline, Tips and Don'ts | MyThirtySpot. I have been trying to freeze more foods lately.
It saves money, I am not wasting food because the leftovers are not getting eaten, and it actually will preserve the food's freshness. I realized I had a lot to learn when it came to freezing foods. There are so many things that can be frozen that I never knew, shredded cheese, soups, certain fruits. Home on the Range : The Pioneer Woman. Pioneer Woman Ree Drummond's throwing open her Oklahoma ranch for a brand-new food series with juicy slices of frontier life.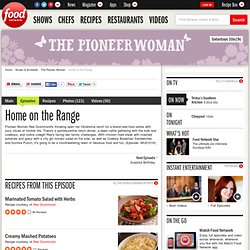 There's a quintessential ranch dinner, a dawn cattle gathering with the kids and cowboys, and rookie cowgirl Ree's facing two family challenges. With chicken fried steak with mashed potatoes and gravy with a city girl tomato salad on the side, as well as Cowboy Breakfast Sandwiches and Sunrise Punch, it's going to be a mouthwatering feast of fabulous food and fun. (Episode: WU0101H) Surprise Birthday : The Pioneer Woman. It's Todd's 7th birthday and the family is planning his first-ever surprise party.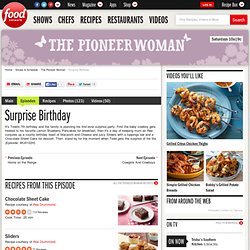 First the baby cowboy gets treated to his favorite Lemon Blueberry Pancakes for breakfast, then it's a day of keeping mum as Ree conjures up a county birthday feast of Macaroni and Cheese and juicy Sliders with a toppings bar and a Chocolate Sheet Cake for dessert. Then, stand by for the moment when Todd gets the surprise of his life. (Episode: WU0102H) Cowgirls And Cowboys : The Pioneer Woman. There's a battle of the sexes going down on the ranch where the guys like their food brown and hearty.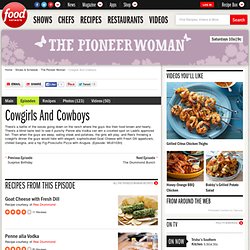 There's a blind taste test to see if punchy Penne alla Vodka can win a coveted spot on Ladd's approved list. Then when the guys are away, eating steak and potatoes, the girls will play, and Ree's throwing a cowgirl's dinner the guys would hate with elegant, sophisticated Goat Cheese with Fresh Dill appetizers, chilled Sangria, and a hip Fig-Prosciutto Pizza with Arugula. (Episode: WU0103H) The Drummond Bunch : The Pioneer Woman. It's all about work, food and fun on the Pioneer Woman's ranch where she's cooking up a fabulous spicy Cajun Chicken Pasta lunch for her hungry kids.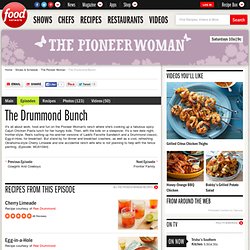 Then, with the kids on a sleepover, it's a rare date night, frontier-style. Ree's rustling up his-and-her versions of Ladd's Favorite Sandwich and a Drummond classic, Egg-in-Hole, for breakfast. But stand by for dinner and breakfast crashers, as well as a cool, refreshing Oklahoma-style Cherry Limeade and one accidental ranch wife who is not planning to help with the fence painting. (Episode: WU0104H) Rancher's Dinner : The Pioneer Woman. Guns, roping and a marital shootout are all part of the Drummonds' Rancher's Dinner.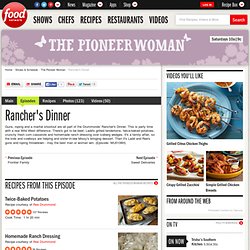 This is party time with a real Wild West difference. There's got to be beef, Ladd's grilled tenderloins, twice-baked potatoes, crunchy fresh corn casserole and homemade ranch dressing over iceberg wedges. It's a family affair, so the kids and cowboys are helping and sister-in-law Missy's bringing dessert. Then it's Ladd and Ree's guns and roping throwdown - may the best man or woman win. Little School House on the Prairie : The Pioneer Woman.
School's in at the lodge where it's homeschool Co-Op day. The night before Ree gets ahead with Strawberry Oatmeal Bars. The next day, up at the lodge, they're joined by the other moms and kids where Strawberry Jam is the first period in a cool lesson mixing science and cooking, followed by a nature trail around the ranch while Ree makes lunch for the hungry kids -- Broccoli Cheese Soup on hollowed out bread bowls. (Episode: WU0204H) Easiest Comfort Foods Videos. Pepperoni Pizza Pocket Recipe : Jeff Mauro. For those in my life who prefer soft cookies. - Popular Food. Shrimp With Avocado-Mango Salsa: Recipes. Two Timin' Pasta. Have you ever eaten at an Italian restaurant and found yourself torn between pasta with alfredo or marinara?! Ummm…me?! Not so much. I'm a marinara girl all the way, but every now and then I like a little alfredo in my life.
I love this pasta because it combines the best of both worlds and ohmiword…it.is.GOOD. Is it more moist? The Hellman's chocolate mayonnaise cake IS indeed - Norfolk Dessert. I was a little taken aback when a friend told me about a chocolate mayonnaise cake. The idea sounded gross to me since I'm a die hard mustard girl, a loyal oil and vinegar girl and I detest mayonnaise and all it stands for. I won't even let the guy at subway cut the $5 foot long with that knife because I am quite certain he cut a few dozen mayonnaise laden sandwiches with it previous to mine. I won't even eat at the same table if my husband has a chicken sandwich and I see the mayo oozing out from under the bun as it's in my field of vision.
I think I've made my point but in case I neglected to do so please contact me for more of my anti-mayonnaise rants. But alas that is not why we are here. Looking Back on 2012 to Look Into 2013. A brief look at which posts and recipes resonated with you in 2012, and what that means for 2013 here at Food for My Family. I wasn't going to do one of these posts where we tick off the top 10 (or 12 as the trend seems to be) posts of the past year. Still, here I am on Friday of the first week, and it seems like a legitimate place to start off 2013. So, these are a few of the posts that received the most love this year: Ginger Coconut Oil Sugar Scrub Rosemary Mint Shaving Cream. Search results for oven door. As most of you know my family recently took a 16 hour (one way) road trip.
In yesterdays post I shared with you a few tips and tricks to surviving a long road trip with two young kiddos as well as some great snack options. If you missed that post you can check it out HERE. Today I would like to share the games and activities I used to keep my girls entertained. The first activity the girls received was this fun eye spy game. I made some binoculars out of recycled paper towel rolls to make the game a little more exciting. Recipe Index. Anchor Charts. Stabilized Whipped Cream Frosting. Lemon Pound Cake. 30 Healthy Breakfast Snacks for Mornings on the Run. Threads. Watermelon Lime Sorbet Slices. Old-Fashioned Chocolate Cake | The Curvy Carrot Old-Fashioned Chocolate Cake | Healthy and Indulgent Meals Dangling in Front of You.
MEXICAN CHICKEN. Elementary math videos. Non-sappy father/daughter dance songs. Crunchy Apple & Grape Salad. Snow Ice Cream. Perfect Sweet Tea. Simple Seal Postcard Save the Date. Slow Cooker Cheesy Chicken And Rice (The downside of being a Swan Princess) Teaching My Friends! Mama Jenn: "Mama & Me" Journal. Current books - Read to me. Daily Five/ Literacy Centers. Words Their Way: Resources and Ideas - ELL Tool Box. Discs. Teacher Book Wizard: Find Children's Books by Reading Level, Topic, Genre. Level Books.
Shopping Cart. Life in general: let's go on a date: august. "Exploding Box" Class... Soup & Stew Recipes. Undressed Skeleton. 100% Natural Pancakes Recipe – Gluten Free, Flourless, Low Calorie, Easy. Types of Houseplants That Clean Indoor Air. AP4%20Family%20Tradition%20Interview.
Recipes 2
Jack-o'-Lantern Tamale Bake. The Lovely Cupboard: Avocado Hummus. Pensacolafishingforum. Crispy Chocolate Peanut Butter Cups. S'more Bars. Fried Bocconcini with Spicy Tomato Sauce. Puppy Chow Krispie Treats. Misc. Recipes. Education. Beauty. Crafty. Pearltrees videos. Getting started.
---