Kgallina
For those in my life who prefer soft cookies. - Popular Food
Shrimp With Avocado-Mango Salsa: Recipes
Have you ever eaten at an Italian restaurant and found yourself torn between pasta with alfredo or marinara?! Ummm…me?! Not so much. I'm a marinara girl all the way, but every now and then I like a little alfredo in my life. I love this pasta because it combines the best of both worlds and ohmiword…it.is.GOOD.
Two Timin' Pasta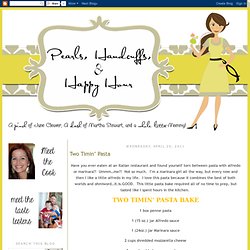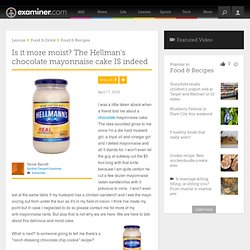 I was a little taken aback when a friend told me about a chocolate mayonnaise cake. The idea sounded gross to me since I'm a die hard mustard girl, a loyal oil and vinegar girl and I detest mayonnaise and all it stands for. I won't even let the guy at subway cut the $5 foot long with that knife because I am quite certain he cut a few dozen mayonnaise laden sandwiches with it previous to mine. I won't even eat at the same table if my husband has a chicken sandwich and I see the mayo oozing out from under the bun as it's in my field of vision. I think I've made my point but in case I neglected to do so please contact me for more of my anti-mayonnaise rants. But alas that is not why we are here.
Is it more moist? The Hellman's chocolate mayonnaise cake IS indeed - Norfolk Dessert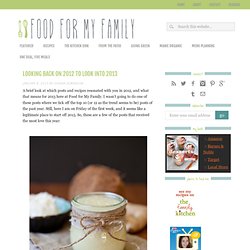 Looking Back on 2012 to Look Into 2013
A brief look at which posts and recipes resonated with you in 2012, and what that means for 2013 here at Food for My Family. I wasn't going to do one of these posts where we tick off the top 10 (or 12 as the trend seems to be) posts of the past year. Still, here I am on Friday of the first week, and it seems like a legitimate place to start off 2013. So, these are a few of the posts that received the most love this year: Ginger Coconut Oil Sugar Scrub Rosemary Mint Shaving Cream
As most of you know my family recently took a 16 hour (one way) road trip. In yesterdays post I shared with you a few tips and tricks to surviving a long road trip with two young kiddos as well as some great snack options. If you missed that post you can check it out HERE. Today I would like to share the games and activities I used to keep my girls entertained. The first activity the girls received was this fun eye spy game. I made some binoculars out of recycled paper towel rolls to make the game a little more exciting.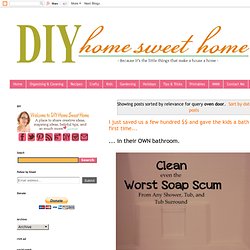 Search results for oven door
Recipe Index
Anchor Charts
It may not be a very exciting title, but I am very excited with what I've created and even more excited to share with you! In September, I will be working with small groups in other teachers' classrooms. It got me thinking about how different each room will be. Will they have up the anchor charts I might need?
Stabilized Whipped Cream Frosting
This recipe is from the Ritz Carlton Cooking School I went to back in August. I've been working my way through some of my favorite dishes at home, and this lemon pound cake was the first recipe I attempted. I loved the cake when we had it at cooking school, and I wanted to share it with Chicken Legs. The cake turned out fantastic!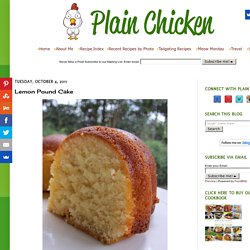 Lemon Pound Cake
30 Healthy Breakfast Snacks for Mornings on the Run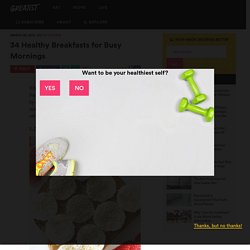 Photo by Perry Santanachote When it comes to breakfast, the options are endless. Pancakes or waffles? Bacon and eggs? Muffin, followed by a pastry? So why limit chowing down on delicious breakfast foods to the morning hours?
My daily looks. (All available pieces are linked. If a piece does not have a clickable link, it is old or no longer available.) Teal dress ℅ Flourish Boutique (Exact here)// Black opaque tights (Exact here)//
threads.
Watermelon Lime Sorbet Slices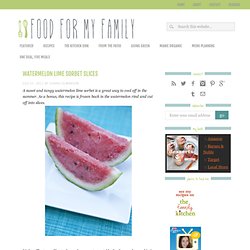 A sweet and tangy watermelon lime sorbet is a great way to cool off in the summer. As a bonus, this recipe is frozen back in the watermelon rind and cut off into slices. It's hot. The type of heat where when you step outside the door and your skin is wet before the door swings shut behind you. It's a hot that hangs in the air, letting you breathe it in, that is cured only by two things: being completely immersed in water or hiding indoors, the air conditioning cranked as far as it will go.I find that the heat makes me very unmotivated to do things like take a walk, water and weed the garden (though I have forced that one on myself) and prepare food and eat it. However, when the promise of cooking provides ice cold watermelon sorbet, I just may be convinced.
Old-Fashioned Chocolate Cake | The Curvy Carrot Old-Fashioned Chocolate Cake | Healthy and Indulgent Meals Dangling in Front of You
I didn't have a reason for making this. Well, except for that thought that popped into my head, "Hmmmm….what sounds really good? Chocolate cake!"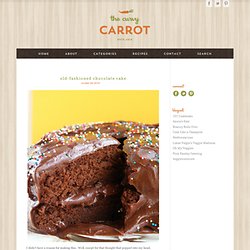 MEXICAN CHICKEN 1 pound boneless chicken breasts 1 teaspoon Seasoning for Tacos Salt, to taste 1/2 cup enchilada sauce 4 ounces cheddar cheese, shredded 3 green onions, chopped Sprinkle the chicken on both sides with taco seasoning; grill or sauté. Cut the chicken into cubes and place in a greased 8x8" baking dish; season with salt to taste. Add the enchilada sauce and toss to coat the chicken. Sprinkle the cheese over the chicken and bake at 350º for 10-20 minutes, until hot and bubbly.
MEXICAN CHICKEN
elementary math videos
Photo from Tribesmaid @nrodell93088's wedding by Nima Salimi I've spent the last two days scouring the 'net for a father/daughter dance for our wedding reception, and frankly, virtually every suggestion I've come across has a title that makes me throw up in my mouth a little like "Daddy's Little Girl" or "Butterfly Kisses."I'm not opposed to sentimental songs but perhaps none with the bride=angel/child/doll theme I can't seem to get away from. My dad's a '60s/'70s Classic/Southern rock kinda guy.
Non-sappy father/daughter dance songs
Crunchy Apple & Grape Salad
Yesterday we had our first decent snow of the winter (we had a little earlier on, but no accumulation). We decided to make some snow ice cream with it. Normally I just use some milk, sugar, and vanilla for snow ice cream, but I saw this recipe on Wannabe Southern Cook and wanted to try it. It is a really easy recipe, just three ingredients. 8 C clean snow 1 can (14 oz) sweetened condensed milk 1 tsp vanilla Mix it all together and eat!
Snow Ice Cream
Perfect Sweet Tea
Sweet Tea... Just hearing those words make ya sigh a satisfied sigh... I am a Southern Woman... Southern women love their Sweet Tea...
A save the date postcard is a fun way to let your guests know the date of your big day. As a more non-traditional method of sending your save the date cards, your guests will be delighted to receive your postcard save the date in the mail. Whether you are interested in a save the date postcard with your engagement photo, or a save the date postcard design, we have plenty of options that are sure to fit your style. You can further customize your postcard by adding a unique or vintage stamp. We are pleased to offer you the option to add your own personal touch to your Postcard Save the Dates by changing the wording and color of each design for no additional fee.
Simple Seal Postcard Save the Date
Slow Cooker Cheesy Chicken And Rice (The downside of being a Swan Princess)
Teaching My Friends!
Mama Jenn: "Mama & Me" Journal
Current books - Read to me
Daily Five/ Literacy Centers
Words Their Way: Resources and Ideas - ELL Tool Box
Discs
Teacher Book Wizard: Find Children's Books by Reading Level, Topic, Genre. Level Books
Shopping Cart
life in general: let's go on a date: august
"Exploding Box" Class...
Soup & Stew Recipes
Undressed Skeleton
100% Natural Pancakes Recipe – Gluten Free, Flourless, Low Calorie, Easy
Types of Houseplants That Clean Indoor Air
AP4%20Family%20Tradition%20Interview
Jack-o'-Lantern Tamale Bake
The Lovely Cupboard: Avocado Hummus
pensacolafishingforum
Crispy Chocolate Peanut Butter Cups
S'more Bars
Fried Bocconcini with Spicy Tomato Sauce
Puppy Chow Krispie Treats