Camping/Dutch Oven Cooking
Black forest cake in dutch oven recipe | camping | camping recipes | hiking recipes | grilling recipes | over 300 camping recipes. Black Forest Cake in Dutch Oven 1 stick of butter or margarine 1 box of cake mix, mixed according to directions (i.e. you need the egg, oil, etc.) 1 can of cherry pie filling If doubling, DOUBLE EVERYTHING.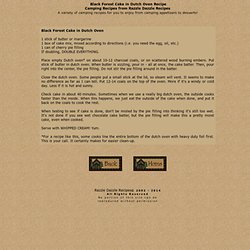 Place empty Dutch oven* on about 10-12 charcoal coals, or on scattered wood burning embers. Put stick of butter in dutch oven. When butter is sizzling, pour in - all at once, the cake batter. Camping Food & Dutch Oven Recipes. Enjoy camping food recipes and resources from Scouts all over the world.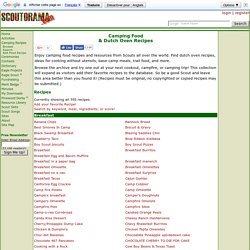 Find dutch oven recipes, ideas for cooking without utensils, base camp meals, trail food, and more. Browse the archive and try one out at your next cookout, campfire, or camping trip! This collection will expand as visitors add their favorite recipes to the database. So be a good Scout and leave this area better than you found it!
Camping | camping main dish recipes | camping recipes | campfire recipes | outdoor recipes | hiking recipes | dutch oven recipes | foil packets recipes.
---