Android Geo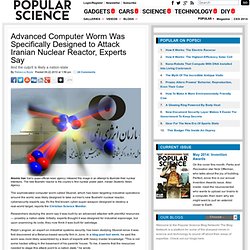 Advanced Computer Worm Was Specifically Designed to Attack Iranian Nuclear Reactor, Experts Say
The sophisticated computer worm called Stuxnet, which has been targeting industrial operations around the world, was likely designed to take out Iran's new Bushehr nuclear reactor, cybersecurity experts say. It's the first known cyber-super-weapon designed to destroy a real-world target, reports the Christian Science Monitor.
Opinion By Bernard Golden September 24, 2010 11:19 AM ET
Cloud Computing: The Truth About What Runs on Amazon - Computerworld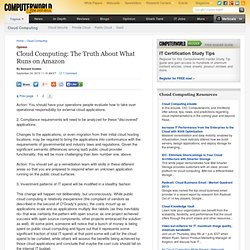 Overview of Mobile Development Options for the Google Maps API - Google Maps API Family - Google Code
Web Toolkit Downloads - Google Web Toolkit - Google Code
ConnectorLocal.com
Developer Guide: Java - Google Maps Data API - Google Code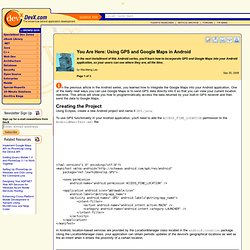 n the previous article in the Android series, you learned how to integrate the Google Maps into your Android application.
You Are Here: Using GPS and Google Maps in Android
Location Labs today announced a "Universal Location Service" platform that aggregates locations of phones across carriers for developers and centralizes privacy management for end-users. "Developers can now remotely access the location of over 250MM mobile phones in the U.S. through a single cloud-based API (Application Programming Interface)," according to the press release. The service can locate all types of devices, including smartphones and non-smartphones, and it allows developers to locate them in real-time. Developers can use this information to build apps that run in the background and push location-based alerts to users. Called this tactic is used in automated check-ins and for marketing, tracking and social situations. It is especially helpful for monetizing mobile apps (see Is Geofencing the Next Evolution for Location Apps?
Developers Can Now Access Locations of 250 Million Phones Across U.S. Carriers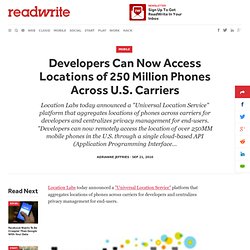 Location Labs :: Developer Portal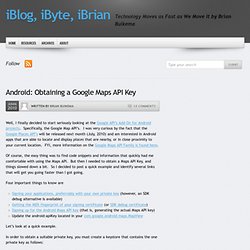 Well, I finally decided to start seriously looking at the Google API's Add-On for Android projects.
Android: Obtaining a Google Maps API Key
In Part 1, we discussed how to get started using Google's Places API, including all necessary registrations.
Android Development – Part 2: Using Google's Places API to Develop Compelling Location Based Mobile Applications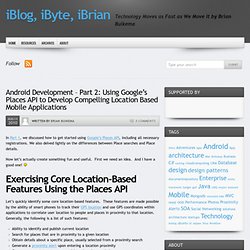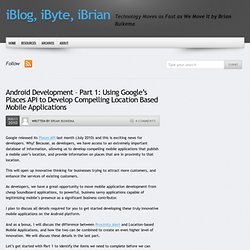 Google released its Places API last month (July 2010) and this is exciting news for developers.
Android Development – Part 1: Using Google's Places API to Develop Compelling Location Based Mobile Applications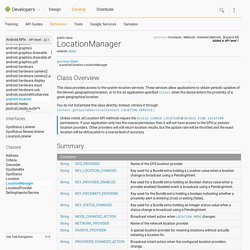 Register for location updates using a Criteria and pending intent.
LocationManager