Literacy
Group conversations around images, documents, and videos. What do you think about Windows Vista? by Nitesh. Elemtechideas - home. Pyp literacy. KS1 Bitesize Games - Literacy(English) Ideas to Inspire. Mrs. Frisby and the Rats of NIMH Literature Unit. 100 Awesome, Free Web Tools for Elementary Teachers. The Internet can be a scary place for elementary teachers.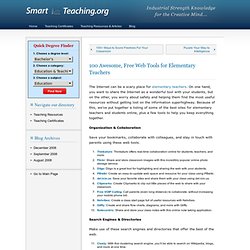 On one hand, you want to share the Internet as a wonderful tool with your students, but on the other, you worry about safety and helping them find the most useful resources without getting lost on the information superhighway. Because of this, we've put together a listing of some of the best sites for elementary teachers and students online, plus a few tools to help you keep everything together. Organization & Collaboration. Mrs. Cunningham's Website!: Halton District School Board. Mrs. Tong's Virtual World: Halton District School Board. Maple Grove School Web Site. BBC Learning - Open Lab. Mrs. Cunningham's Website!: Halton District School Board. Literacy websites. Apps for Literacy Support. This Apps for Literacy list as been updated and moved to a new permanent location on our website, The list will be regularly updated at this new location.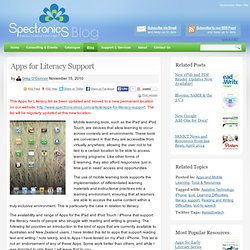 Mobile learning tools, such as the iPad and iPod Touch, are devices that allow learning to occur across contexts and environments. These tools are convenient in that they are accessible from virtually anywhere, allowing the user not to be tied to a certain location to be able to access learning programs. Like other forms of E-learning, they also afford responsive 'just in time just in need' access and opportunities.
Pyp literature.
---