Key125
Expression Blend 4 with Silverlight(ASP.NET 3.5 Silverlight 4.0) Foundation Expression Blend 4 with Silverlight takes you through your first steps in creating Rich Internet Applications (RIAs) using the latest release of Microsoft\'s technology. You\'ll explore features such as custom user controls that you can reuse throughout your projects and the media element that allows you to easily add sound and video to your applications.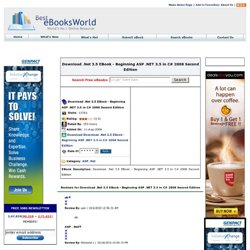 Download .Net 3.5 EBook - Beginning ASP .NET 3.5 in C# 2008 Second Edition - Free eBook Download .Net 3.5 EBook - Beginning ASP .NET 3.5 in C# 2008 Second Edition - Download ebook Download .Net 3.5 EBook - Beginning ASP .NET 3.5 in C# 2008 Second Edition
Yuku a social universe of communities united by people and their passions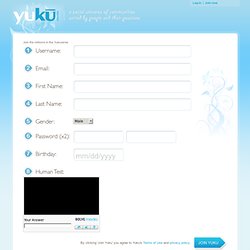 Join a Social Network on Yuku | Free forums, social networks, communities, chat rooms
How to: Download Files with FTP
English for Friendship Whatever you want to call it, there are lots of ways of contacting other people who wish to learn or improve their English or simply want to share their love of English.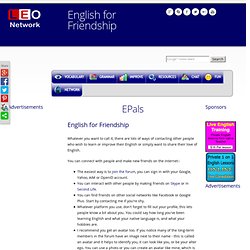 English for Friendship - Pen Pals - E-Friends for English learners
Your Favorite Music Was Invented By These Famous Piano Composers
Since the inception of the pianoforte in 1709 , there have been many famous piano composers who have had a direct impact on the history and development of piano music over the past three centuries. At the dawn of the 18th century, the piano was still in its' infancy having recently evolved from other musical instruments like the "Harpsichord" and the "Clavichord". Therefore, keyboardists of that time, such as Johann Sebastian Bach , born in 1685 , composed keyboard works that were never actually intended for the piano.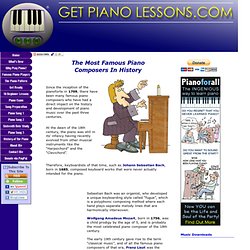 Piano Lessons - Want To Learn The Piano?
Teach Yourself Piano - Piano Lessons For Beginners, Learn Now!
Piano Lessons for Beginners
Welcome to your first ten free beginner piano lessons! If you've ever wanted to get your hands on a piano and just start playing it, you're in the right place!
10 Free Beginner Piano Lessons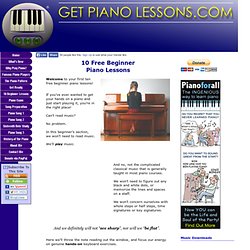 ASP.NET MVC 2: Basics, Introduction by Scott Hanselman | Matthijs Hoekstra
C# 3.0 introduces a new feature called lambda expressions. While this is not a revolutionary thing, it opens up a plethora of new possibilities for .Net programming. This post aims to introduce lambda expressions by providing a backgrounder, looking into its syntax and providing examples along the way.
Lambda Expressions in C# - jakelite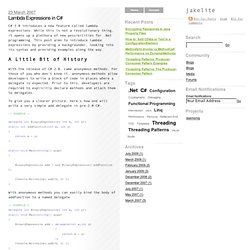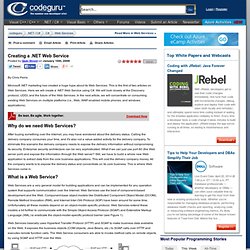 By Chris Peiris
15 Seconds : Creating a .NET Web Service
by Rick Strahl http://www.west-wind.com/ Last Updated: 03/7/2002 (updated for .NET Release) Part 2: Passing data over .NET Web Services: http://www.west-wind.com/presentations/dotnetwebservices/DotNetWebServicesData.asp Source code for this article: http://www.west-wind.com/presentations/dotnetwebservices/dotnetwebservices.zip Over the last few months I've spent a lot of time talking about XML and Web Services and how you can build and consume them. This time we'll look at the new features in Visual Studio.NET and ASP.NET that provide a very easy mechanism for creating Web Services and more importantly the easy mechanism used to consume those same Web Services using the .NET framework's built in support for Web Services. Web Services promise to bring information into your applications from the Internet in much the same way that browers have made information available to end users.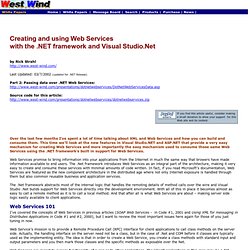 Creating Web Services with .Net and Visual Studio
Abstract
Web Service Definition Language (WSDL)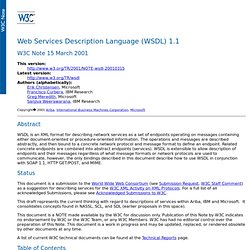 Home > Learn XML > XML Whitepapers > XML Schema White Papers > XML Schema Tutorial
XML Schema Tutorial
XML Schema Tutorial: Home
Overview
XML Schema Tutorial - Part 1/5 - Defining Elements and Attributes
XSD Tutorial, Part 1 of 5: Elements and Attributes
XSD Tutorial: XML Schemas For Beginners - CodeGuru