Things To Do
21 Of the Most Extraordinary Places To Visit. Iceberg diving in Newfoundland isn't for the faint of heart. Get up close and personal with a colossal ice cube.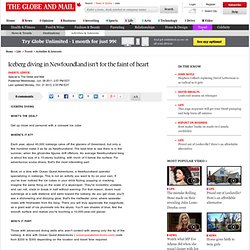 Each year, about 40,000 icebergs calve off the glaciers of Greenland, but only a few hundred make it as far as Newfoundland. The best time to see them is in the summer, when the ghost-like figures drift offshore. An average Newfoundland berg is about the size of a 15-storey building, with much of it below the surface. For adventurous scuba divers, that's the most interesting part. Book on a dive with Ocean Quest Adventures, a Newfoundland operator specializing in icebergs. 10 best boat journeys. Boats are often overlooked as a way to see the world; we invariably have limited time to get from A to Z so we fly, missing B to Y.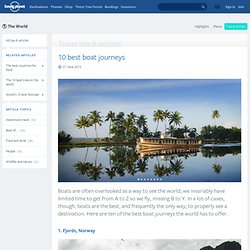 In a lot of cases, though, boats are the best, and frequently the only way, to properly see a destination. Here are ten of the best boat journeys the world has to offer. Ten Bizarre Restaurants to Eat in Before you Die | AnyTrip Blog. Whether it's sipping lattes in a treehouse or devouring seafood at the bottom of the ocean, dining at these bizarre restaurants deserves a spot on your "Things to do before I die" list.
If you've got a penchant for eating in eye-popping circumstances, keep an eye out for these restos on your travels… 1. The Galapagos Travel information. 25 Wonderful Places To Visit In Your Lifetime. If you like this story feel free to share...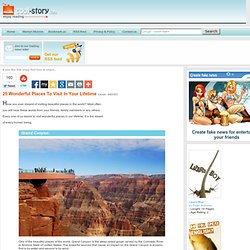 Grand Canyon: One of the beautiful places of the world, Grand Canyon is the steep-sided gorge carved by the Colorado River in Arizona State of United States. Who Said Taking the Train was Boring? Swinging on San Francisco's BART. 10 Cool & Unusual Hostels Around the World. Editor's note: This article comes to us courtesy of Victoria Philpott - a travel writer for HostelBookers, the budget accommodation specialist.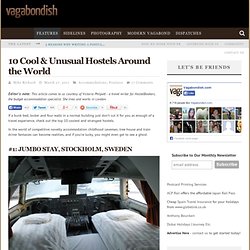 She lives and works in London. If a bunk bed, locker and four walls in a normal building just don't cut it for you as enough of a travel experience, check out the top 10 coolest and strangest hostels. In the world of competitive novelty accommodation childhood caveman, tree house and train driver fantasies can become realities, and if you're lucky, you might even get to see a ghost. #1: Jumbo Stay, Stockholm, Sweden Jumbo Stay Hostel, Stockholm, Sweden. 100 Things to do in Toronto - CouchSurfing Wiki.
The CouchSurfing Wiki, an informal workspace which anyone can edit.
Originally discussed in CS Toronto group links by Amuised 1. Meteora, Greece. After five weeks in Greece (called Ellada or Ελλάδα in Greek), we most enjoyed wandering romantic Santorini Island and trekking the rugged northern mountains of Zagori.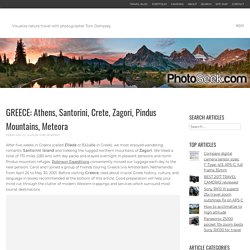 We hiked a total of 170 miles (280 km) with day packs and stayed overnight in pleasant pensions and north Pindus mountain refuges. Robinson Expeditions conveniently moved our luggage each day to the next pension. Top 10 Things to Do for Free in Athens. 12 bizarre real-life places that are stranger than science fiction. Science fiction is home to some fantastic societies, from Cloud City to Bartertown.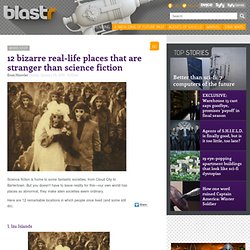 But you doesn't have to leave reality for this—our own world has places so abnormal, they make alien societies seem ordinary. Here are 12 remarkable locations in which people once lived (and some still do). 1. Izu Islands Off the coast of Japan lies a series of volcanic islands. 20 Impressive Moats Around the World. May 16, 2011 Bodiam Castle – East Sussex England | Photographer Unknown A moat is a deep, broad ditch, typically filled with water, that surrounds a castle, building or town.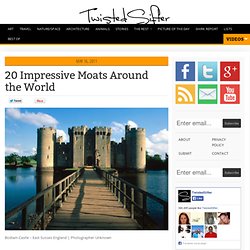 Into the Wild: Swimming with Beluga Whales in Churchill, MB. World's Most Extraordinary Swimming Pools. Be it for location, design or size, these pools are more than just enclosed bodies of water intended for swimming - as put in a definition.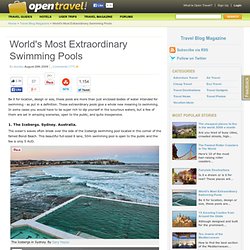 These extraordinary pools give a whole new meaning to swimming. In some cases you would have to be super rich to dip yourself in the luxurious waters, but a few of them are set in amazing sceneries, open to the public, and quite inexpensive. 1. The Icebergs. Sydney.
---