1970
Edit Storyline In the run-up to the 1972 elections, Washington Post reporter Bob Woodward covers what seems to be a minor break-in at the Democratic Party National headquarters.
Die Unbestechlichen (1976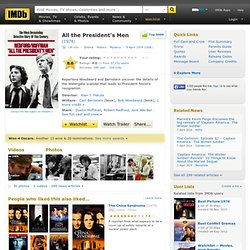 The Black Gestapo (1975)
Foxy Brown (1974
Goofs In the farmhouse, Foxy Brown siphons gasoline from a barrel outside a window into a container inside the room. The siphon couldn't work, however, because the container is at a higher elevation than the barrel. See more » Quotes Katherine Wall : [ after Foxy presents Steve's penis in a pickle jar, kills 2 of her men, and shoots her in the arm ] Why didn't you kill me too?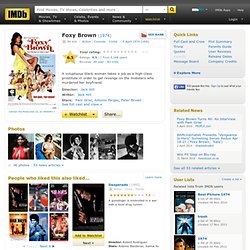 Spéciale première (1974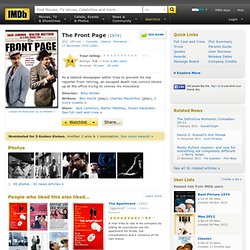 Edit Storyline Hildy Johnson is the top reporter on a Chicago newspaper during the 1920s. Tired of the whole game he's determined to quit his job to get married. His scheming editor, Walter Burns, has other plans though.
Edit Storyline Michael, Steven and Nick are young factory workers from Pennsylvania who enlist into the Army to fight in Vietnam. Before they go, Steven marries the pregnant Angela and their wedding-party is also the men's farewell party. After some time and many horrors the three friends fall in the hands of the Vietcong and are brought to a prison camp in which they are forced to play Russian roulette against each other.
Der Stadtneurotiker (1977
Blazing Saddles (1974
Edit Storyline The Ultimate Western Spoof. A town where everyone seems to be named Johnson is in the way of the railroad. In order to grab their land, Hedley Lemar, a politically connected nasty person, sends in his henchmen to make the town unlivable.
Serpico (1973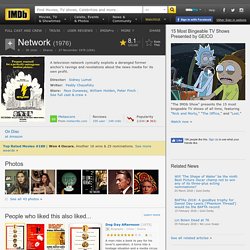 Network (1976
Trivia To celebrate Faye Dunaway 's first Oscar victory, husband-to-be photographer Terry O'Neill arranged to meet her at the Beverly Hills Hotel at 6:30 am the morning after the Academy Awards for a photo shoot. What transpired was the famous image of a listless Dunaway, reclining beside the tranquil hotel swimming pool with her Oscar statuette standing upright on the table beside her. Thrown in for good measure were various newspapers scattered on the ground and table, the headlines of which mostly echoed the previous night's festivities. Dunaway had not slept since her win and so appears totally fatigued, prompting O'Neill to title his photograph "The Morning After" shot. See more »
Solyaris (1972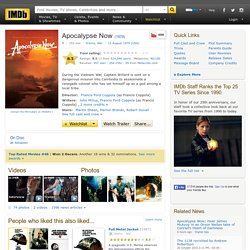 Edit Storyline It is the height of the war in Vietnam, and U.S. Army Captain Willard is sent by Colonel Lucas and a General to carry out a mission that, officially, 'does not exist - nor will it ever exist'. The mission: To seek out a mysterious Green Beret Colonel, Walter Kurtz, whose army has crossed the border into Cambodia and is conducting hit-and-run missions against the Viet Cong and NVA. The army believes Kurtz has gone completely insane and Willard's job is to eliminate him!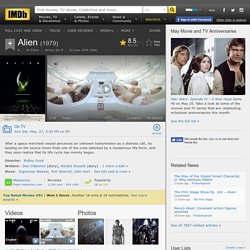 Edit Storyline The crew of the deep space towing vessel Nostromo are awaken from hypersleep to investigate a strange signal from a nearby planet. While investigating the signal, they discover it was intended as a warning, and not an SOS. Written by Colin Tinto <cst@imdb.com> Plot Summary | Plot Synopsis