Miscellaneous
ET Hindi : No. 1 Hindi sites for latest business, finance, markets, stocks news/ views from India. Incredible India. Incredible India is the name of an international marketing campaign by the Government of India to promote tourism in India in 2002 to a global audience.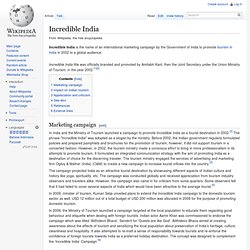 Incredible India title was officially branded and promoted by Amitabh Kant, then the Joint Secretary under the Union Ministry of Tourism, in the year 2002.[1][2] Marketing campaign[edit] In India and the Ministry of Tourism launched a campaign to promote Incredible India as a tourist destination in 2002.[3] The phrase "Incredible India" was adopted as a slogan by the ministry. Before 2002, the Indian government regularly formulated policies and prepared pamphlets and brochures for the promotion of tourism, however, it did not support tourism in a concerted fashion.
However, in 2002, the tourism ministry made a conscious effort to bring in more professionalism in its attempts to promote tourism. Home Page News & Features.
---