Make Me Think/Cool stuff
Swords, Blades UK, Sword, knives, Martial Arts, Samurai, Samuri, Lord Rings, Movie Collectables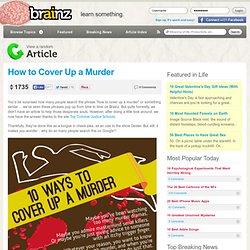 How to Cover Up a Murder
You'd be surprised how many people search the phrase "how to cover up a murder" or something similar ... we've seen these phrases pop up from time to time on Brainz.
Circular Gallifreyan is a standardized version of the written Gallifreyan language as seen in Doctor Who. It was standardized by a fan, so it is not officially sanctioned, but it looks terribly cool. You can read a guide to Gallifreyan online or just read The Honey Badger's guide below.
Circular Gallifreyan - Time Turners of the T.A.R.D.I.S.
GameBoy Color Games | Gamenert | Only The Best Free Online Games
100 Ways to Make Your Marriage Rock
The Official Tim Burton Website
Guns of Icarus Online | Guns of Icarus Online is the steampunk airship combat game currently in development by Muse Games. News, Lore, Media, and more.
JST Virtual Science Center | Mind Lab
hey, cmon - StumbleUpon
A Reddit.com user posed the question to Neil deGrasse Tyson: "Which books should be read by every single intelligent person on the planet?"
Neil deGrasse Tyson Lists 8 (Free) Books Every Intelligent Person Should Read | Open Culture - StumbleUpon