Kerzv
Kerri
New Scientist, Intern with Reed Business Information | 21865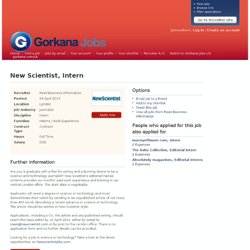 Are you a graduate with a flair for writing and a burning desire to be a science and technology journalist? New Scientist's editorial trainee scheme provides six months' paid work experience and training in our central London office. The start date is negotiable. Applicants will need a degree in science or technology and must demonstrate their talent by sending in an unpublished article of not more than 400 words describing a recent advance in science or technology. The article should be written in New Scientist style. Applications, including a CV, the article and any published writing, should reach the news editor by 15 April 2013, either by email to news@newscientist.com or by post to the London office.
Help:Myth-Weavers:DiceRoller - Myth-Wiki
Dice Basics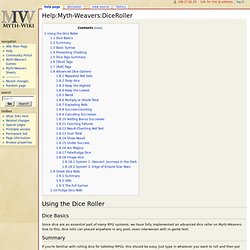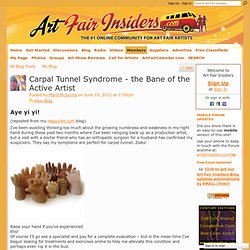 Carpal Tunnel Syndrome - the Bane of the Active Artist - Art Fair Insiders
Aye yi yi! (reposted from my HappyArt.com blog) I've been avoiding thinking too much about the growing numbness and weakness in my right hand during these past two months where I've been ramping back up as a production artist, but a visit with a doctor friend who has an orthopedic surgeon for a husband has confirmed my suspicions. They say my symptoms are perfect for carpel tunnel.
You must scroll to the bottom of this form and check the three boxes to continue. I understand that the projects, activities, items and challenges ("Activities") related to "Gishwhes" and/or "The Greatest International Scavenger Hunt the World Has Ever Seen" (organized by GISHWHES LLC, also referred to as Conglomerated Ubiquitous Multinational, LLC and its representatives and agents, collectively the "Company") are suggested Activities presented with the understanding that registered or unregistered users or participants ("Participants") partaking in these activities would do so at their own physical, legal and mental risk. This document is intended to release the Company from any and all liability associated with such Activities. I recognize and understand that engaging in Activities involves certain inherent risks, including but not limited to any and all types of physical and mental conditions and/or illnesses and even death.
User Registration :: GISHWHES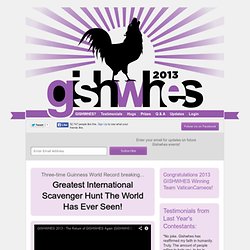 Famous faces from history including William Shakespeare, Henry VIII and Horatio Nelson have been given a modern makeover to see how they would look if they were alive today. The project, comissioned by history TV channel Yesterday to celebrate its new series, the Secret Life Of..., saw digital artists working closely with history experts to ensure the portraits gave a real sense of how historical characters would look if they were alive in the 21st Century. A Vice Admiral and dedicated navy officer, Nelson is dressed in a modern naval uniform. In today's Navy, Nelson would spend more time deskbound and as such he would have gained a little weight which is reflected in the portrait.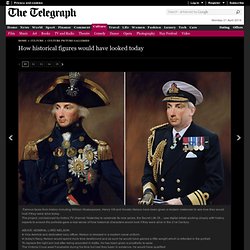 Historical Figures for the 21st Century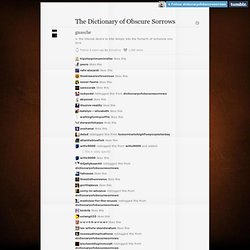 The Dictionary of Obscure Sorrows — gnasche
A compendium of the urges, vibes, aches and demons inhabiting the interior psychological landscape. Its mission is to harpoon, bag and tag wild sorrows, then release them back into the subconscious. All content is original and is intended to be read at night.
Film critic Catherine Bray interviewed Joss Whedon in 2006 for UK movie magazine Hotdog to find out his top ten screenwriting tips. Catherine has kindly given us permission to reproduce the article here. Photo: Joss Whedon at San Diego Comic Con - courtesy of Gage Skidmore. Joss Whedon is most famous for creating Buffy the Vampire Slayer, its spin-off Angel and the short-lived but much-loved Firefly series. But the writer and director has also worked unseen as a script doctor on movies ranging from Speed to Toy Story. Here, he shares his tips on the art of screenwriting.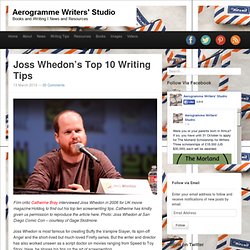 Joss Whedon's Top 10 Writing Tips « Aerogramme Writers' Studio
V8720 | Men's Coat and Belt | Men
Ghibli Blog - Studio Ghibli, Animation and the Movies: Mononoke Hime (1980) - The Original Miyazaki Book
things from Pete and Chris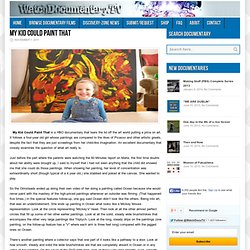 Watch: My Kid Could Paint That (Documentary) Online Free
<a href="http://www.bidvertiser.com/bdv/BidVertiser/bdv_xml_feed.dbm">search feed</a> My Kid Could Paint That is a HBO documentary that tears the lid off the art world putting a price on art. It follows a four-year old girl whose paintings are compared to the likes of Picasso and other artistic greats, despite the fact that they are just scrawlings from her child-like imagination.
How Asian Women Age. .
| All | Popular > animemanga pokemon funny gameofthrones videogames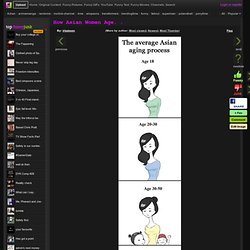 Hover over this picture to pin this article on Pinterest! This is the largest collection of portrait photography tips ever assembled on a single page of the Internet. To write this portrait photography article, I asked members of the Improve Photography community to submit their favorite portrait photography tips. This article is a combination of my favorite tips, mixed in with the tips from the community.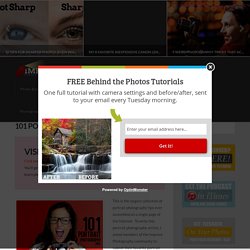 Things to Show Pete/Chris