Security
Digital Safety | Open Online Workshop – Safety For Journalists. Thank you for participating in the open online workshop "Digital Safety for Journalists" offered by the DW Akademie.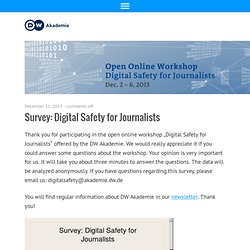 We would really appreciate it if you could answer some questions about the workshop. Your opinion is very important for us. It will take you about three minutes to answer the questions. The data will be analyzed anonymously.
10 New Year's Resolutions to Browse the Internet Safely in 2013. At Global Voices Advocacy (GVA), we are dedicated to defending freedom of expression online.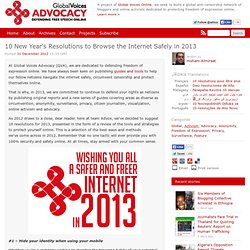 We have always been keen on publishing guides and tools to help our fellow netizens navigate the internet safely, circumvent censorship and protect themselves online. That is why, in 2013, we are committed to continue to defend your rights as netizens by publishing original reports and a new series of guides covering areas as diverse as circumvention, anonymity, surveillance, privacy, citizen journalism, visualization, online activism and advocacy. As 2012 draws to a close, dear reader, here at team Advox, we've decided to suggest 10 resolutions for 2013, presented in the form of a review of the tools and strategies to protect yourself online. This is a selection of the best ways and methods we've come across in 2012. Security tips for journalists using mobiles. Security tips for journalists using mobiles Details Last Updated on Friday, 05 July 2013 06:19 Published on Wednesday, 15 February 2012 00:00 Written by Melissa Ulbricht Journalists use mobile devices for creating, editing, and sharing content, as well as for communicating with sources, newsrooms, and colleagues.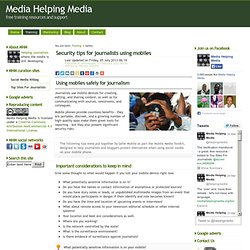 A User Guide to Orbot – Anonymized Tor Browsing on Your Mobile Phone. A User Guide to Orbot – Anonymized Tor Browsing on Your Mobile Phone 10 Oct 2011 by melissaloudon Orbot is an anonymizing and circumvention app that connects Android phones to the Tor network.
Public Key Cryptography: Diffie-Hellman Key Exchange. Me and my Shadow | Me and My Shadow. What are digital shadows and why do they matter? | shadow.tacticaltech.org.
---