Media freedom / FOI
DG_Handbuch_NN.pdf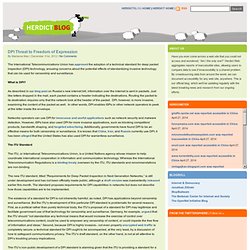 The International Telecommunications Union has approved the adoption of a technical standard for deep packet inspection (DPI) technology, arousing concerns about the potential effects of standardizing invasive technology that can be used for censorship and surveillance. What is DPI? As described in our blog post on Russia's new internet bill, information over the internet is sent in packets. Just like letters dropped in the mail, each packet contains a header indicating the destinations.
Herdict Blog » Blog Archive » DPI Threat to Freedom of Expression
"The recent declines in this region, which had previously seen such broad advances in media freedom, are a stark reminder that such freedoms are fragile and must be nurtured and defended when they come under attack." This blog entry describes a range of negative developments over the past decade that "have left media freedom on the defensive in much of Central and South America." It highlights some data shared in the Freedom of the Press 2012" report.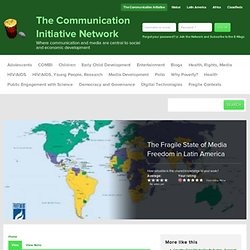 The Fragile State of Media Freedom in Latin America
Berlin ist die Heimat der Netzaktivisten: Sie kippen Gesetze, beraten Parteien und bringen die alte Ordnung durcheinander.
Netzaktivisten: Club der Visionäre | Digital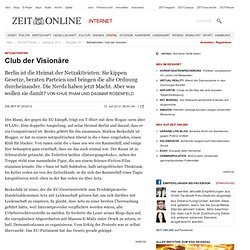 Oh no they di'nt… | the engine room
The engine room has been on the road recently, Alix presenting the Tahrir data project at this year's Personal Democracy Forum, and I presenting on open data standards for international human rights indices, with quite a bit going on in-between. More about all of this soon, but first a quick post to clear up a story I have seen shooting across the politico-tech sphere: No, the United Nations did NOT declare the internet to be a human right.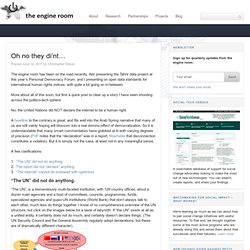 Action | Access
"65 years since your independence," a new battle for freedom is under way in India -- according to a YouTube video uploaded by an Indian member of Anonymous, the global "hacktivist" movement. With popular websites like Vimeo.com blocked across India by court order, the video calls for action: "Fight for your rights. Fight for India."
The War for India's Internet - By Rebecca MacKinnon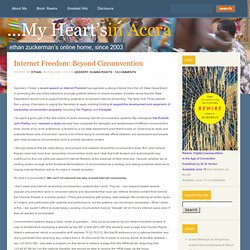 Internet Freedom: Beyond Circumvention
Secretary Clinton's recent speech on Internet Freedom has signaled a strong interest from the US State Department in promoting the use of the internet to promote political reforms in closed societies. It makes sense that the State Department would look to support existing projects to circumvent internet censorship.
Breakthroughs and Pushback in the Middle East
Freedom of the Press 2012
Threats to the Open Net: May 4, 2012
When Syria's government unblocked Facebook, YouTube and Blogspot in February, many activists saw the move as an overture to protesters, possibly one offering a semblance of the freedoms won by insurgents in Egypt and Tunisia . Others saw it as a potential means of surveillance.
When Social Networks Become Tools of Oppression: Jillian C. York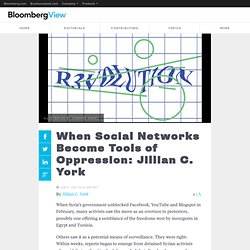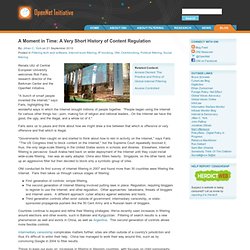 A Moment in Time: A Very Short History of Content Regulation
Renata Uitz of Central European University welcomes Rob Faris, research director of the Berkman Center and the OpenNet Initiative. "A bunch of smart people invented the internet," says Faris, highlighting the wonderful ways in which the Internet brought millions of people together. "People began using the Internet for various other things too - porn, making fun of religion and national leaders...On the Internet we have the good, the ugly, and the illegal, and a whole lot of it." Faris asks us to pause and think about how we might draw a line between that which is offensive or very offensive and that which is illegal.
The changing face of digital rights activism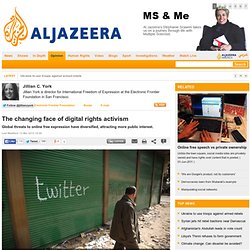 San Francisco, CA - In February 2012, Twitter announced a new mechanism that would allow the company to minimise the effects of government censorship requests.
Sie haben leider einen Link gewählt, dessen Zielseite nicht (mehr) verfügbar ist. Das ist auch für uns bedauerlich und kann verschiedene Gründe haben, die wir im Folgenden näher darlegen wollen.
Gefürchtet, gefiltert, gefeiert - heute-Nachrichten
Kontrolle im Cyberspace
Some very rough notes about data journalism, with lots of links to get you started. Data journalism
Journalist in Residence | Just another WordPress site
Video: 10 Most Censored Countries - Reports
The Data Journalism Handbook is a free, open source reference book for anyone interested in the emerging field of data journalism. It is the result of an international, collaborative effort involving dozens of data journalism's leading advocates and best practitioners – including from the BBC, the Chicago Tribune, the Guardian, the Financial Times, the New York Times, the Washington Post and many others. The book is freely available online under a Creative Commons Attribution-ShareAlike license so anyone can read, copy, share, redistribute and reuse it.
Why is Data Journalism Important?
The Guardian on Facebook
Overview of MSI Europe & Eurasia The 2012 MSI study for Europe & Eurasia revealed a mix of positive developments, regression, and stagnation (or resilience, depending on one's point of view). Nearly half of the 21 countries included in this study showed little change either way, their overall score moving by 0.10 or less.
Media Sustainability Index (MSI) - Europe & Eurasia | IREX - Civil Society, Education and Media Development
Open Government Partnership: an introduction | Public Leaders Network | Guardian Professional
New open government partnerships are a trancending political boundaries.
Wer kontrolliert Medien?
THE ASIA MEDIA DIRECTORY 2011, Media Programme Asia
Bussiek__Toolbox4__2004.pdf (application/pdf Object)
Von eDemocracy keine Spur. Digitale Bürgerbeteiligung ist auf europäischer Ebene nahezu unmöglich! | Diskurs @ Deutschland
Freedom of connection, freedom of expression: the changing legal and regulatory ecology shaping the Internet
MediaLandscape2011.pdf (application/pdf Object)
Case study reports – Media regulation: A panacea for free and independent media? « MEDIADEM
The 10 Tools of Online Oppressors - Reports