Hiking
L.L.Bean: Hiking Tips. Dayhiker's Checklist Before you hit the trail, take the time to make sure you've included the items on the following list to make your trip safer and more enjoyable.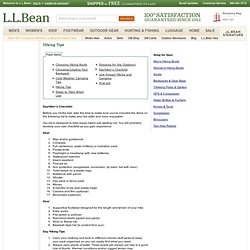 Our list is designed to help equip hikers just starting out. You will probably develop your own checklist as you gain experience. Gear. L.L.Bean: Hiking Tips. Dressing for the Outdoors Outdoor enthusiasts have long recognized that multiple layers of clothing keep them warm in winter and from overheating in summer.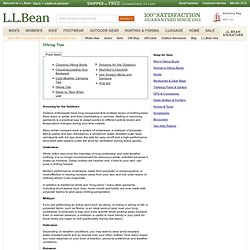 Adding or removing garments is a practical way to adapt quickly to different activity levels and temperature changes during your time outside. Many winter campers wear a system of underwear, a midlayer of polyester fleece (pants and top), followed by a windproof, water-resistant outer layer (windpants with full zips down the side for easy on/off and a high-performance wind shell with zippers under the arms for ventilation during active sports). Packing a Backpack. Advertisement There's no one right answer to this question: It depends on what kind of pack you have and where you're going to hike.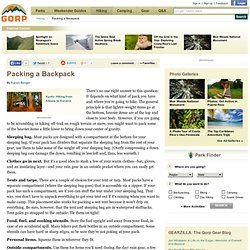 The general principle is that lighter-weight items go at the bottom, heavier items are at the top and close to your body. However, if you are going to be scrambling or hiking off-trail on rough terrain or snow, you might want to pack some of the heavier items a little lower to bring down your center of gravity. American Hiking Society.
---