Women's Health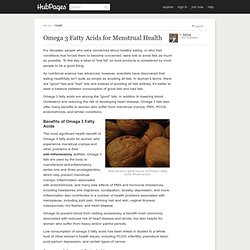 Benefits of Omega 3 Fatty Acids The most significant health benefit of Omega 3 fatty acids for women who experience menstrual cramps and other problems is their anti-inflammatory abilities. Omega 3 fats are used by the body to manufacture anti-inflammatory series one and three prostaglandins, which help prevent menstrual cramps, inflammation associated with endometriosis, and many side effects of PMS and hormonal imbalances, including headaches and migraines, constipation, anxiety, depression, and more.
Omega 3 Fatty Acids for Menstrual Health
Exercise for Menstrual Health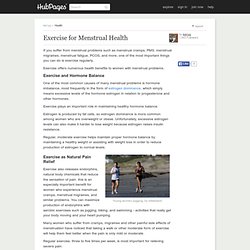 If you suffer from menstrual problems such as menstrual cramps, PMS, menstrual migraines, menstrual fatigue, PCOS, and more, one of the most important things you can do is exercise regularly.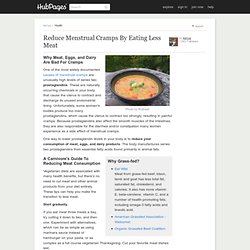 Reduce Menstrual Cramps By Eating Less Meat
Vegetarian diets are associated with many health benefits, but there's no need to cut meat and other animal products from your diet entirely.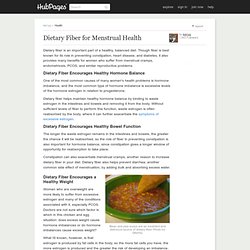 Dietary fiber is an important part of a healthy, balanced diet. Though fiber is best known for its role in preventing constipation, heart disease, and diabetes, it also provides many benefits for women who suffer from menstrual cramps, endometriosis, PCOS, and similar reproductive problems. Dietary Fiber Encourages Healthy Hormone Balance
Dietary Fiber for Menstrual Health
Soy has been a popular food in East Asian cultures (many of whom, incidentally, report a much lower rate of menstrual cramps and other problems than Western cultures) for thousands of years, but it is still new and strange to many Western consumers. If you are new to soy, here are some things to try: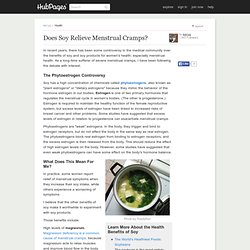 Does Soy Relieve Menstrual Cramps?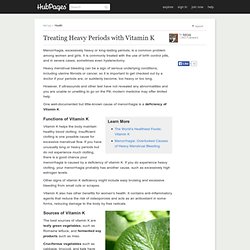 Treating Heavy Periods with Vitamin K
The best sources of vitamin K are leafy green vegetables, such as Romaine lettuce, and fermented soy products such as miso. Cruciferous vegetables such as cabbage, broccoli, and kale have also large amounts of vitamin K, but contain other agents that may inhibit its full absorption.
Dietary Sources of Magnesium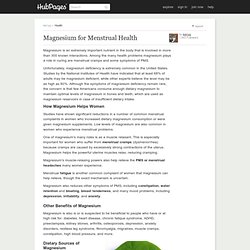 Magnesium for Menstrual Health
The Medical Approach to Treating Cramps Once upon a time, if you complained of menstrual pain, you were told it was all in your head and sent on your merry way, with no help, or even sympathy.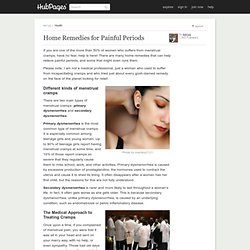 Home Remedies for Painful Periods
The Causes of Menstrual Cramps and What You Can Do About Them
The causes of menstrual cramps are poorly understood and controversial, and because we don't know exactly what causes them, we don't really know exactly how to treat them.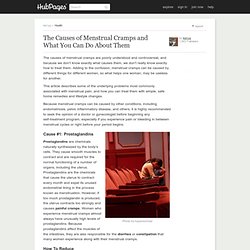 Menorrhagia, or heavy menstrual bleeding, affects many women at some point during their lives. For some, it may be a temporary problem; others will experience heavy periods every month for many years.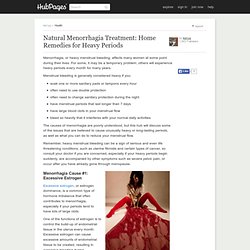 Natural Menorrhagia Treatment: Home Remedies for Heavy Periods
The PCOS Diet: Natural Treatment for PCOS
Polycystic Ovarian Syndrome (PCOS) is a growing epidemic among American women, and women around the world. Fortunately, it is possible to ease the symptoms of PCOS, and perhaps even cure the condition, with dietary changes.
Vitamin E for Menstrual Health
Vitamin E is best known as an antioxidant, but it also offers health benefits to women who suffer from menstrual cramps and other problems. Several studies have shown that girls and young women who take vitamin e supplements in the days leading up to their periods report lower levels and shorter duration of menstrual pain.
There are a number of natural and alternative treatments for endometriosis than can help relieve its symptoms.
Natural Treatments for Endometriosis
Vitamin D for Menstrual Health
Despite the fact that it is one of the few nutrients the human body can manufacture (with a little help from the sun) more than 70% of American adults are estimated to be vitamin D deficient.
Natural Cures for Menstrual Migraines
The Role of Estrogen Dominance in Menstrual Migraines
Symptoms of Excessive Estrogen
Excessive Estrogen Cures: Preventing and Treating Estrogen Dominance Naturally
The Phytoestrogen Controversy
Early Puberty in Girls
Inflammatory Breast Cancer