Game of Thrones
Featured post Honestly, the first time I saw the series The Game of Thrones, I loved it. But only when I watched the first season of the series, I decided that I didn't want to wait for another one to be filmed and I went to the library to find the book and read on. When I entered the library something even more exciting caught my attention. The hot and sexy librarian was just as beautiful as the amazing Khaleesi from the series. She was a girl that you'd gladly make a sex tape to show it to your friends and brag about it.
Cooking Ice and Fire - Home
Inn at the Crossroads | In the game of food, you win or you wash dishes…
The Mary Sue has a new interview with writer Bryan Cogman, where they talk about the Inside HBO's Game of Thrones book, as well as the show in general. A couple answers from the interview that I found interesting: On his favorite character to write for: BC: Very hard to choose — I've been living with them for so long, I have great affection for all of them (and the actors who portray them). I had a great time writing Theon in Season 2 and I've really enjoyed writing Jaime in Season 3.
Winter Is Coming - News and rumors about HBO's Game of Thrones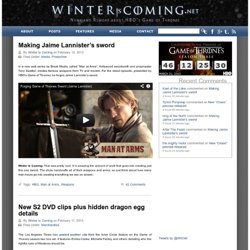 Game Of Thrones (GameOfThrones) on Twitter
Game of Thrones
Game of Thrones: Homepage
Seven thousand lucky fans – some in costume – attended the 'Game of Thrones' Ultimate Fan Experience at Barclays Center last night. The festivities included Common's performance of his 'Catch the Throne' track, "The Ladder," a marching band rendition of the show's theme song, and a screening of the Season 4 premiere episode. One lucky winner took home a life-sized Iron Throne, which author George R.R. Martin noted is "the perfect accessory to a New York City apartment."
HBO - Making Game of Thrones
The Maester's Path: Intro