Ideas
If you consider yourself a geek, or aspire to the honor of geekhood, here's an essential checklist of must-have geek skills. The term 'geek', once used to label a circus freak, has morphed in meaning over the years. What was once an unusual profession transferred into a word indicating social awkwardness.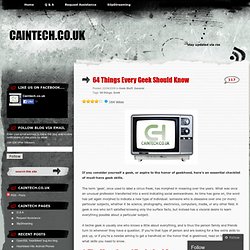 When you finally decide it's time to do something about that rat's nest of cables that's spreading like kudzu, you don't have to spend a lot of time and money to get it under control. Whether you're looking to stow your headphone wires tangle-free in your gym bag, hide the ugly wire spaghetti you keep kicking further under your desk, or organize your gadget chargers and power plugs, we've got some cord management tricks for you. Hit the jump for photos and videos of our top 10 favorite ways to get cables under control. 10. ID Your Plugs with Labels Crawling around under your desk rearranging the power strip is a pain in the knees enough without having to guess which power plug belongs to which gadget.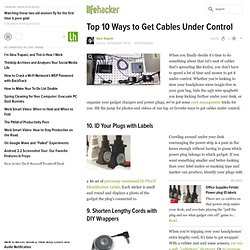 Times are tough and money's tight so you have to get it where you can. No, we're not suggesting you swallow your pride and turn to prostitution. Instead, here are a few ways to make yourself some extra money this weekend...legally. Get Money You (Sort of) Already Have You may already have money (and property) you don't know about. We've posted about a few ways to find unclaimed cash and property , so be sure to do a search if you haven't already.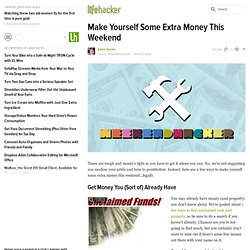 Make Yourself Some Extra Money This Weekend - Lifehacker