Ideas
If you consider yourself a geek, or aspire to the honor of geekhood, here's an essential checklist of must-have geek skills. The term 'geek', once used to label a circus freak, has morphed in meaning over the years. What was once an unusual profession transferred into a word indicating social awkwardness.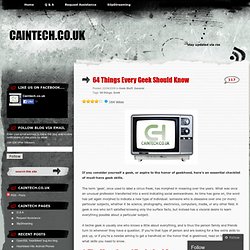 I rely on zip ties, but one of the coolest items I've ever discovered is from my favorite supply house, mcmaster-carr. (I know they're available many places, but [McMaster.com] is like nirvana for DIY'ers). The device is a small plastic anchor with a sticky back and a screw hole. The front has loops for running a zip tie through. So, you stick this to the wall, underside of a desk, surface of a desk, etc. If it will be holding weight you put a screw through and into the surface, then you pass a zip tie through and cinch the bundle of wires/cables right up against the anchor.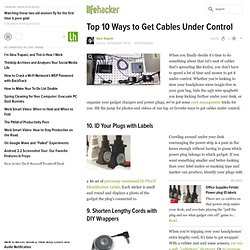 Times are tough and money's tight so you have to get it where you can. No, we're not suggesting you swallow your pride and turn to prostitution. Instead, here are a few ways to make yourself some extra money this weekend...legally. Get Money You (Sort of) Already Have SExpand You may already have money (and property) you don't know about.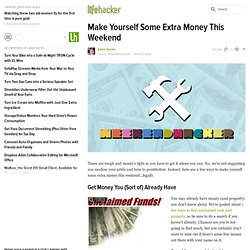 Make Yourself Some Extra Money This Weekend - Lifehacker