Entertainment
Will Smith reunites with DJ Jazzy Jeff for comeback album | News
Back in August we reported that Grammy Award winning and Oscar nominated actor/rapper Will Smith was in fact working on, what was at one stage a rumored, comeback album with acclaimed songwriter/producer Mars and his Grammy Award winning production team 1500 or Nothing. At the end of the post we also told you to stay tuned for further news… well here it is. In an interview with the good folks at XXL, the legendary DJ Jazzy Jeff revealed that the rapper formally known as The Fresh Prince had in fact spent some studio time with his longtime friend working on some new music for his "comeback album". "He came down like two weeks ago and was like, 'Yo, I wanna get back into the studio, and we just knocked out some stuff… I just think more than anything there is no set pattern, no set plan, but we just wanna go into the studio and see what we come out with. If I can get it back to the way we used to make music, you know, it used to be just me and him in the room.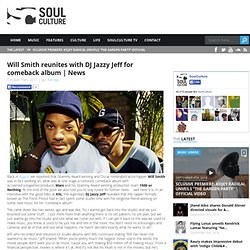 Giggidy! Will Smith and Tommy Lee Jones is back in black for the third installment of the Men In Black movie franchise.
Men In Black 3 Official Trailer unveiled [Video] | Geek Alert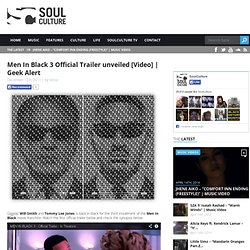 Sugar Hill Gang to reunite for new album and documentary | Music News
Coldplay Live Streams Free Concert on YouTube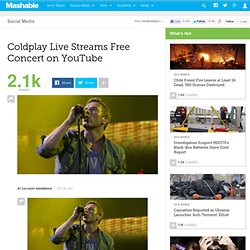 Coldplay will stream a live concert today at 4 p.m. ET on YouTube, through the American Express Unstaged performance series. Early online viewers of the concert, which is actually in Madrid, will be treated to a documentary made by Anton Corbijn.
Doctor Asks for Prayers Etta James -- famous for her incredible rendition of "At Last" -- is "terminally ill" ... so says her live-in doctor ... who is now asking fans to pray for the 73-year-old singer. According to the doctor, Etta's chronic leukemia was declared incurable two weeks ago. Etta -- whose health has been on a rapid decline the last few years -- was hospitalized in May over a life-threatening blood infection.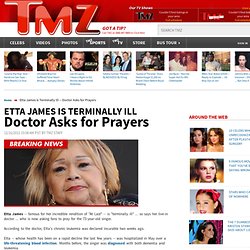 Etta James is Terminally Ill -- Doctor Asks for Prayers
5:12 PM: An associate of Heavy D's just told us the rapper had pneumonia. 4:28 PM: Law enforcement tell TMZ ... Heavy D had just returned from shopping and walked up some stairs when he began having trouble breathing.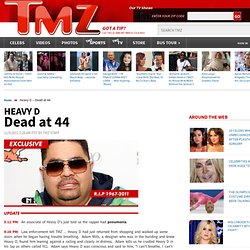 Heavy D -- Dead at 44
Heavy D's passing last week was felt throughout the hip hop community, with artists who the late rap star inspired and influenced coming out in great numbers to pay their respects. In a new letter released to the media, however, Heavy D is mourned by those who knew him best— his family. "Hev had great love for his family and friends; he was a kind and giving spirit who extended and shared himself with everyone who crossed his path," the letter opens fondly. Credited to "Heavy D's Family," the memorial describes the late rapper and producer as a generous and humble man who considered his only daughter, Xea, his greatest accomplishment. "Hev's love for his daughter Xea was profound– she was the center of his life, his heart, his soul.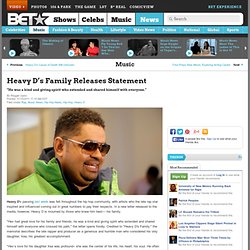 Heavy D's Family Releases Statement
En Vogue - Hold On - Music Video (1990)
SWV - "Co-Sign" | New Music
Secrets of pop success revealed, scientists claim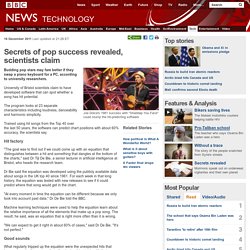 16 December 2011Last updated at 21:29 ET Joe Dolce's 1981 success with "Shaddap You Face" could stump the hit-predicting software Budding pop stars may fare better if they swap a piano keyboard for a PC, according to university researchers. University of Bristol scientists claim to have developed software that can spot whether a song has hit potential.
'The Avengers' Teaser Trailer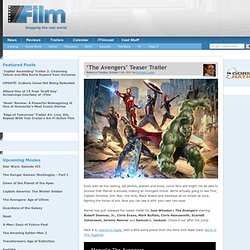 Even with all the casting, set photos, posters and more, comic fans still might not be able to process that Marvel is actually making an Avengers movie. We're actually going to see Thor, Captain America, Iron Man, the Hulk, Black Widow and Hawkeye all on screen at once, fighting the forces of evil. Now you can see it with your own two eyes. Marvel has just released the teaser trailer for Joss Whedon's The Avengers starring Robert Downey, Jr., Chris Evans, Mark Ruffalo, Chris Hemsworth, Scarlett Johansson, Jeremy Renner and Samuel L. Jackson. Check it out after the jump.
Marvel's The Avengers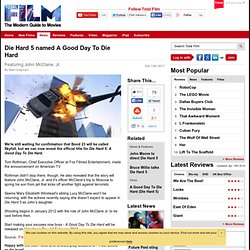 Die Hard 5 named A Good Day To Die Hard
We're still waiting for confirmation that Bond 23 will be called Skyfall, but we can now reveal the official title for Die Hard 5: A Good Day To Die Hard. Tom Rothman, Chief Executive Officer at Fox Filmed Entertainment, made the announcement on American TV. Rothman didn't stop there, though. He also revealed that the story will feature John McClane, Jr. and it's officer McClane's trip to Moscow to spring his son from jail that kicks off another fight against terrorists. Seems Mary Elizabeth Winstead's sibling Lucy McClane won't be returning, with the actress recently saying she doesn't expect to appear in Die Hard 5 as John's daughter.
First Full-Length Muppets Movie Trailer Debuts [VIDEO]
After teasing us with parodies of The Hangover II and Green Lantern, Disney has finally released the first full trailer for The Muppets. Starring Jason Segel and Amy Adams, the film is scheduled to hit theaters on November 23, just in time for Thanksgiving. Segel, who showed off his love for all things Muppet and Muppet-esque in Forgetting Sarah Marshall, co-wrote the script with Marshall director Nicholas Stoller. The film is directed by Flight of the Conchords co-creator James Bobin.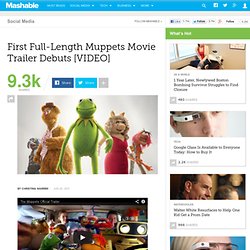 Legendary funny-man Eddie Murphy has quit as host for the the 2012 Oscars. Murphy left just one day after Brett Ratner, a producer for the awards show, resigned after using a derogatory slur in a press conference for his latest movie, Tower Heist, which also features Murphy. When asked during a Q&A session about rehearsing, Ratner said "rehearsing is for fags," the L.A.
Eddie Murphy Out As Oscar Host, Twitterverse Explodes
George Clooney And Noah Wyle Duking It Out To Play Steve Jobs Movie Role
Advertisements It seems Steve Jobs' death has only managed to increase the mystery surrounding his life. Despite the official biography of the Apple co-founder selling by the truck-load, many would argue that the biographer Jobs chose wasn't really the right man for the job. Walter Isaacson, while no doubt an excellent author, just didn't seem to get the whole mystery and intrigue which surrounded Steve Jobs, and as such, some of the burning questions we all have still remain un-asked, even with Isaacson's unprecedented access. While a good book, it could possibly have been so much more. Those still wishing to get a bit more of a 'Steve fix' might not have to wait too long, though, with rumors circulating that a biopic is already in the works.
Peter Weller Joins the 'Star Trek' Sequel
Briefly: While we can speculate and dither about what role Benicio Del Toro is playing in J.J. Abrams' Star Trek sequel, we can celebrate the fact that Peter Weller, one of the best voices in the business and the original RoboCop, will now be part of the Trek cast, too. Variety reports that Weller is cast, but doesn't have any more info on his role than we've got about Benicio Del Toro's part. Abrams will shoot the film in early 2012 from a script written by Alex Kurtzman, Roberto Orci and Damon Lindelof, and we know that Alice Eve will also be joining the returning cast, which includes Chris Pine, and Zachary Quinto. Star Trek 2, or whatever the film will eventually be called, is set for release on May 17, 2013.
Batman 3 : The Dark Knight Rises Official Trailer
The Muppets have unveiled a new music video from the soundtrack to their upcoming movie. The video sees Camilla and the Chickens 'sing' a cover of Cee Lo Green's 'Forget You', and also screens various clips from The Muppets . The Muppets recently released their cover version of Nirvana's 'Smells Like Teen Spirit' . The movie unveiled spoof Twilight -style posters earlier this week . The Muppets opens in the US on November 23 and on February 17, 2012 in the UK.
The Muppets cover Cee Lo Green's 'Forget You' - video - Movies News
She wrote on the YouTube blog: "Even more of the great Disney classics and new releases will be added in weeks to come, including our YouTube Movie Extras with behind-the-scenes clips, interviews and more." The company, bought by Google in 2006 for $1.65bn, launched its film rental site in May and is jointly launching a new "family-friendly" online channel with Disney next year. Disney Interactive will produce the channel to be available on both Disney.com and YouTube, it was announced earlier this month. YouTube's rental service will see it compete in the UK with LoveFilm's streaming service - which has already struck a deal to show Disney films - and US giant Netflix, which is launching in the UK and Ireland next year. The main site is viewed three billion times a day and is already the top destination for hosting amateur video. Its new move is part of a bid to lead the paid-for video market.
Disney classics to go on YouTube
CinderellaonIceChelmsford-15238
Analogue TV era set to end in late 2012
BBC iPlayer - Origins of Us: Bones
Yoono
25,000 jelly beans went into this work of art!
Old Marilyn pictures turned into new posters
Rare Coca-Cola bottle up for auction in California
Gorillaz Converse All Star Preview | STACK Blog
Watch Santa Yoda, You Must [VIDEO]
'Coronation Street' to have UK's first primetime product placement - Soaps News
Loyd Grossman sauce in botulism alert | Business
Michael Barrymore: Entertainer Faces Cocaine And Drunk And Disorderly Charges After London Car Crash
Usher's Ex-Wife to Judge -- Drug Test Him Before It's Too Late
Jeremy Clarkson goofs again as he is accused of trivialising suicide | Media | The Observer
The Krankies reveal they took part in wild swinging sex sessions
Sesame Street YouTube channel hit by porn hack
The Halloween myth of the War of the Worlds panic
10 Brilliant But Creepy Halloween Recipes To Spook Out Your Friends
'Strictly Come Dancing' ratings overtake 'The X Factor' - Strictly Come Dancing News - TV
'Doctor Who': Christmas Special First Look - Picture - Doctor Who Blog - TV
The Doctor - Doctor Who Christmas Special 2011
'Doctor Who' missing episodes returned to BBC - Doctor Who News - TV
Moffat discusses Movie developments
Doctor Who's Amy and Rory to leave during next series
Yoono
'Doctor Who': The Doctor, The Widow and the Wardrobe - prequel video - Doctor Who News - TV
'Doctor Who': Three new video clips from the Christmas special - watch - Doctor Who News - TV
I'm A Celebrity 2011: Fatima Whitbread, sinewy arms and sport are NOT a good thing
Kelly Rowland left speechless by 'X Factor' Frankie Cocozza axe: Video - X Factor News - TV
Frankie Cocozza to be edited out of 'X Factor' M&S adverts - X Factor News - TV
'X Factor': Four eliminees face public vote to replace Frankie Cocozza - X Factor News - TV
Rhythmix charity: Simon Cowell's Simco still trying to trademark name - X Factor News - TV
'X Factor' Little Mix 'to perform at Olympics opening ceremony' - X Factor News - TV
A little bit of Xtra on the side: Tulisa shows support for X Factor losers Johnny Robinson and The Risk at London gig
Newsbeat - X Factor judge Tulisa investigated by media watchdog
Jessie J 'angry X Factor Misha B performed new single' - X Factor News - TV
Missy Elliot backs 'X Factor' Misha B for chart success - X Factor News - Music
'X Factor' Misha B to star in 'The Bodyguard' on West End? - X Factor News - Showbiz
Now Simon Cowell begs Cheryl Cole to make dramatic return to save X Factor
'X Factor' Gamu Nhengu wins deportation fight to remain in UK - X Factor News - Showbiz
X Factor row: Is it wrong for pop singers to cover drug-themed songs?
Nirvana to re-release 'Smells Like Teen Spirit' for Christmas campaign - Music News
'X Factor' to be investigated by tax officials over unpaid intern use - X Factor News - Media
'The X Factor' 2011 voting breakdown in full - TV News
X Factor 2011 wrap party: Frankie Cocozza and Jonjo Kerr leave hotel with group of girls
Actor James Earl Jones receives Oscar in London
VIDEO: Police Academy's Michael 'Motor Mouth' Winslow covers Led Zeppelin's 'Whole Lotta Love' - Asylum.co.uk
Singer Andy Williams reveals he has bladder cancer
Nicole Richie, Gwen Stefani and Dita Von Teese at Museum Of Contemporary Art Gala
Ab Fab's Julia Sawalha is happy to be back
IT Crowd to end after four series