Kensu
Gregory Isaacs - 'Kingston 14' from Made In Jamaica reggae documentary, DVD out now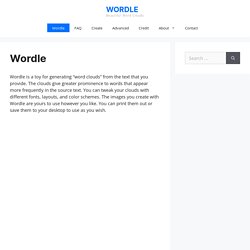 Wordle is a toy for generating "word clouds" from text that you provide. The clouds give greater prominence to words that appear more frequently in the source text. You can tweak your clouds with different fonts, layouts, and color schemes. The images you create with Wordle are yours to use however you like.
EXTREME SNOWBOARDING AMAZING TERJE HAAKONSEN
À : « la voiture de Julie » ou « la voiture à Julie » ? (sommaire) La préposition à marque normalement l'appartenance après un verbe (cette maison est, appartient à notre ami).
LES NUITS ZEBREES
Ezra nous parle du championnat de France de beatbox
Les Vies rêvées d'Erica Strange (Being Erica) en streaming