PCA
diaconate policies of cpc st louis
MNA: Disaster Response
MNA Disaster Response-Joplin, Missouri from MNA / PCA Disaster Response on Vimeo.Disaster Response Training Manual (PDF) Disaster Response Site Manager Manual (PDF) South Florida Presbytery Hurricane Andrew Response(PDF) MNA Disaster Response CD Manual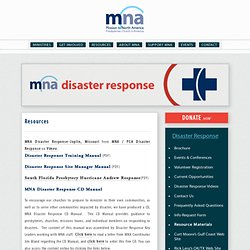 Therefore, as we have opportunity, let us do good to all people, especially to those who belong to the family of believers. - Galatians 6:10 There are IPC members/friends who are in need of help with simple home maintenance, such as changing light bulbs, painting, sweeping steps/sidewalks, changing air filters, mowing a yard, gardening, minor plumbing repairs, or maybe someone has a need for general carpentry such as wheelchair ramps, door repair or other general repairs. This could include a door that sticks, a plumbing problem, a burned out light bulb. Interested?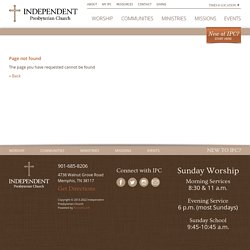 Benevolence
Redeemer City to City : Resources
www.newcityfellowship.com/mercyministry.html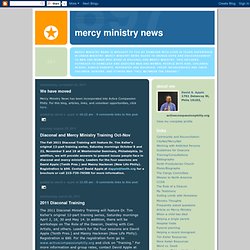 The Fall 2010 Diaconal Training will feature Dr. Tim Keller's original 12-part training series, Saturday mornings October 2 and 9, November 20 and 27, and December 4 and 11. In addition, we will address frustrations, barriers, and problems people face in diaconal and mercy ministry. Leaders for the six sessions are David Apple (Tenth Pres.) and Manny Hackman (New Life Philly). Registration is $90.
Mercy Ministry News
Mercy Recources at Olive Branch,
Presbyterian Church - Philadelphia, PA: Articles about Mercy Ministries
Diaconate - redeemer.com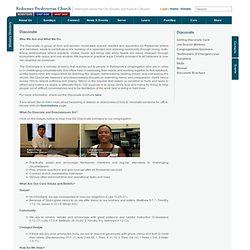 Who We Are and What We Do The Diaconate, a group of men and women nominated, trained, elected and appointed by Redeemer elders and members, exists to contribute to the building of a repentant and rejoicing community through loving, truth-telling relationships where practical, visible needs are being met while hearts are being changed through encounters with Jesus and one another. We express in practical ways Christ's command to all believers to love our neighbor as ourselves. The Diaconate is a ministry of mercy that reaches out to people in Redeemer's congregation who are in crisis or in challenging circumstances and offers help in assessing their needs and working together to find solutions. Unlike elders, who are responsible for teaching the Gospel, administering healing prayer, and overseeing the church, the Diaconate (deacons and deaconesses) focuses on extending mercy and compassion.
Church Disaster Mental Health Project: Training Resources