User Experience
2010_SSIR_DesignThinking.pdf (application/pdf Object) Can Microsoft make Windows 8 the mobile OS? | Microsoft. It may seem odd that Microsoft executives are traveling all the way to Barcelona, Spain, to debut the beta version of the upcoming Windows 8 operating system at a mobile device show.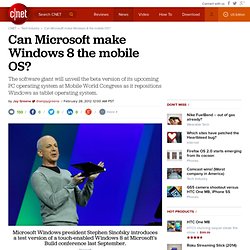 But Microsoft, which has launched tablets and mobile phones long before rivals only to see others dominate those businesses, is hoping that the next version of its desktop operating system will reverse years of stumbling. "It's an acknowledgement that mobile is what Microsoft needs to address," said Rick Sherlund, an analyst with Nomura Securities. Tomorrow, the software giant will debut the Windows 8 beta , something the company is calling the Consumer Preview, at the Mobile World Congress trade show in Barcelona.
MWC is the place where Nokia just debuted its 808 PureView phone with a huge 41 megapixel camera and Samsung unveiled its Galaxy Beam phone that includes an internal projector . Switched On: Think form factors, not PCs. Each week Ross Rubin contributes Switched On, a column about consumer technology.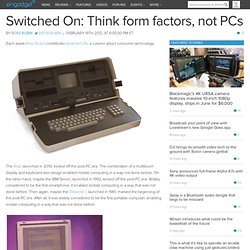 The iPad, launched in 2010, kicked off the post-PC era. The combination of a multitouch display and keyboard-less design enabled mobile computing in a way not done before. On the other hand, maybe the IBM Simon, launched in 1992, kicked off the post-PC era. With Windows 8 Hybrid Laptops, it's all about the Trackpad. With Windows 8 coming later this year, Ultrabook makers are reportedly scratching their heads over how to integrate touchscreens with thin-and-light laptops.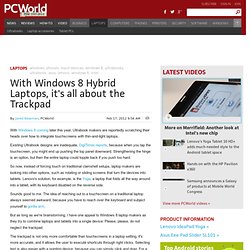 Existing Ultrabook designs are inadequate, DigiTimes reports, because when you tap the touchscreen, you might end up pushing the top panel downward. Strengthening the hinge is an option, but then the entire laptop could topple back if you push too hard. Official Usability, UX & UI Guidelines From Companies. Stephen turbek: Usability, User Experience, and Coffee: When Bad Usability is Good User Experience. Stephen.turbek.com Stephen Turbek4 January 2012 Coffee and Design have a long history together -It's unclear if anyone could focus on kerning in the wee hours without it.
But what about the design of coffee itself? CES 2012: Focus on the User Experience. CES 2012: Focus on the User Experience CEA research director says gadgets at this year's Consumer Electronics Show will boast simpler, better user interfaces and emphasize device personalization LAS VEGAS—In a presentation on the eve of the 2012 Consumer Electronics Show (CES), Shawn DuBravac, research director for show producers the Consumer Electronics Association declared that the industry was entering the second decade of the digital transition.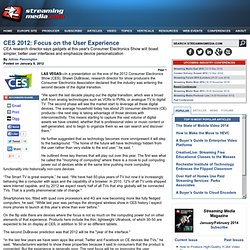 "We spent the last decade playing out the digital transition, which was a broad shift from analog technologies such as VCRs to PVRs, or analogue TV to digital TV. The second phase will see the market start to leverage all these digital devices. Intel's vision for Ultrabooks: combo of touchscreens, Kinect, and Siri. Intel outlined a future for Ultrabooks ranging over a number of new features at a Consumer Electronics Show press event Monday.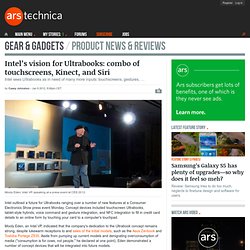 Concept devices included touchscreen Ultrabooks, tablet-style hybrids, voice command and gesture integration, and NFC integration to fill in credit card details to an online form by touching your card to a computer's touchpad. Mooly Eden, an Intel VP, indicated that the company's dedication to the Ultrabook concept remains strong, despite lukewarm receptions to and sales of the initial models, such as the Asus Zenbook and Toshiba Portege Z835. Aside from pumping up current models and denigrating overconsumption of media ("consumption is for cows, not people," he declared at one point), Eden demonstrated a number of concept devices that will be integrated into future models.
Intel ignores Steve Jobs, adds touchscreen to Ultrabook. High performance access to file storage CES 2012 Intel's research department has overruled Steve Jobs: touchscreens have been added to the next generation of Chipzilla's Ultrabook spec.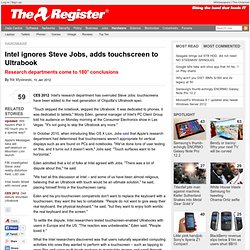 "Touch skipped the notebook, skipped the Ultrabook. It was dedicated to phones, it was dedicated to tablets," Mooly Eden, general manager of Intel's PC Client Group told his audience on Monday morning at the Consumer Electronics show in Las Vegas. "It's not going to skip the Ultrabook any more. " Customer journey mapping: Mapping out customer experience excellence. Customer journey mapping could hold the key to analysing and improving the customer experience.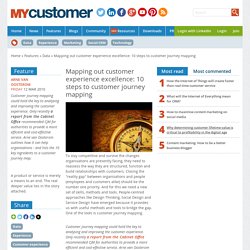 Only recently a report from the Cabinet Office recommended CJM for authorities to provide a more efficient and cost-effective service. Arne van Oosterom outlines how it can help organisations - and lists the 10 key ingredents to a customer journey map. Beyond Kinect: 5 next-gen gesture systems. Someday, we will all control computers with our brain waves.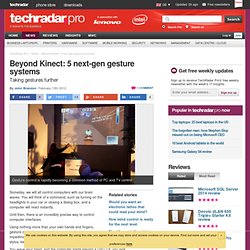 You will think of a command, such as turning on the headlights in your car or closing a dialog box, and a computer will react instantly. Until then, there is an incredibly precise way to control computer interfaces. Using nothing more than your own hands and fingers, gesture control systems seek to remove the one impediment to more immediate, ubiquitous computing: the stylus, keyboard, and mouse. You wave your hand, and the computer starts playing a DVD. Or, you pick up a virtual object, turn it around, and throw it across the room. Using gestures in low power, handheld devices to enhance 2-D touch displays to the third dimension. Lip Reading, 3D Desktops, And NUI: Microsoft Plans To Reinvent User Interaction. Deep in the skunk works of its Research and Labs divisions, secreted around the Seattle area, Microsoft is working on totally reinventing the way people interact with their computers.
Very little is out in the open or in more than a prototype form, but the work is unquestionably being done. Last week it transpired that Microsoft is working on building Kinect into the bezels of laptops, and after that, presumably, tablets and eventually mobile phones. But it's not just about building out the install base for Dance Central 3. 3D: The User Experience Story - Philip J. Corriveau. OptoFidelity "Man vs Robot" in playing Angry Birds. 5 Signs of a Great User Experience. If you've used the mobile social network Path recently, it's likely that you enjoyed the experience. Path has a sophisticated design, yet it's easy to use. It sports an attractive red color scheme and the navigation is smooth as silk. It's a social app and finding friends is easy thanks to Path's suggestions and its connection to Facebook.
Donald Norman. Donald Arthur "Don" Norman (born December 25, 1935) is an academic in the field of cognitive science, design and usability engineering and a co-founder and consultant with the Nielsen Norman Group. He is the author of the book The Design of Everyday Things. Much of Norman's work involves the advocacy of user-centered design.[1] His books all have the underlying purpose of furthering the field of design, from doors to computers.
Norman has recently taken a controversial stance in saying that the design research community has had little impact in the innovation of products, and that whereas academics can help in refining existing products, it is technologists that accomplish the breakthroughs.[2] Norman splits his time between co-directing the dual-degree MBA and Engineering program at Northwestern University and consulting with the Nielsen Norman Group. User advocacy and human-centered design. People | David Kelley. David Kelley About As founder of IDEO, David Kelley built the company that created many icons of the digital generation—the first mouse for Apple, the first Treo, the thumbs up/thumbs down button on your Tivo's remote control, to name a few. But what matters even more to him is unlocking the creative potential of people and organizations so they can innovate routinely.
David's most enduring contributions to the field of design are a human-centered methodology and culture of innovation. More recently, he led the creation of the groundbreaking d.school at Stanford, the Hasso Plattner Institute of Design. Samsung plans to add more interaction methods to its future tablets. While Apple is in the lead when it comes to tablet sales, other companies have been trying to catch up by offering competitively priced Android tablets for sale.
One of these companies is Samsung, and while it has multiple tablets in different sizes and price ranges, it looks like it's not stopping there. According to a recent interview Samsung's product marketing manager had with Laptop Mag, the company will be pushing new ways to interact with the tablet to make their devices stand out. While the iPad and Kindle Fire (touted as the second best selling Android tablet) are great devices for content consumption, Samsung wants their tablets to be great for content creation as well. According to the interview, Samsung is focusing on innovating the user interface and the way users can use their tablets. This means that there's a possibility we'll be seeing the S Pen (found in the Galaxy Note) being used in the next Galaxy Tab. Analytical design and human factors. ET on analytical design and human factors Analytical Design The purpose of analytical displays of information is to assist thinking about evidence.
Consequently, in designing an analytical graphics, the first question should be: What are the evidence-thinking tasks that this display is supposed to serve? Analytical grapics should be constructed to serve the fundamental cognitive tasks in reasoning about evidence: describing the data, making comparisons, understanding causality, assessing credibility of data and analysis. Advising Recovery Board on Offering Clear Data. The future of user interface design: understanding context & behavior.
---