The Electric Universe
Get flash to fully experience Pearltrees
Absorption lines in the optical spectrum of a supercluster of distant galaxies (right), as compared to absorption lines in the optical spectrum of the Sun (left). Arrows indicate redshift. Wavelength increases up towards the red and beyond (frequency decreases). In physics (especially astrophysics ), redshift happens when light seen coming from an object that is moving away is proportionally increased in wavelength , or shifted to the red end of the spectrum .
Artist's rendering of ULAS J1120+0641, a very distant quasar powered by a black hole with a mass two billion times that of the Sun. [ 1 ] Credit: ESO /M. Kornmesser A quasi-stellar radio source ( "quasar" ) is a very energetic and distant active galactic nucleus . Quasars are extremely luminous and were first identified as being high redshift sources of electromagnetic energy , including radio waves and visible light , that were point-like, similar to stars , rather than extended sources similar to galaxies . While the nature of these objects was controversial until as recently as the early 1980s, there is now a scientific consensus that a quasar is a compact region in the center of a massive galaxy surrounding its central supermassive black hole .
A pulsar ( portmanteau of pulsating star ) is a highly magnetized, rotating neutron star that emits a beam of electromagnetic radiation . This radiation can only be observed when the beam of emission is pointing toward the Earth, much the way a lighthouse can only be seen when the light is pointed in the direction of an observer, and is responsible for the pulsed appearance of emission. Neutron stars are very dense , and have short, regular rotational periods .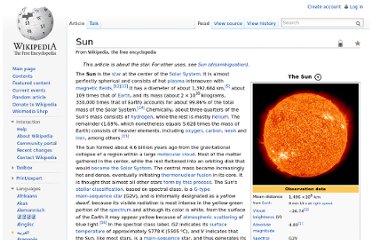 The Sun is the star at the center of the Solar System . It is almost perfectly spherical and consists of hot plasma interwoven with magnetic fields . [ 12 ] [ 13 ] It has a diameter of about 1,392,684 km, [ 5 ] about 109 times that of Earth , and its mass (about 2 × 10 30 kilograms, 330,000 times that of Earth) accounts for about 99.86% of the total mass of the Solar System. [ 14 ] Chemically, about three quarters of the Sun's mass consists of hydrogen , while the rest is mostly helium . The remainder (1.69%, which nonetheless equals 5,628 times the mass of Earth) consists of heavier elements, including oxygen , carbon , neon and iron , among others. [ 15 ] The Sun formed about 4.6 billion years ago from the gravitational collapse of a region within a large molecular cloud . Most of the matter gathered in the center, while the rest flattened into an orbiting disk that would become the Solar System .