Information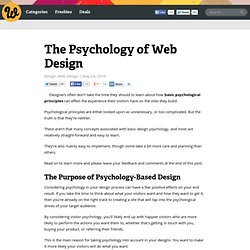 The Psychology of Web Design
Designers often don't take the time they should to learn about how basic psychological principles can effect the experience their visitors have on the sites they build.
Lessons from mobile web design
Mobile development is all the rage, and the interactive industry is in great turmoil as countless tablets and smartphones come to market. Mobile app development gets most of the attention, while the mobile web somewhat quietly creeps along.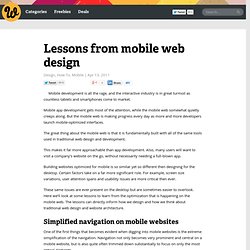 Lex parsimoniae is the Latin expression of what is known in English as Occam's Razor , a philosophical rule of thumb that has guided some of the world's best and brightest minds (including Isaac Newton).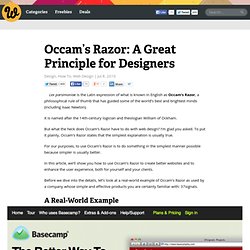 Occam's Razor: A Great Principle for Designers
As seen in our previous article on the subject and examples around the web, minimalism is quite the trend. When the theory behind it is well implemented, it makes for some beautiful, simple and yet modern designs. Because it is a trend, everyone wants to follow it. But can it be taken too far? And is it right for all types of websites? This article explores some of the potentially negative side-effects of minimalist designs and the consequences of implementing one incorrectly.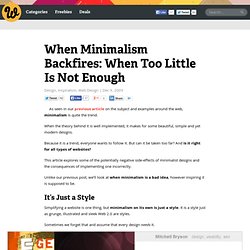 When Minimalism Backfires: When Too Little Is Not Enough
Infographic of the Day: Anatomy of a Landing Page
If you are a web designer and you are looking for resources, inspirations, designing tutorials or want to keep yourself updated with the current trends in this field then you don't need to worry because Internet is full of blogs related to web designing.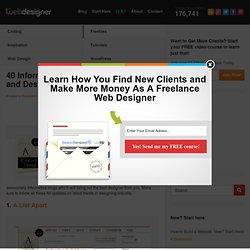 40 Must Read Blogs For Developers and Designers
50 Examples of Effective Uses of Typography Within Web Design
Currently, two of the most popular web design trends are: taking the minimal approach, which we will look at next week, and the use of clever and creative typography. Today we focus on typography. Not only do we showcase typography in the classic sense, but also illustrate that the combination of web design and great typography can be used effectively, along with clever color selection, and create usable web sites thats base design is dominated by text, for either navigation, a good headline, a logo or even used for the entire content.