Contemporary Font
50 Fresh Free Fonts of 2010. Though there's a broad variety of fonts available for download online, designers keep on tracing the fresh ones to enhance their design copy, a website, brochure, or even an advertisement in a brand new an' awesome way.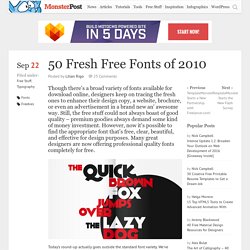 Still, the free stuff could not always boast of good quality – premium goodies always demand some kind of money investment. However, now it's possible to find the appropriate font that's free, clear, beautiful, and effective for design purposes. Free Futuristic Fonts – Breathing of Tomorrow. Futuristic design is extremely popular these days in architecture and cinema, electronic video games and web design.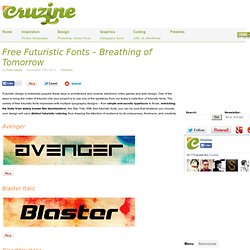 One of the ways to bring the notes of futurism into your project is to use one of the typefaces from our today's collection of futuristic fonts. The variety of free futuristic fonts impresses with multiple typography designs – from simple and ascetic typefaces to those, mimicking the fonts from widely known film blockbusters, like Star Trek. With free futuristic fonts, you can be sure that whatever you choose, your design will carry distinct futuristic coloring, thus drawing the attention of audience by its uniqueness, freshness, and creativity.
Avenger Blaster Italic. 100 Free Fonts You Should Have in Your Library. Fonts have already been among the essential materials used by designers.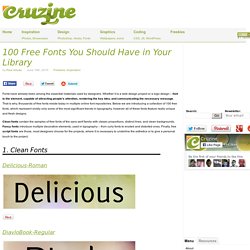 Whether it is a web design project or a logo design – font is the element, capable of attracting people's attention, rendering the key idea, and communicating the necessary message. That is why, thousands of free fonts reside today in multiple online font repositories. 25 High Quality Free Fonts You May Not Have Known About. 17 Must Have Free Fonts for Designers. Typejockeys - Type & Graphic Design.