Android
Misc
Fieldston Software - gSyncit. gSyncit v2.x - Only $19.99!
Buy Now Download Now Synchronize Outlook Calendars , Contacts , Notes , and Tasks with Google! gSyncit is a Microsoft Outlook add-in that allows for synchronization of calendars, contacts, notes, and tasks between Outlook and Google. DejaOffice - Contacts, Calendar, Tasks and Notes Apps for Android, iPhone, and iPad. Android Sync Software for HTC EVO, Nexus One, Droid, Hero and Other Android Phones. Sync Android with PC or Mac via Wi-Fi, Bluetooth or USB Media Sync Synching your Android is easier than ever with The Missing Sync for Android 2.0.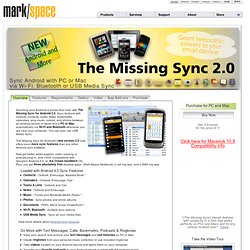 Sync Android with Outlook, contacts, notes, tasks, bookmarks, calendars, plus music, videos, and photos between an Android phone or tablet and a PC or Mac automatically via Wi-Fi and Bluetooth whenever you are near your computer. You can also use USB Media Sync. The Missing Sync for Android's new version 2.0 now offers even more sync features than any other Android sync software. Now get better tablet support, video resizing, a podcast plug-in, and 100% compatibility with Google's Android 4.0, or, Ice Cream Sandwich OS. Android-Sync - Sync android to your desktop ( USB / OTA wireless ) Home | syncdroid.net - because Androids need a good Outlook sync.
---