Android
Fieldston Software - gSyncit
gSyncit v2.x - Only $19.99! Buy Now Download Now Synchronize Outlook Calendars , Contacts , Notes , and Tasks with Google! gSyncit is a Microsoft Outlook add-in that allows for synchronization of calendars, contacts, notes, and tasks between Outlook and Google.
DejaOffice - Contacts, Calendar, Tasks and Notes Apps for Android, iPhone, and iPad
Sync Android with PC or Mac via Wi-Fi, Bluetooth or USB Media Sync Synching your Android is easier than ever with The Missing Sync for Android 2.0. Sync Android with Outlook, contacts, notes, tasks, bookmarks, calendars, plus music, videos, and photos between an Android phone or tablet and a PC or Mac automatically via Wi-Fi and Bluetooth whenever you are near your computer. You can also use USB Media Sync. The Missing Sync for Android's new version 2.0 now offers even more sync features than any other Android sync software. Now get better tablet support, video resizing, a podcast plug-in, and 100% compatibility with Google's Android 4.0, or, Ice Cream Sandwich OS.
Android Sync Software for HTC EVO, Nexus One, Droid, Hero and Other Android Phones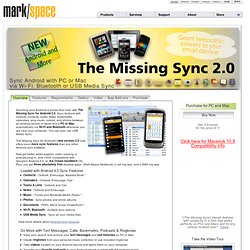 Keeping contacts, calendar, tasks and notes in sync between your android phone and outlook, through USB connection directly. Stores your sensitive personal information in a local Android-Sync account, to prevent it from being transferred to third party via public internet connections. Syncing with USB connection is much more secured, and keeping all your personal information from being exposed to the third-party Android-Sync is a Android sync manager works on Windows PC desktop. It works like the ActiveSync and the BlackBerry Desktop for Android phones and tablets, syncs Outlook contacts, appointments, tasks and notes with Android devices over USB cable.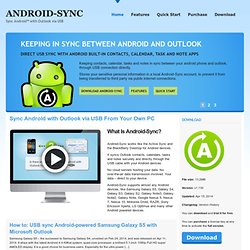 Android-Sync - Sync android to your desktop ( USB / OTA wireless )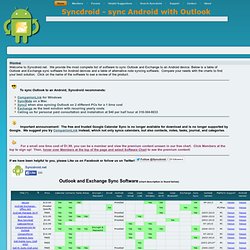 Welcome to Syncdroid.net. We provide the most complete list of software to sync Outlook and Exchange to an Android device. Below is a table of Outlook and Exchange sync software for Android devices and a table of alternative note syncing software. Compare your needs with the charts to find your best solution.
Home | syncdroid.net - because Androids need a good Outlook sync