Recipes for Kitchen Awesomness
FREEZER FRIENDLY / MAKE AHEAD MEALS. Julie said... 1 Have been planning to make a freezer full of oven meals for my grandparents and came across your blog.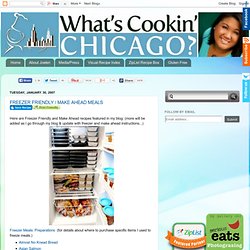 Thanks! Soup's On! Snacks. Cheese Love! Seasonal Ideas. Deep Fried and Delicious. Good Sites for Info. Fun with Food.
Sandwhich Cafe
Full Meal Ideas. Pre-Yummies. Mexican Love. Toss My Salad. Side Dishes. Frozen Treats. Asian Inspiration. Potatoes. Under the Sea. Drinks. Sinful Sweets. Dips, Sauces, & Biskets.
---